Cardinal Tagle – First Asian Cardinal-Bishop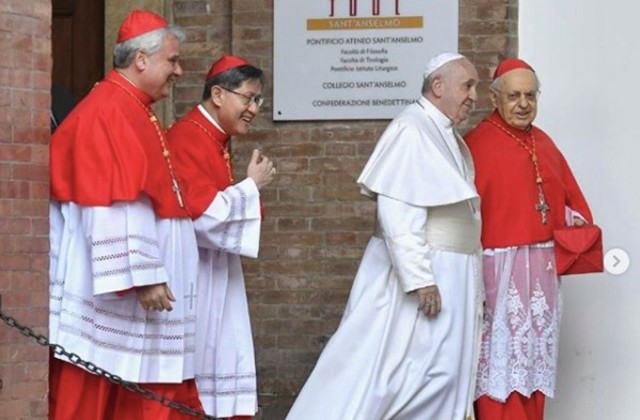 .
Cardinal Luis Antonio Tagle has just become the first Asian to be elevated to the rank of a Cardinal-Bishop, the highest order within the College of Cardinals.
According to Vatican News, Pope Francis appointed Tagle in an audience granted to Archbishop Edgar Peña Parra, Substitute for General Affairs for the Secretariat of State, on April 14.
The new rank, Cardinal-Bishop of San Felice da Cantalice a Centocelle, has made Tagle "equal in all respects to those Cardinals with suburbicarian Churches."
It was in November 2012 at the age of 55 that Tagle was appointed Cardinal-Priest of San Felice da Cantalice a Centocelle. He was installed the following year.
Pope Francis promoted 62-year-old Tagle as the new Prefect of the Congregation for the Evangelization of Peoples or Propaganda Fide in December 2019 to succeed Cardinal-bishop Fernando Filoni.
The appointment came about eight years after he was elevated to cardinal by Pope-Emeritus Benedict XVI.
At 55 years old Tagle already participated in one Conclave, which is the gathering of cardinals from around the world to elect a Pope after Pope Benedict resigned in 2012.
The said conclave elected Argentina's Cardinal Jorge Mario Bergoglio, S.J., who picked the name "Francis."
.
SPACE RESERVE FOR  ADVERTISEMENT.
PREVIOUS POSTS
It was in October 2011 that Pope-Emeritus Benedict XVI appointed then Imus Bishop Tagle as Manila archbishop to succeed Gaudencio Cardinal Rosales.
It can be recalled that Tagle was ordained priest in February 1982 and was consecrated a bishop by the late Jaime Cardinal Sin, a former Manila archbishop, in December 2001.
He held several positions, including rector and spiritual director of Tahanan ng Mabuting Pastol in Tagaytay City in Cavite from 1983 to 2011.
At the Catholic Bishops' Conference of the Philippines (CBCP), Tagle was chairperson of the Episcopal Commission on the Doctrine of the Faith.
Last year, he was reelected as president of Caritas Internationale which is a confederation of Catholic charities from different countries.
.
SPACE RESERVE FOR  ADVERTISEMENT.
AWARDS
He was given several awards, including Doctor in Humanities honoris causa from various educational institutions in the Philippines and abroad.
In 2013, he was named an "Outstanding Manilan."
.
SPACE RESERVE FOR  ADVERTISEMENT.
EDUCATION
Grade school and High school education was at the St. Andrew's school in Paranaque City. He studied Theology and Philosophy at the Ateneo de Manila University, Loyola School of Theology and San Jose Seminary.
He was at the Catholic University of America for further studies, particularly Sacred Theology.
The then Archbishop of Manila stepped down and left for Rome in early February. -MDM/BAP, GMA News By JOAHNA LEI CASILAO, GMA News
.