OVERSEAS ASEAN WORKERS: HA NOI- One year on: The Essex lorry tragedy
'All my daughter wanted was to support her family'
One year on: The Essex lorry tragedy
Update: October, 23/2020 – 07:58
Exclusive by Paul Kennedy and Hoang Ho
Father believes his son was right to travel to the UK
But authorities warn that people should not put their lives at risk in search of wealth
The father of a man who suffocated in the back of a lorry trying to get into England maintains his son "had to go".
Speaking ahead of the one-year anniversary of the Essex lorry tragedy in which 39 Vietnamese citizens perished, Nguyễn Đình Sắt said despite his son's horrific death, he believed he had no choice but to make the dangerous journey into the United Kingdom.
"He had to go," Sắt said.
"Here he can't earn as much money as there. He needed to go to make money, even if it means borrowing money to go.
"It was just bad luck. If he had stayed home, life would have also been difficult. Other people can still find a job, but he couldn't. He had to go."
Sắt is one of four families living in two small, neighbouring communes in Yên Thành District, central Việt Nam, who lost loved ones on that ill-fated journey 12 months ago.
Fathers lost sons, a mother lost her daughter, and a young woman lost her husband.
Despite the deaths, many of the families are still in debt after borrowing money to pay for the illegal journey.
Grieving father Lê Minh Tuân says large numbers of young people in the area have worked in Europe and the United Kingdom, sending money home to build houses and improve the lives of their families.
It was these financial temptations that were too much for his son Lê Văn Hà to resist and he paid the price with his life.
"If I knew this, I would never have let him go," said Tuân. "It might be difficult at home, but I would never have let him go.
"People here go abroad a lot and they send money to build homes, build careers, families, houses. My son also wanted to go and earn money to support his wife, his children.
"Who knew he would be on that truck? Now he's dead and has left us with a huge debt. Our family is really struggling."
Since the four deaths rocked the two tiny communities, officials have been working hard to educate the residents about the dangers of illegal migration.
Luyện Xuân Huệ is Chairman of the Đô Thành People's Committee.
He said many young people living in the community are desperate for a more affluent lifestyle, and would not think twice about heading abroad to work.
Huệ said: "They not only lost money, but also people. What a pity that they are very young. I wish the authorities could do something to end the illegal trafficking that leads to tragic accidents like the cases of the 39 victims. I also hope this never happens again.
"In the past year, we have been encouraging the families to stop their children following in the footsteps of the victims.
The locality has also worked with World Vision, sending representatives from organisations from the district to the provincial level on training courses.
"Local authorities will continue to implement measures to make people understand that if their children want to work abroad, they must go legally and avoid the illegal path that is full of uncertainty and danger, where they risk losing money and their lives.
"We continue to educate people on this.
"People in Đô Thành are not afraid of risk compared to people elsewhere. They do not accept poverty and lagging behind other areas. They dare to sacrifice their youth and live away from their family for a more affluent life, so their family can have a better life."
Many of the victims had travelled to northern France from Paris on October 22, 2019. They were then locked in the back of the lorry container and taken to the port of Zeebrugge in Belgium.
Here, the container was loaded onto a cargo ship and taken to England, but temperatures inside the lorry rose quickly and oxygen ran out. A post-mortem carried out on the bodies ruled they all died long before arriving in the UK.
One man who has first-hand experience of the journey from Việt Nam to England is Đậu Văn Thanh.
He spent four years living and working in the UK, and although he made money to send home, his advice to anyone thinking of following in his footsteps is simple.
Thanh said: "Many people said they will go, and they feel happy to go, but I told them: 'Stay at home, don't go'. Life abroad is normal, the same as it is here.
"Those 39 people should not have got on that container truck. It was too risky."
Four plead not guilty to causing deaths
Four men are currently on trial in the United Kingdom in connection with the deaths of the 39 people.
Lorry driver Eamonn Harrison, 23, faces 39 counts of manslaughter alongside Gheorghe Nica, 43, who is also a lorry driver.
They are both also accused of being part of a people-smuggling conspiracy with drivers Christopher Kennedy, 24 and 37-year-old Valentin Calota.
Maurice Robinson, 25, has previously pleaded guilty to causing the manslaughter of the 39 along with 40-year-old Ronan Hughes.
They will both be sentenced at a later date along with two other men, Gazmir Nuzi 42, and 28-year-old Alexandru Hanga who have admitted one count of conspiracy to assist unlawful immigration.
In Việt Nam, four people aged between 26 and 36 have been jailed for between two and a half and seven and a half years in connection with the death of one of the lorry victims.
Three other people were given suspended prison sentences for minor trafficking offences.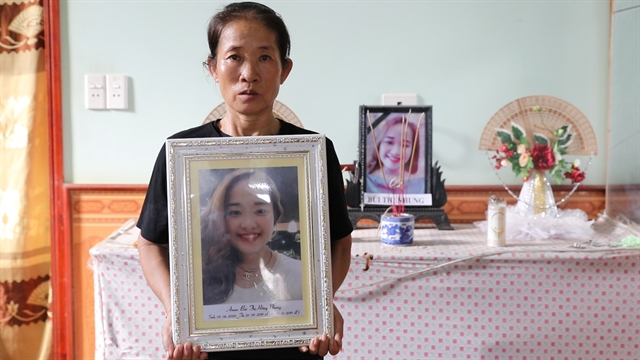 'All my daughter wanted was to support her family'
When Trần Thị Hiện lost her husband, her family became just two, her and her teenage daughter.
Money was tight, Hiện was struggling to make ends meet and in the end, her daughter, 19-year-old Bùi Thị Nhung, made a decision she paid for with her life.
"She always worried about family matters and other people," Hiện said.
"Before she went, she told me: 'Mum, I am really worried about our family. Our family is in a tough spot, our father passed away and now I also have to go abroad.'"
On average, people working illegally in the UK send home about VNĐ60 million (US$2,560) every six months.
Many of those who died a year ago in Essex had already been working in other parts of Europe but had tried to get to England believing more money could be earned in the UK.
Hiện said: "Last year when she went abroad, she sent a message home saying, 'I am in Germany and will travel to England.'
"Then, from (October) the 23rd, there was no news from her, so we then learned she was one of the victims in that container.
"Our family couldn't eat, couldn't drink, and couldn't sleep. I was so nervous and worried. I couldn't do anything.
"It has been almost a year since she passed away. I miss and mourn for her. Anyone who talks about her, they all say time passed so quickly, it has been nearly a year. They felt sorry for her because she was smart, she took care of everything."
When Nhung told her mother she wanted to go to England, Hiện tried to stop her from travelling. The teen's friends also did their best to persuade her not to go.
"Her friends were also worried about her. Everyone helped her because they all liked her. They even told her not to go and stay at home to help me.
"They said that our family is small if she went then everyone would be sad. Everyone felt sorry for her because she was a hard-working, smart girl and worried about her family."
The popularity of her daughter could be seen when her body was repatriated from the UK for burial. Hundreds of people lined the streets to pay their respects to the teenager.
Luyện Xuân Huệ, chairman of the Đô Thành People's Committee, said the authorities were on hand to help the families in their hour of need.
"When the incident happened, the local government came to the families to support and encourage them. It must be said that at that time everyone shed tears. It was very touching.
"At that time, everyone in the family was devastated. Everyone was lying there on the floor in their homes. We went there and no one could hold back the feelings of compassion.
"I wish the authorities could do anything to end the illegal trafficking that lead to tragic accidents like the cases of 39 victims. I also wish that this will never happen again."
Huệ says that since the tragedy, fewer and fewer people are heading to the UK, a country where many migrant workers from across the world try to illegally gain entry.
He added: "During the past year, the locality has been responsible for communicating with the people through the commune's radio station, as well as through conferences and meetings, to persuade them not join the illegal labour abroad, especially in European countries.
"The loss of 39 illegal migrants in the UK was something that should never have happened. The loss made all the people here so sad and reduced the number of local people travelling illegally to Europe. After the tragedy, the rate of illegal labour export has slowed down.
"People dare not risk their lives anymore."
'I don't want to go abroad anymore – the risks outweigh the rewards'
Đậu Văn Thanh spent four years living and working in England. Although he was able to earn good money to send home to Việt Nam, today he feels the risks far outweigh the rewards.
Thanh even claims that on one occasion he was stopped by the authorities, but after spending just a few hours in a police station he was released, despite being an illegal immigrant in the country.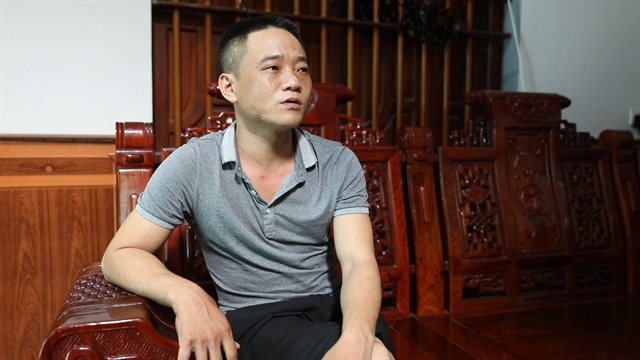 "When I was in Germany, it wasn't difficult to travel to the UK," said Thanh, who lives in the same community as the families of three people who died last year.
"You had to get to Belgium and then to France by truck. It is a kind of truck, but not a container truck.
"I sat on the fruit in the truck. When I arrived, there was someone who picked me up.
"I don't know where I was when the police caught me, but they took me to the station and noted down my details. It took one to two hours before I was free. Then I phoned a guy who came to pick me up. I think that was in London."
In the end, Thanh said he missed his family too much and returned to Việt Nam. Although he has been offered the chance to go back to the UK, he has always refused.
He said: "I came back because firstly I missed my wife and children, missed my family and the life at home. I don't want to work far from home. I had no intention to work far from home before. I spent a lot of time at home, so I didn't want to work far away.
"I don't want to go abroad anymore. Many people asked me to go, but I refused.
"Many people said they will go and they feel happy to go, but I told them 'Stay at home, don't go'. Life abroad is normal, the same as it is here.
"Unemployed people or those who do not have stable jobs want to go, or maybe because they don't know the truth, so they want to go. As for me, I already experienced it, so I don't want to go anymore.
"But it depends on each person. Some people still want to go again after returning home. They still want to go even after going abroad twice to work." VNS