ASEAN WEATHER: TRAVEL UPDATES- TROPICAL STORM MOLAVE / TYPHOON QUINTA – Việt Nam braces for Storm Molave
This satellite image shows Typhoon Quinta.
PHILIPPINES:  'Quinta' seen to exit PAR on Tuesday, but new LPA sighted.
.
Việt Nam braces for Storm Molave, prepares to evacuate 1.3 million people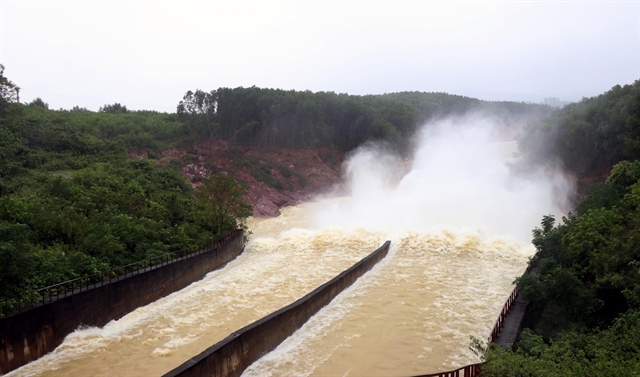 .
.
.
HÀ NỘI — Prime Minister Nguyễn Xuân Phúc on Monday has requested ministries, agencies and localities to prepare for tropical Storm Molave, the ninth storm of this year and the fourth within a month, given the likelihood of it hitting central Việt Nam.
.
Experts have warned that Storm Molave carries a significant threat, and is expected to enter the East Sea on Tuesday (October 27).
To prepare for the storm, PM Phúc asked localities to implement official emergency response measures.
"We cannot let our guard down," the PM stated during an online meeting held yesterday with agencies and provinces to discuss ways to prevent damage caused by the storm and floods.
Rescue workers in flood-hit areas in the central region would remain on alert and continue searching for missing people.
"Saving people is the most important thing," the PM said.
Local authorities should instruct fishing vessels to dock in safe locations, while fishermen should head inland to avoid the storm, he added.
Localities also needed to evacuate lowland and coastal areas due to the risk of strong waves, and ensure the safety of dykes, dams and other irrigation systems.
.
To prepare for the storm, PM Phúc asked the National Centre for Hydro-Meteorological Forecasting to provide prompt updates to relevant agencies and media sources.
The Ministry of Information and Communications, Việt Nam Television, the Voice of Việt Nam, and all media agencies were asked to regularly update forecasts, warnings and instructions.
The PM requested the National Committee for Search and Rescue and the Ministry of Defence and other forces to be ready to help localities with search and rescue missions if needed.
Helicopters, tanks and other vehicles would be deployed if people were trapped or threatened by the storm, he said.
The electricity industry was asked to ensure power after the storm, while the transport sector was instructed to keep traffic running smoothly.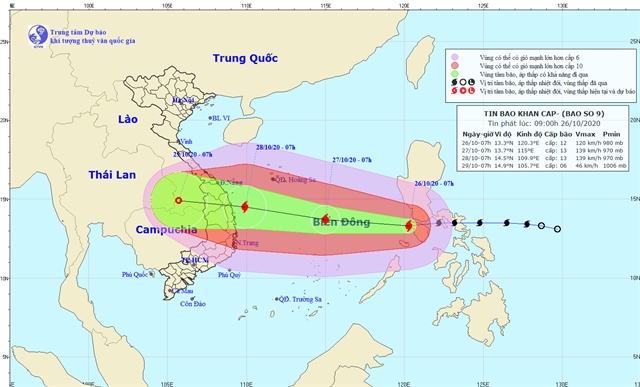 According to the Central Steering Committee for Natural Disaster Prevention and Control, Storm Molave was as strong as Storm Damrey that hit in 2017, causing serious damage to people, property and infrastructure, with more than 100 people killed and tens of trillions of đồng in damage.
According to the committee, 25,063 vessels from Thừa Thiên -Huế to Khánh Hòa could be affected by the storm, while 14,063ha of aquaculture and 178,938 fish cages were also in its path.
The committee also said that reservoirs and dykes must be monitored from Thừa Thiên-Huế to Ninh Thuận.
Border guards and fisheries agencies have informed 289,298 people on 59,477 vessels about the storm and instructed them to keep away from possibly affected areas.
The National Centre for Hydro-Meteorological Forecast said that this morning (October 26), Storm Molave had entered the East Sea (South China Sea).
The eye of the storm is forecast to be between Đà Nẵng and Phú Yên on October 28, with wind speeds gusting up to 183km per hour.
Nearly 1.3 million people are likely to be moved to safe areas.
The provinces of Nghệ An, Hà Tĩnh, Quảng Trị, Quảng Ngãi, Khánh Hòa and Ninh Thuận have been instructed to keep boats informed of the direction of the storm.
.
Mai Văn Khiêm, director of the centre, said it was going to be a severe storm.
Waves of 8-10m were forecast at sea, with breakers of 5-7m high in coastal areas from Đà Nẵng to Phú Yên Province. Sea levels were also expected to rise by 1m from Quảng Nam to Bình Định provinces.
The centre also warned that from October 27 to 29 heavy rain would hit central provinces, with 200-350mm falling.
The storm could also combine with a cold front that could cause lasting heavy rain in northern and central regions.
The provinces of Nghê An, Hà Tĩnh and Quảng Bình were predicted see over 500mm.
As a result, mountainous areas in the northern central region would be at very high risk of flash floods and landslides.
It is forecasted that in the next 24 hours, the storm would continue moving west at a speed of 20-25kph as it grew in strength.
By 7pm on October 27, the storm is forecast to be about 13.7  degrees north latitude and 115.0 degrees east longitude. — VNS
---
SIGN UP TO RECEIVE OUR EMAIL
.
The most important news of the day about the ASEAN Countries and the world in one email:  [email protected]