COVID-19 PANDEMIC: UPDATES-WORLD & ASEAN: COVID-19 infection nears 46.3 million infections globally as deaths cross more than 1.1 million.
Let us together stop the coronavirus. Let us hope the COVAX Initiatives works. Dreamstime
.
.
Here is the ASEAN status as of Sunday 7am, November 1, 2020
.
The update-11.1.2020
Sick Earth-Plague Day 338
The coronavirus COVID-19 is affecting 213 countries and territories around the world and 2 international conveyances.
Coronavirus Cases globally: 46,324,876: Deaths: 1,199,070: Recovered: 33,431,385
Here we provide updated information on cases in Asean, comprising new cases, total cases, new deaths and total deaths.
Cambodia has +1 new case with the tally now at 291 and 8 active cases. It is working very hard to keep the virus at bay, emphasizing and reemphasising on self-hygiene and social distancing but the fear factor and rumors are taking its toll.
.
SPACE RESERVE FOR  ADVERTISEMENT
.
Brunei
Brunei had +0 new cases, has a total of 148 with 3 deaths.
Cambodia
There has been +1 new positive case of the novel coronavirus (COVID-19) in Cambodia. The tally is at 291. No deaths. Total recovered at 283.
Cambodia's COVID-19 tally increases yet again to 291 with a Cambodian blue helmet officer tested positive
Cambodia's COVID-19 tally keeps creeping up one or two at a time. The latest victim to be tested positive is a 51 year Cambodian Blue Helmet being tested positive.
 .
Indonesia
The country reported +3,143 new infections, taking the totals to 410,088 infections with +87 new deaths, bringing total to 13,869 deaths.
Laos
+0 new case recorded, total at 24. No deaths.
Malaysia
The country reported +659 new cases, taking the total 31,548 of with +0 new deaths, total deaths at 249.
.
SPACE RESERVE FOR  ADVERTISEMENT
.
Myanmar
Myanmar reported +1,210 new cases, taking total to 52,706 and +18 new deaths, total is at 1,237 deaths.
Philippines
The Philippines recorded +1,803 new cases, bringing the total to 380,729 with +36 new deaths, bringing total 7,221 deaths.
COVID-19 CASES BREAKDOWN (PH)
(as of October 31, 2020 – 4:00 PM )
CONFIRMED CASES: 380,729
RECOVERED: 331,046
DEATHS: 7,221
Singapore
Reported +12 new cases, taking the total to 58,015 and 28 deaths.
Thailand
Reported +5 new cases, total at 3,780, 0 new death, total deaths stands at 59.
Vietnam
Vietnam's Ministry of Health had +30 new cases and a total of 1,180 cases, no new death, total remains at 35.
No new cases reported on Sunday morning
Update: November, 01/2020 – 06:11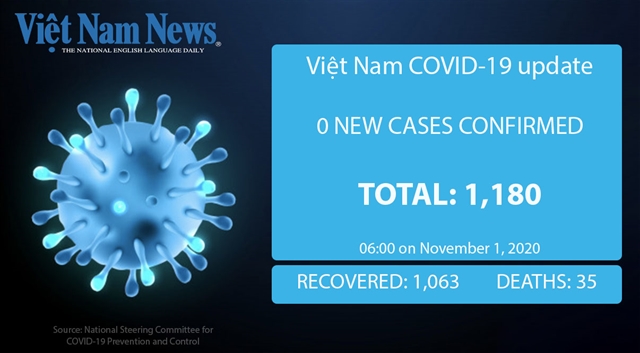 Source: world meters 
.
SPACE RESERVE FOR  ADVERTISEMENT
.