COVID-19 PANDEMIC: COVID-19 infection cross 60 million infections globally as deaths cross more than 1.4 million.
.
The coronavirus COVID-19 is affecting 213 countries and territories around the world and 2 international conveyances.
.
The update-11.25.2020
Sick Earth Plague Day 365

Coronavirus 
as of Wednesday 7am, November 25, 2020
Cases globally: 60,049,993 :
Deaths: 1,413,411:
Recovered: 41,472,488.
Here is the ASEAN status as of Wednesday 7am, November 25, 2020
Khmer Times
.
.
Ads by: Memento Maxima Digital Marketing
@[email protected]
SPACE RESERVE FOR  ADVERTISEMENT
.
Coronavirus Cases globally: 60,049,993 : Deaths: 1,413,411: Recovered: 41,472,488.
Here we provide updated information on cases in Asean, comprising new cases, total cases, new deaths and total deaths.
.

Brunei
Brunei had +1 new cases, has a total of 150 with 3 deaths.
.
One new imported COVID-19 case recorded in Brunei
James Kon
Brunei Darussalam recorded one new imported COVID-19 case yesterday bringing the total active cases in the country to two and the tally of confirmed cases to 150. Both cases are receiving treatment at the National Isolation Centre in Tutong District.
This was shared by Minister of Health Dato Seri Setia Dr Haji Mohd Isham bin Haji Jaafar during a press conference at the Al-'Afiah Hall of the Ministry of Health building.
The minister revealed that Case 150 is a 37-year-old man, who arrived in the country on Royal Brunei BI874 flight from Egypt via Kuala Lumpur on November 3. He showed no signs of infection.
Five contacts identified have undergone the COVID-19 swab test and have been confirmed negative for COVID-19.
With the detection of the latest case, he said, "Nine imported cases have been confirmed since the last local infection case was reported on May 6. At present, Brunei Darussalam has recorded 202 days without COVID-19 local infection cases."
On the updates of individuals under quarantine, the minister said 558 individuals are undergoing mandatory self-isolation at monitoring centres comprising those who have just arrived in the country from abroad.
Currently, 8,287 individuals have completed mandatory self-isolation at the monitoring centres.
In the past 24 hours, he said, "A total of 284 samples have been tested for the SARS-CoV-2 virus, bringing the total number of laboratory tests conducted since January to 75,916."
Dato Seri Setia Dr Haji Mohd Isham reminded the public to maintain personal hygiene, practise proper cough and sneeze etiquettes, wear a face mask in crowded places, and avoid public places and social gatherings when feeling unwell.
"The public is urged to use the BruHealth app and scan the QR code when entering and exiting premises. Premise owners are required to display their QR codes," he said.
The minister warned that violating the ministry's order is an offence under the Infectious Diseases Act (Chapter 204). If found guilty, a BND5,000 compound fine will be issued.
Offenders can also be prosecuted in court carrying a fine up to BND10,000 or imprisonment up to six months or both.
Healthinfo.gov.bn revealed that there have been 115 cases in the Brunei-Muara District, 29 in the Belait District and six in the Tutong District.
Visit www.moh.gov.bn, contact Health Advice Line at 148 or check the BruHealth app or healthinfo.gov.bn web app for more information.
.
Cambodia
There has been +0 new positive case of the novel coronavirus (COVID-19) in Cambodia. The tally is at 306. No deaths. Total recovered at 296.
 .
Regional media practitioners discuss COVID-19 fight
Sar Socheath / Khmer Times
Media practitioners across the Mekong-Lancang came together yesterday at the 2020 Mekong-Lancang Cooperation Media Online Summit to talk about regional media's cooperation to fight COVID-19.
The online media summit was held by China's People's Daily under the presidency of Huang Kunming, head of the Publicity Department of the Communist Party of China and a member of the Politburo of the Communist Party of China, and Minister Information of Myanmar Pe Myint.
Huang said this was a great opportunity for the media in the region to discuss a common concern.
"The media has played an important role in the fight against the COVID-19 pandemic, therefore I hope all media practitioners who gathered today will be able to find more solutions to tackle the pandemic in the region," he said.
People's Daily president Tuo Zhen said that more regional cooperation over COVID-19 should build more trust, friendship and solidarity for the mutual benefit of the people in the region.
Le Quoc Minh, deputy director-general of Vietnam News Agency, said COVID-19 has affected the everyday life and health of people, the economy and trade and the media in Vietnam are facing a lot of challenges, including loss of revenue and advertising.
Editor-in-chief of Deum Ampil Media Centre in Cambodia Soy Sophea told Khmer Times that the six Mekong-Lancang nations are facing many challenges due to COVID-19.
"The regional media summit today really demonstrates the joint effort to build trust and solidarity within the media to further report and provide true information in the region," he said.
"I highly appreciate the efforts of the regional media in this event, so that we can meet and exchange views on COVID-19", he added.
The Cambodian media practitioners attending this regional media summit, including Agence Kampuchea Press, Deum Ampil Media Centre and Thmey Thmey, were invited as the keynote speakers and panelists on Boosting Economy Recovery: Focus, Patience, and Mechanism, Regional and International Cooperation in Combating COVID-19.
Besides the online summit, People's Daily is hosting the 2020 Mekong-Lancang Media Online Workshop, which started yesterday and will end on Friday, where participants from different media organisations in China, Cambodia, Laos, Myanmar, Thailand and Vietnam will watch presentations from renowned experts and scholars on "worldwide cooperation in the battle against COVID-19", "economic revival after COVID-19" and China's experiences with poverty reduction.
.
Indonesia
The country reported +4,192 new infections, taking the totals to 506,302 infections with +109 new deaths, bringing total to 16,111 deaths.
Laos
The country reported +0 new case recorded, total at 39. No deaths.
.
Malaysia
The country reported +2,188 new cases, taking the total to 58,847, with +4 new deaths, total deaths at 341.
.
MALAYSIA
.
Myanmar
Myanmar reported +1,731 new cases, taking total to 82,236 and +19 new deaths, total is at 1,784 deaths.
Philippines
The Philippines recorded +1,118 new cases, bringing the total to 421,722 with +12 new deaths, bringing total 8,185 deaths.
Singapore
Reported +18 new cases, taking the total to 58,183 and 28 deaths.
Thailand
Reported +2 new cases, total at 3,922, 0 new death, total deaths stands at 60.
Vietnam
Vietnam's Ministry of Health had +4 new cases and a total of 1,316 cases, no new death, total remains at 35.
Viet Nam remains at high risk of COVID-19 infections: health minister
Update: November, 25/2020 – 06:55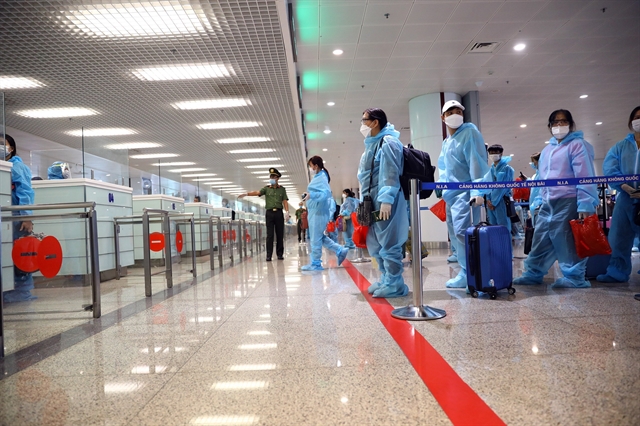 HÀ NỘI — Minister of Health Nguyễn Thanh Long has warned that Việt Nam remains at high risk of COVID-19 infections from abroad as the number of cases in many countries keeps rising.
Speaking with local authorities of 63 provinces and cities during an online meeting on Tuesday, Long warned of illegal immigration at borders which increases the risk of infections.
Source: world meters
SIGN UP TO RECEIVE OUR EMAIL
.
The most important news of the day about the ASEAN Countries and the world in one email:  [email protected]