ASEAN X'MAS SPIRITS 2020: HCM City — Students play Santas, spread Christmas joy in HCM City
.
FROM ASEANEWS.NET:

 .
HCM City — The warm weather in HCM City may not create the ideal Christmas atmosphere, but that doesn't stop Santa Clauses from spreading holiday cheer.
Since the beginning of December, university students and graduates have been dressing up as the Father Christmas to deliver presents and spend time playing with children at their homes and schools.
"To do this service we spent a lot of time, preparing since early December to operate throughout the five days close to Christmas," said Nguyễn Hữu Vinh, a 25-year-old who plays Santa. "We have to prepare gifts, magic tricks, games to play and costumes."
His group, Giao quà Noel tận nhà (Christmas Gifts Home Delivery), offers Christmas gift delivery services, and of course, Santas for hire.
"Becoming Santa Claus and delivering gifts brings joy to the children and motivates them to study and grow," Vinh said.
"We can be contacted through Facebook and our website. Customers can message us and request a Santa service, which will help them create a cosy atmosphere for the family during the Christmas season.
"We make a lot of the presents ourselves, and with those presents our main purpose is to bring joy to the children, not too much on making money. We are just doing our best to make them happy."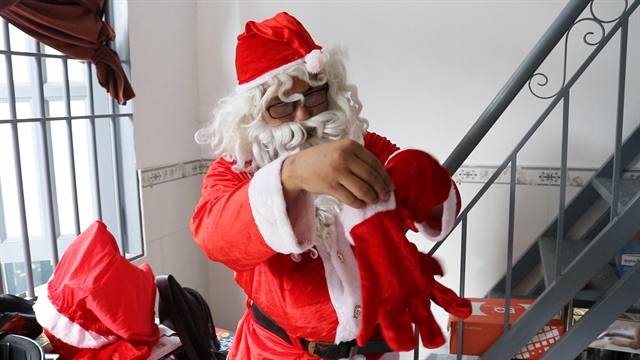 .
Playing Santa is not a new seasonal job in Việt Nam but it's also never been out of fashion.
"This service provides some income to students, but they mostly do it for passion," said Đỗ Hoài An, director of Ông già Noel Việt (Vietnamese Santa Claus), a service provider with 10 years of experience.
"Some of them have been working with us for up to four years, they always look forward to this occasion so they can hang out with kids.
"When travelling, they even bring with them small bags of candy to hand out to children passing by who are excited to see Santa Claus on the road.
"Our Santa Claus would contact parents and receive gifts from them, along with messages that they would want passed to the children."
With prices ranging from VNĐ100,000-500,000 (US$4-22), the service is offered in different packages depending on when the Santas are expected to show up, and how long they are going to spend with the children.
Like so many others in the service industry, those that play 'Papa Noël' have been having a tough year due to the COVID-19 pandemic.
"We are not taking as many orders this year due to COVID-19," said Vinh. "Last year we got a few hundred orders, this year we only get a few dozen.
"We can't shake off the Christmas spirit, but we also try to comply with safety orders to prevent the disease."
And no matter where you are in the world or what you choose to believe in, Christmas is still the time of wonder.
"In some years we adults dressed up as Santas to play with the kids. But this year we want to try out a Santa service," said Trịnh Thị Quỳnh Mai from District 2.
"We are Buddhist, but we would like to rejoice the world in the Christmas spirit," she added. "Christmas Day is when Jesus Christ was born, and to us whether it's the Christ or the Buddha, they all bring joy to the world.
"We organise a Christmas party for the children every year, because they are still small, and we want them to have a happy childhood." VN
.
Dũng Nguyễn & Bảo Hoa
SIGN UP TO RECEIVE OUR EMAIL
.
The most important news of the day about the ASEAN Countries and the world in one email:  aseanews.net