COVID-19 PANDEMIC: COVID-19 infection close to 80.66 million globally as deaths cross more than 1.76 million.
FROM ASEANEWS.NET:

Let us together stop the coronavirus. Let us hope the COVAX Initiatives works. Dreamstime
.
The coronavirus COVID-19 is affecting 218 countries and territories around the world and 2 international conveyances.
.
The update-12.28.2020
Sick Earth Plague Day 398

Coronavirus as of Sunday 7am, December 27, 2020
Cases globally: 80,654,650 :
Deaths: 1,764,039:
Recovered: 56,853,207 .
.
.
.
.
Ads by: Memento Maxima Digital Marketing
@[email protected]
SPACE RESERVE FOR  ADVERTISEMENT
Coronavirus Cases globally : 80,654,650 : Deaths: 1,764,039: Recovered: 56,853,207 .
Here we provide updated information on cases in Asean, comprising new cases, total cases, new deaths and total deaths.
.
Here is the ASEAN status as of Sunday 7am, December 27, 2020
Khmer Times
.
.
Ads by: Memento Maxima Digital Marketing
@[email protected]
SPACE RESERVE FOR  ADVERTISEMENT
.
.
<>
BRUNEI
.
Brunei had +0 new cases, has a total of 152 with 3 deaths.
.
<>
CAMBODIA
.
There has been +0 new positive case of the novel coronavirus (COVID-19) in Cambodia. The tally is at 363. No deaths. Total recovered at 355.
.
Cambodia to get fair share of Australia's $300 million financing for COVID-19 Vaccines in the Region
Australia is planning to support $300 million financing under COVID-19 vaccines provision in ASEAN countries including Cambodia.
The plan was revealed Pablo Chiho Kang, Ambassador of Australia to Cambodia during a meeting with Dr Aun Pornmoniroth, Deputy Prime Minister and Minister of Economy and Finance here in Phnom Penh recently.
Kang continued that the financing under the vaccines assistance package is the government's policy to respond to the pandemic of COVID-19 efficiently in Cambodia and the region.
That programme will focus on key work components including procurement, technical counseling for the delivery and storage of the vaccines, and training to the health teams, the Australian diplomat said.
He added that Australia will continue supporting Cambodia through its financing aid to implement any project and programme to further promote quality health services, agricultural sector, clean water supply and electricity structures.
Australia also supports the Royal Government's policy in social protection and ensuring equality of social services provision to people with disability and vulnerable women.
From his end, Pornmoniroth appreciated Australia's initiative to support the provision of COVID-19 vaccines to the region and Cambodia.
The deputy prime minister highlighted that the Royal Government is coordinating with concerned development partners through both multilateral and bilateral meetings, especially with WHO to discuss the COVID-19 vaccines procurement as well as the vaccination.
He also thanked the Government and people of Australia for their contribution to Cambodia's development in all sectors, especially in social economy, education, health, agriculture, power, infrastructures, and good governance. Lim Nary – AKP
.
<>
INDONESIA
.
The country reported +6,740 new infections, taking the totals to 706,837 infections with +147 new deaths, bringing total to 20,994 deaths.
Indonesia to Vaccinate 181 Million as Covid Cases, Deaths Rising Fast
BY :LENNY TRISTIA TAMBUN & HERU ANDRIYANTO
DECEMBER 29, 2020
Jakarta. The Indonesian government will distribute coronavirus vaccine to 181 million of the country's 270 million population starting next month, the health minister said Tuesday as newly cases and daily death toll are spiking at an unprecedented rate.
Newly-appointed Health Minister Budi Gunadi Sadikin said the portion of the population to get the vaccine will be enough to create the so-called herd immunity against the virus.
"There are 188 million citizens of the age of 18 years and above. If we exclude those with serious comorbidity, pregnant mothers and Covid-19 survivors, the number (to get the vaccine) will be reduced to 181 million," Budi said in a video conference in Jakarta.
Every one of them will get two doses of the vaccine while the government must also reserve an additional 15 percent of the vaccine as required by the World Health Organization, meaning that the country should provide at least 426 million doses, he added.
"This is a very huge number and the government is working hard to make sure we can secure supplies of that amount," he said.
The government is the process of acquiring vaccines from at least four different sources.
The initial procurement program involved Chinese vaccine producers, most notably Sinovac Biotech whose vaccine is currently under clinical trial in Bandung, West Java.
Indonesia has secured a supply commitment for 125 million doses of Sinovac vaccine, the minister said.
In addition, the government also has signed a deal with US-based vaccine producer Novavax on the supply of another 130 million doses, he said.
At the same time, the government is pursuing a supply of 100 million doses of AstraZeneca vaccine from the UK and at least 50 million doses of Pfizer/BioNTech vaccine developed jointly by US and German firms, Budi said.
Worst Period
There have been a total of 727,122 confirmed cases of coronavirus as of Tuesday as Indonesia is enduring its worst period since the outbreak began.
The number of coronavirus-related deaths has been growing rapidly since mid-November and currently stands at a total of 21,703.
The country has added more than 188,200 coronavirus cases since the beginning of the month, already surpassing the previous monthly record by a huge margin.
Over the same period, at least 4,758 Covid patients have died, also beating the previous record for the highest monthly death toll.
An additional 251 Covid deaths were reported on Tuesday, the second-highest daily death toll since the outbreak. It's for the fifth time that the daily death toll has topped 200, all occurring this month.
The country has added 7,903 cases in the past 24 hours, also the second-highest daily total after a record 8,369 reported on Dec. 3.
Major Hotspots
Jakarta is the biggest contributor to the Tuesday's tally with 2,056 new cases, the third time in the last five days it recorded over 2,000 cases in a single day.
The capital city has a total of 179,660 cases and 3,228 deaths.
East Java is at a distant second with a total of 82,321 cases, but it has more Covid deaths than any other province.
The province has recorded a total of 5,701 Covid deaths, 64 more from the previous day.
However, it's Central Java that has become the deadliest place in the Indonesian outbreak in the last few weeks.
Central Java has been leading the daily death toll during most of the period, including with a new provincial record of 91 deaths on Tuesday for a total of 3,422. It surpassed Jakarta in the second place when it comes to the total number of deaths three days ago.
Central Java added 1,056 cases for a total of 79,826. It's for the first time in a month that the province saw a four-digit daily number.
West Java has recorded 1,329 cases in the 24-hour period amid a highly fluctuating trend to take its total to 81,322, the third-biggest after Jakarta and East Java.
West Java is one of at least five provinces where newly cases are rising dramatically when compared to their figures in November. The country's most populous province has added around 28,800 cases month to date, in comparison to a total of 16,179 cases it recorded in November.
South Sulawesi saw a new high of daily number with another 568 cases to pass the 30,000 mark in total. It's the highest number of cases outside Java.
The province has been averaging 323 cases since Dec. 1, in comparison to an average of a mere 77 cases in November.
While newly cases are in a steady decline in Riau and West Sumatra, several other provinces have been emerging fast as new hotspots, including Banten and Yogyakarta.
Yogyakarta in the southern part of Java reported a total of 3,851 cases on Nov. 1 and within less than two months it has recorded a total of 11,602 cases, an increase of 201 percent.
Banten, a neighbor to Jakarta, saw an uptick in newly cases two months ago and by early December it joined the top ten of worst-affected provinces.
.
<>
LAOS
.
The country reported +0 new case recorded, total at 41. No deaths.
Lao Airlines suspends charter flights
Lao Airlines is suspending all charter flights to and from other countries to reduce the risk of a second wave of Covid-19 triggered by inbound travellers.
According to Lao Airlines, the last charter flight on the Laos-South Korea route left on Sunday, while the latest humanitarian flight bringing back Lao workers from overseas took place on December 13.
.
Anyone entering Laos on a humanitarian flight must have all the necessary documents and spend 14 days at a designated quarantine centre.
"We are suspending all charter flights based on an order from the National Taskforce for Covid-19 Prevention and Control," the Director of Lao Airlines' Commercial Department, Mr Noudeng Chanthaphasouk, said. "Based on this order, all charter flights will be suspended until January 23."
The only international route currently in service is a twice-weekly flight from Vientiane to Kunming in China.
"We can't be exactly certain how long charter flights will be suspended because we're waiting to hear about possible new virus prevention measures laid down by the government. The planes used on the Vientiane-Kunming route are thoroughly cleaned after passengers disembark to ensure the safety of both passengers and crews," Mr Noudeng said.
The total number of Covid-19 cases recorded in Laos remains at just 41. Forty of these people have recovered while one remains under observation in the hospital, according to the Ministry of Health's Centre of Education and Education for Health on December 28.
The centre stated  that more than 81.1 million people worldwide have contracted Covid-19 and nearly 1.78 million people have died.
By Souksamai Boulom
(Latest Update December 29, 2020)
Malaysia
The country reported +2,335 new cases, taking the total to 103,900, with +2 new deaths, total deaths at 451.
.
Ads by: Memento Maxima Digital Marketing
@[email protected]
SPACE RESERVE FOR  ADVERTISEMENT
.
Myanmar
Myanmar reported +734 new cases, taking total to 121,280 and +27 new deaths, total is at 2,579 deaths.
.
.
<>
PHILIPPINES
.
The Philippines recorded +1,406 new cases, bringing the total to 469,005 with +5 new deaths, bringing total 9,067 deaths.
Philippines logs 766 new COVID-19 cases, new low in five months
MANILA (XINHUA) – The total number of confirmed COVID-19 cases in the Philippines has risen to 470,650 after 766 new cases were reported yesterday, a new low for the second day in a row.
The Department of Health (DOH) of the Philippines on Sunday reported 883 new confirmed cases, the lowest in more than five months.
The death toll climbed to 9,124 after 15 more patients died from the viral disease, the DOH said in a statement. It also said 104 more patients recovered, raising the total number of recoveries to 438,780.
Health Undersecretary Maria Rosario Vergeire attributed the low number of daily increase to "minimal submission" of laboratories during the festive season.
"There are also some disease reporting units, like the local government units where we get the specimen, which were closed. It affected the number of cases the past two days, so we are trying to ensure and are already advising our laboratories to remain open to continue the processing of specimens for COVID-19," Vergeire told local TV in an interview yesterday.
The DOH also explained that cases decreased over the past days because fewer patients were tested "as many people chose to celebrate the holidays at home."
"The DOH is strictly monitoring the output and operating schedules of the laboratories for the next two weeks," it added.
<>
SINGAPORE
.
Reported +10 new cases, taking the total to 58,519 and 0 new death, tally now 29 deaths.
<>
Healthcare workers to receive Covid-19 vaccine from Dec 30, S'pore residents aged 70 and older from Feb '21: MOH
SINGAPORE – Singapore's Covid-19 vaccination exercise will begin on Dec 30 with healthcare workers at the National Centre for Infectious Diseases, followed by the elderly aged 70 and older next February.
Vaccinations will roll out to more healthcare institutions in the coming weeks, with public healthcare institutions and private hospitals to arrange for their staff to be vaccinated at their respective premises.
This is in line with recommendations by an expert committee that front-line and healthcare workers and those most vulnerable to severe complications if they contract Covid-19 should be vaccinated first, said the Ministry of Health (MOH) on Sunday (Dec 27).
The elderly will be vaccinated from February next year, followed by other Singaporeans and long-term residents who are medically eligible, said the MOH.
This follows the Government's full acceptance of a 14-member expert committee's recommendations that were submitted last Thursday.
"Vaccination is not a silver bullet that can end the pandemic immediately, but it is a key enabler to getting us back to a safer state of affairs," the ministry said.
The MOH said vaccination will complement other "key enablers", such as safe management measures, testing and contact tracing, to mitigate any spread and to keep community transmission low.
In its statement, the committee noted that Covid-19 patients aged 70 and older have worse health outcomes than those aged 60 to 69, and so it is recommended to start vaccination for the older group first.
Protecting older people minimises Covid-19-related mortality and morbidity, as well as the potential strain on the healthcare system.
The committee has also assessed that the Pfizer-BioNTech vaccine, which arrived in Singapore earlier this month, is suitable for use in people aged 16 and older for the prevention of Covid-19, it said, although taking the vaccine is still not recommended for pregnant women and immunocompromised individuals until more information is available.
This was after it conducted an independent review of the clinical data on the safety and efficacy of the vaccine, which has been approved by the Health Sciences Authority.
The committee said the vaccine has demonstrated a high efficacy of 95 per cent, and its safety profile is consistent with the high standards set for other registered vaccines used in immunisation against other diseases.
The recommendations follow Prime Minister Lee Hsien Loong's announcement on Dec 14 that Covid-19 vaccines will be free for all Singaporeans and long-term residents who are currently here, with plans to cover everyone who wants one by the end of next year.
Other recommendations by the expert committee include:
– Everyone living in Singapore who is medically eligible for vaccination should be vaccinated when vaccines become more widely available, although it should remain voluntary.
Achieving as high a level of population coverage for Covid-19 vaccination as possible can markedly reduce the overall proportion of the population that is susceptible to the disease and the likelihood of uncontrolled chains of transmission, said the committee.
A high vaccination coverage also indirectly protects others who may not be suitable for vaccination yet, it added.
– Set aside about 5 per cent of available vaccine stocks at any point in time for specific groups of people who are of critical importance to the functioning of Singapore. These could include people involved in ensuring the country's water, utilities and other "nationally essential services" are not disrupted.
This is separate from public health considerations to prioritise certain population subgroups, so as to ensure Singapore would be able to continue functioning effectively amid a local outbreak, said the committee.
But the detailed identification of these groups is beyond the remit of the expert committee, it said, and will be left to the Government.
– Ongoing public health measures such as safe distancing, mask wearing and good hand hygiene should continue to be practised, until a significant proportion of the population is vaccinated and more data is available on the vaccine's duration of protection and its ability to prevent infections.
The committee was convened in October by the MOH to recommend a vaccination strategy for Singapore.
Chairman of the expert committee, Associate Professor Benjamin Ong, said that while Singapore currently has a low rate of local transmission of Covid-19, it remains vulnerable to the threat of a surge in cases.
"As such, it is important that we achieve as comprehensive a coverage of Covid-19 vaccination as possible across the entire population. We strongly encourage all persons who are medically eligible to be vaccinated when the vaccine is made available to them," he added.
Other members of the committee include MOH chief health scientist, Professor Tan Chorh Chuan, Associate Professor David Lye from the National Centre for Infectious Diseases, and Dr Anuradha Poonepalli from the HSA's Health Products Regulation Group.
The committee's report to the Singapore Government was based on information available as at last Wednesday.
It also said that while public health measures have been shown to be effective in containing outbreaks, the "fundamental challenge" is that the vast majority of people in Singapore and the world do not have any immunity to the novel virus.
"The development and availability of effective Covid-19 vaccines is a critically important milestone, providing the means to fundamentally contain the pandemic, diminish its impact in terms of morbidity and deaths from infection, and eventually allow societies to return to normalcy," the report added.
Singapore currently has a low rate of transmission, it noted, but the threat of an outbreak persists as the global pandemic intensifies and as the country resumes more activities.
It remains vulnerable to the disease and its spread, with the country's high population density and a significant proportion of older people, said the report, adding that there is great value in vaccinating the population widely to pre-emptively protect against the risk of Covid-19.
The committee said it considered four key criteria in assessing the suitability of vaccine candidates: Vaccine safety, efficacy, tolerability, and data adequacy of clinical trials.
It noted that the HSA's clinical assessment of the Pfizer-BioNTech vaccine includes how it has high efficacy of 95 per cent, with no significant safety concerns detected so far.
But continued monitoring for long-term efficacy of the vaccine will be needed to determine the duration of protection, as well as for rare and serious adverse effects.
As more vaccines become available, the committee will make further recommendations on other groups to be prioritised, it said, such as those who live or work in settings where there is potential for rapid transmission and large outbreaks.
.
THAILAND
.
Reported +110 new cases, total at 6,020, 0 new death, total deaths stands at 60.
First Covid-19 death in two months
PUBLISHED : 28 DEC 2020 AT 21:03
A healthcare worker takes a nasal swab sample of a child for a Covid-19 test at a migrant community in Samut Sakhon province on Dec 20. (Reuters photo)
A worker at the gambling den in Rayong province has died, the first Covid-19 death in Thailand in two months, bringing the fatalities to 61.
The man, 45, who facilitated parking and traffic at the gambling den, had existing conditions — ischemic heart disease and diabetes, Deputy Public Health Minister Satit Pitutecha wrote on Facebook on Monday evening.
The casino worker's death was Thailand's first virus fatality since Nov 5, taking the total to 61 since the outbreak began in January.
He tested positive on Sunday. By early Monday, he had difficulty breathing and was taken to a hospital on his friend's sidecar. He stopped breathing on the way.
Doctors at the hospital tried in vain for 30 minutes to save his life, Mr Satit wrote.
The Bangkok Metropolitan Administration also on Monday evening ordered closures of service places under Section 3 of the 1966 Service Places Act such as places where food and drinks are served or provide live music, karaokes with hostesses or dancing, which close after 12am.
To minimise impacts, such places may continue to open if they serve food only within the allowed period, limit mumber of patrons and observe distancing, said BMA spokesperson Pol Capt Pongsakorn Kwangmuang.
.
.
<>
VIETNAM
Vietnam's Ministry of Health had +1 new cases and a total of 1,440 cases, no new death, total remains at 35.
.
ADB grants US$600,000 to assist Việt Nam's COVID-19 response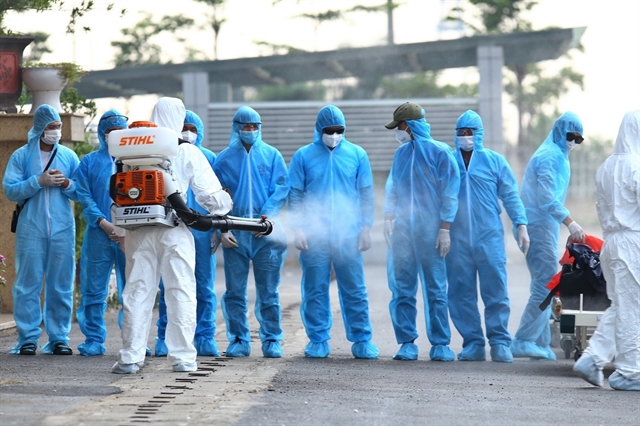 HÀ NỘI — The Asian Development Bank announced it has provided US$600,000 in material aid to help Việt Nam fight the COVID-19 pandemic.
The aid, sourced from ADB Technical Assistance Special Funds, comprises $500,000 worth of personal protective equipment for the National Lung Hospital in Hà Nội (under the management of the Ministry of Health), who would be in charge of distributing the equipment to all hospitals across the country.
The aid is expected to help frontline medical staff protect themselves against exposure to the coronavirus, a vital need in the fight against the pandemic, according to the ADB.
It also includes an additional $100,000 to help upgrade machinery and equipment for Việt Nam Public Health Emergency Operations Centre (PHEOC), which belongs to the Ministry of Health's Steering Committee for Disease Prevention and Control, which the ADB expects to boost the coordination and operations of the centre in suppressing local COVID-19 outbreaks.
Andrew Jefferies, Country Director of the Asian Development Bank (ADB) in Việt Nam, commended the Vietnamese Government's swift and effective response against COVID-19.
Under the determined leadership of the Government and the discipline of the people, Việt Nam was one of the rare countries in the world that had kept coronavirus under control domestically, he added.
Nguyễn Thanh Long, Minister of Health of Việt Nam, during the handover ceremony on Thursday, said the country had entered a 'new normal' with the resumption of most socio-economic and cultural activities, including commercial flights for selected groups of eligible entries into Việt Nam, and the authorities were committed to strictly implement prevention measures to avoid the spread of the virus in the community.
Long added that Việt Nam was also robustly pursuing its own locally made COVID-19 vaccine, which hopefully would not just fulfil domestic demands but could also be exported.
He thanked ADB for the valuable aid for the health sector of Việt Nam, and asked ADB to continue to prioritise health issues in its future support.
Việt Nam as of Friday currently logs a total of 1,385 COVID-19 cases, with the majority being imported ones.
Previously in April 2020, ADB approved $20 billion in quick-disbursing loan package for developing member countries in Asia to deal with COVID-19. — VNS
Source: world meters
SIGN UP TO RECEIVE OUR EMAIL
.
The most important news of the day about the ASEAN Countries and the world in one email:  aseanews.net