ASEAN COVID-19 PANDEMIC UPDATES: PART 2: MYANMAR TO VIETNAM- Here we provide updated information on cases in Asean, new cases, total cases, new deaths and total deaths.
COVID-19 infection crosses 84.9 million globally as deaths cross more than 1.84 million.
.
.
FROM ASEANEWS.NET:

.
The coronavirus COVID-19 is affecting 218 countries and territories around the world and 2 international conveyances.
.
Cases globally: 84,899,639:
Deaths: 1,842,222:
Recovered: 59,992,249.
.
.
Ads by: Memento Maxima Digital Marketing
@[email protected]
SPACE RESERVE FOR  ADVERTISEMENT
Coronavirus Cases globally  : 84,899,639: Deaths: 1,842,222: Recovered: 59,992,249.
.
Here is the ASEAN status as of Sunday, 7am, January 3, 2021
.
Ads by: Memento Maxima Digital Marketing
@[email protected]
SPACE RESERVE FOR  ADVERTISEMENT
.
MYANMAR:
.
Myanmar reported +574 new cases, taking total to 125,616 and +14 new deaths, total is at 2,711 deaths.
.
Myanmar Extends International Flight Ban Until January 1
The Department of Civil Aviation (DCA) has extended the effective period of Temporary Measures to Prevent Importation of COVID-19 to Myanmar Through Air Travel until January 1, 2021, which means that all the international commercial flights flying to and from Myanmar will remain suspended.
This is an extension of the flight ban which will end on December 31 due to the high number of reported cases in the country.
The Ministry of Health and Sports first placed the ban on international commercial passenger flights to and from Myanmar on March 29, when the country started to see COVID-19 cases in its territory.
On the other hand, the Ministry of Transport and Communications is also in talks to ease the ban based on the instruction of the National-level Central Committee on Prevention, Control and Treatment of Coronavirus Disease 2019, in order to help relieve the impact on the country's economy.
Written by Ko Myo
<>
PHILIPPINES-
.
The Philippines recorded  +1,097 new cases, bringing the total to 476,916  with +5 new deaths, bringing total 9,253 deaths.
1,097 new coronavirus cases in Philippines
MANILA (XINHUA) – The Department of Health (DoH) of the Philippines yesterday reported 1,097 new confirmed COVID-19 cases, bringing the total number in the country to 476,916.
The death toll climbed to 9,253 after five more patients died from the viral disease, the DoH said. It added 47 more patients recovered, raising the total number of recoveries to 439,942.
The Philippines has tested over 6.38 million people since the outbreak so far. The Philippines has a population of about 110 million.
.
Ads by: Memento Maxima Digital Marketing
@[email protected]
SPACE RESERVE FOR  ADVERTISEMENT
<>
SINGAPORE-
.
Reported +33 new cases, taking the total to 58,662 and 0 new death, tally now 29 deaths.
Risk of Covid-19 community spread by SIA steward who drove for Grab small because of measures taken: Experts
SINGAPORE – Concerns about the risk of Covid-19 transmission to passengers by the Singapore Airlines steward who worked as a Grab driver are valid, but mask wearing and other precautions taken, as well as the robust contact tracing system here, will mitigate the likelihood of a cluster forming.
Professor Teo Yik Ying, dean of the Saw Swee Hock School of Public Health at the National University of Singapore (NUS) said while there is indeed a higher risk of infection for passengers picked up by the infected Grab driver, contact tracing and isolating those exposed will limit a spread.
"There will always be such incidents cropping up in future, and that is exactly why everyone in the community needs to remain vigilant, and our testing and contact tracing efforts cannot cease," he noted.
The 48-year-old steward was detected through proactive testing arranged by the Civil Aviation Authority of Singapore (CAAS) for air crew who had returned from overseas flights.
He had travelled to the United States for work from Dec 12 to Dec 16. After his return, he worked part-time as a Grab driver from Dec 17 to 24.
The man was tested on Dec 23 and the results were returned as inconclusive on Dec 25. A second test on Dec 25 also came back inconclusive.
He remained at home till Dec 27, when he was confirmed to be infected.
The Health Ministry (MOH) on Wednesday (Dec 30) said that passengers who took the Grab ride are being tracked down through contact tracing.
It added that any passenger deemed to be a close contact of the man will have to be quarantined.
Ride-hailing firm Grab, which is supporting contact tracing efforts, said the man had been temporarily suspended from its platform as a safety precaution.
Associate Professor Alex Cook, vice-dean of research at the Saw Swee Hock School of Public Health, said that the situation is "definitely a concern".
"It's hard to imagine a worse possible situation than having someone potentially exposed to viruses overseas, being able to bypass quarantine, and coming into contact with a large number of people in a closed environment like a private-hire car," he added.
But he noted that Grab had put in place precautions like mask wearing. Passengers are also not allowed to sit in the front seat, where droplets are more likely to spread.
Prof Cook said the firm is also able to identify passengers who rode in the particular vehicle during that week.
However, given the close proximity of driver and passengers in a car, there is a higher risk of infection, said Prof Teo.
"The decision to quarantine the affected passengers is the right one, and the Grab platform will facilitate the contact tracing process in identifying all affected passengers."
He said while there is a small risk of a community cluster developing, if a passenger is infected and spreads the virus to others in his or her social network, contact tracing will be able to identify the rest and they will be isolated as well.
Dr Leong Hoe Nam, an infectious diseases expert at Mount Elizabeth Novena Hospital, said the incident suggests that safe measures for those who work overseas, such as Singapore Airlines crew, may not be sufficient.
He laid out options for more measures to be introduced for air crew – implementing a 14-day stay-home notice period, though it would impair the airline's ability to function; more frequent Covid-19 testing; or mandatory vaccination.
The CAAS announced last Wednesday that it was tightening measures to ensure the safety and well-being of air crew and to safeguard public health in Singapore.
It came after two SIA personnel – a pilot and the steward who worked as a part-time Grab driver – tested positive for the virus.
Airline crew here had been exempt from stay-home notices since March, provided precautions were taken to minimise their risk of exposure to the virus.
CAAS also said those who layover in high-risk destinations will be required to undergo polymerase chain reaction (PCR) tests on arrival and on the third and seventh day following their return to Singapore.
As for public transport passengers, including those who tap ride-hailing services, Prof Teo said masks should be kept on at all times.
"This is especially important in taxis and private-hire vehicles. It is also a good practice to disinfect hands before and after the journey in any public transport, not just in taxis or private-hire vehicles but also in buses and MRT trains.
"All these habits go towards reducing infection risks," he added.
A passenger of the SIA steward on Dec 23 wrote to ST on Tuesday, expressing his concern that the steward was allowed to drive the private-hire car immediately after returning from overseas.
"Further bans of flight crew with recent travel history from being drivers of private-hire drivers should be implemented as well," said the man, who did not want to be named.
He was placed under quarantine on Monday and has so far tested negative for Covid-19.
"Grab should also have a check on all their drivers to make sure they do not have any travel history over the past 21 days," he added.
<>
THAILAND-
.
Reported +216 new cases, total at 7,379, +1 new death, total deaths stands at 64.
Thailand sets more restrictions amid COVID-19 second wave
BANGKOK (CNA) – Thailand's government held off from ordering new nationwide business shutdowns yesterday amid a new wave of coronavirus cases but empowered some provincial governors to set their own restrictions and pleaded with the public not to travel.
Thailand, which had largely controlled the virus by mid-2020, saw a second wave of outbreaks beginning in December. Yesterday, it confirmed 315 new coronavirus cases, the majority of which are from local transmission, bringing its total to 7,694 cases and 64 deaths since its first case last January.
<>
VIETNAM-
.
Vietnam's Ministry of Health had +8 new cases and a total of 1,482 cases, no new death, total remains at  35.
.
First case of new coronavirus variant detected in Việt Nam
Update: January, 02/2021 – 11:37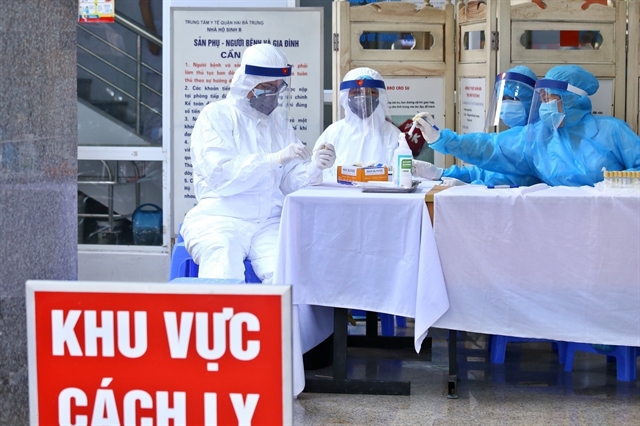 HÀ NỘI — Việt Nam detects first COVID-19 case carrying the newly found, highly contagious variant of coronavirus on Saturday.
The patient is a 45-year-old Vietnamese woman repatriated from the UK in a flight landing at Cần Thơ International Airport on December 22 but was quarantined on arrival.
The flight has 305 passengers on board, 147 of them were quarantined in Trà Vinh Province, 137 in Vĩnh Long Province, 17 in Cần Thơ City and 4 in HCM City.
The HCM City Pasteur Institute have conducted genetic sequencing on the six COVID-19-positive cases detected among the 305 arrivals and Patient No.1,435 was found to have been infected with the new strain of SARS-CoV-2.
The woman has a 10-year history of high blood pressure.
Prior to her return to Việt Nam, her health was reportedly stable.
One day after being placed under quarantine, typical COVID-19 symptoms like sore throat and light fever developed and her specimens were sent to lab for testing.
The results returned positive on December 24 and she was moved to Trà Vinh Province's Hospital for Tuberculosis and Lung Diseases.
As of December 31, the patient only suffered from light coughing, no sore throat or breathing difficulties, while X-ray scans show mild damages to her lungs.
Her husband, who currently remained in the UK, has also tested positive for the virus.
HCM City Pasteur Institute has asked the health ministry for further guidelines in research and anti-epidemiological responses.
The new coronavirus variant, first detected in the UK and thought to be responsible for the rise in cases in the country, is deemed to be much more transmissible than other variants but does not seem to be resulting in more serious diseases or deadlier, and approved COVID-19 vaccines could still be effective against it.
Other than Việt Nam, 33 countries have reported infections with the variant, mostly among recent arrivals from the UK.
To head off the spread of the new virus variant, many countries and regions have imposed bans on entry from the UK, or foreign arrivals altogether. — VNS
Source: world meters
SIGN UP TO RECEIVE OUR EMAIL
.
The most important news of the day about the ASEAN Countries and the world in one email:  aseanews.net