ASEAN COVID-19 PANDEMIC UPDATES: PART 2: MYANMAR TO VIETNAM- Here is the ASEAN status as of Wednesday, 7am, January 6, 2021
.
COVID-19 infection crosses 86.7 million globally as deaths cross more than 1.87 million.
.
The coronavirus COVID-19 is affecting 218 countries and territories around the world and 2 international conveyances.
.
Cases globally: 86,689,030:
1,872,664: Deaths:
Recovered: 61,439,877.
.
.
Ads by: Memento Maxima Digital Marketing
@[email protected]
SPACE RESERVE FOR  ADVERTISEMENT
Coronavirus Cases globally  :86,689,030: 1,872,664: Deaths: Recovered: 61,439,877.
.
Here is the ASEAN status as of Wednesday, 7am, January 6, 2021
.
Ads by: Memento Maxima Digital Marketing
@[email protected]
SPACE RESERVE FOR  ADVERTISEMENT
.
MYANMAR:
.
Myanmar reported +59  new cases, taking total to 127,584 and +22 new deaths, total is at 2,766 deaths.
.
Myanmar Extends International Flight Ban Until January 1
The Department of Civil Aviation (DCA) has extended the effective period of Temporary Measures to Prevent Importation of COVID-19 to Myanmar Through Air Travel until January 1, 2021, which means that all the international commercial flights flying to and from Myanmar will remain suspended.
This is an extension of the flight ban which will end on December 31 due to the high number of reported cases in the country.
The Ministry of Health and Sports first placed the ban on international commercial passenger flights to and from Myanmar on March 29, when the country started to see COVID-19 cases in its territory.
On the other hand, the Ministry of Transport and Communications is also in talks to ease the ban based on the instruction of the National-level Central Committee on Prevention, Control and Treatment of Coronavirus Disease 2019, in order to help relieve the impact on the country's economy.
Written by Ko Myo
<>
<PHILIPPINES-
.
The Philippines recorded  +937 new cases, bringing the total to 479,693 with +58 new deaths, bringing total 9,321 deaths.
Hong Kong detects new coronavirus variant in passenger from PH
MANILA, Philippines — Hong Kong has detected the presence of the new COVID-19 variant, believed to be more infectious, in a passenger who returned from the Philippines on Dec. 22.
Hong Kong health officials said Tuesday that four new cases of the new variant were detected in their country, one case of which is a 30-year-old female Hong Kong resident, who returned from Manila on Dec. 22.
Chuang Shuk-Kwan, head of the communicable disease branch of the Hong Kong health department, said the resident, who is tagged as Case 9003, arrived in Hong Kong via Flight PR 300.
"Case 9003 took the PR 300 and arrived in Hong Kong on the 22nd of December from the Philippines," she said in a virtual press briefing.
Health Undersecretary Maria Rosario Vergeire said the Philippine government had started coordinating with the International Health Regulations (IHR) focal point of Hong Kong to request further details.
The Department of Health (DOH) is also retrieving the flight manifest for the identified flight.
"We will be informing you as soon as we get the complete information," Vergeire told reporters in a Viber message.
The new COVID-19 variant known as B.1.17, which was first detected in the United Kingdom, has started to spread across the globe, with several countries in Southeast Asia reporting that it has reached their shores.
This prompted the Philippine government to ban travelers coming from the UK from entering the country.
Later on, the government expanded the travel restrictions to countries with reported cases of the new variant.
On Jan. 2, the DOH said there was no confirmed case yet of the new COVID-19 variant.
.
Ads by: Memento Maxima Digital Marketing
@[email protected]
SPACE RESERVE FOR  ADVERTISEMENT
<>
<SINGAPORE
.
Reported +28 new cases, taking the total to 58,749 and 0 new death, tally now 29 deaths.
Can I choose which Covid-19 vaccine to take? 7 questions about Singapore's vaccination strategy answered
SINGAPORE – The first Covid-19 vaccines have arrived in Singapore, and more are expected in the months ahead.
On Monday (Jan 4), Health Minister Gan Kim Yong gave Parliament an update on the nation's vaccination strategy, saying it was a "key enabler" in allowing the country to return to normalcy.
Here are key highlights from his ministerial statement.
1. The first shipments of the Covid-19 vaccine by Pfizer-BioNTech arrived in Singapore in December. When will the next shipment of vaccines arrive?
Mr Gan said Singapore is expecting more Covid-19 vaccine deliveries in the next few months, including from US biotechnology firm Moderna and China's Sinovac.
If all goes according to schedule, Mr Gan said Singapore will have enough vaccines for everyone by the third quarter of this year.
2. Who has been vaccinated so far and when will it be my turn?
The Republic's Covid-19 vaccination drive has kicked off with healthcare workers and staff working in the healthcare sector as they work in direct care of patients or in supporting roles, said Mr Gan.
.
Other Covid-19 front-line workers and essential personnel, such as swabbers hired by the Health Promotion Board, and staff working at government quarantine facilities, community care facilities and dedicated stay-home notice facilities, will also be at the front of the line.
For example, 40 staff from the National Centre for Infectious Diseases (NCID) were the first to receive doses of the Pfizer-BioNTech vaccine on Dec 30, including Professor Leo Yee Sin, the centre's executive director. The remaining NCID staff will be progressively vaccinated, and the rest of the National Healthcare Group management and staff from this month.
Others at greater risk of severe disease from the coronavirus infection will be vaccinated from February.
This will begin with seniors aged 70 and above, and those who are in jobs or work in settings where the risk of a super-spreading event is high. This includes those in the construction, marine and process sector and migrant workers.
Thereafter, Mr Gan said Singapore will progressively broaden vaccinations to include other Singaporeans and long-term residents who are medically eligible.
The minister also said that as more vaccines are approved for use, Singapore will adjust its vaccination programme, depending on the vaccine supply as well as the disease epidemiology at that point in time.
3. Can I get the Covid-19 vaccine without an appointment?
No. Prior bookings will be necessary given the cold-chain requirements at the vaccination sites and multi-dose vials of the vaccines. It will also ensure operational efficiency and minimise individual wait times, said Mr Gan. More information on how to make the booking will be provided later.
4. Who is eligible to receive free Covid-19 vaccinations in Singapore?
Singaporeans, permanent residents and long-term residents can receive free Covid-19 vaccinations. 
They include those here on an employment or S-pass, as well as work permit holders, foreign domestic workers, and dependant's pass, long-term visit pass and student pass holders.
5. Can I choose which Covid-19 vaccine to take?
No. Moreover, the Health Sciences Authority (HSA) has to date only approved one vaccine by Pfizer-BioNTech.
Those who opt to receive the vaccine will receive a physical vaccination card, and will be able to check their vaccination records online.
6. Will the Covid-19 vaccine work against the new strain of the coronavirus?
There is currently no evidence that existing Covid-19 vaccines are less effective against the new, more transmissible strain of the coronavirus, said Mr Gan.
He noted that vaccine manufacturers Pfizer-BioNTech and Moderna have publicly stated that their vaccines are likely to protect against the new strain, and are undertaking studies to formally confirm this.
The Ministry of Health (MOH) will evaluate the data as it emerges and review Singapore's vaccine strategy and border measures accordingly, Mr Gan said.
7. What help will I get if I develop severe side effects after I have been vaccinated?
As with all medications and established vaccines, there is a small risk of very rare but serious adverse events that may occur post-vaccination, including allergic reactions.
Those who receive the Covid-19 vaccine should be observed on-site for 30 minutes after they receive the jab so that any severe allergic reactions such as anaphylaxis can be detected and treated promptly, said Mr Gan.
A new programme will also be introduced to provide support for those who experience serious side effects related to Covid-19 vaccines administered here.
Mr Gan said the programme by the Health Ministry will give peace of mind to those receiving the vaccines, although few are expected to need this. More details on the vaccine injury financial assistance programme will be announced later, he said.
---
By the numbers
5.7 million
The number of people eligible for free Covid-19 vaccination in Singapore. They include Singaporeans, permanent residents and long-term residents.
21 days
The number of days between the two required doses of some Covid-19 vaccines, including the one from Pfizer-BioNTech. It will take up to another 14 days after the second dose to achieve maximum protection against the virus.
30 minutes
The length of time that all vaccine recipients should be observed on-site, so that any severe allergic reactions, such as anaphylaxis, can be detected and treated promptly.
Almost 60%
The proportion of respondents who indicated through government surveys and other outreach methods that they would get vaccinated when a Covid-19 vaccine is available. About a third said they would prefer to wait for more data before deciding.
12,000
The number of travellers, including citizens and permanent residents, who entered Singapore from higher-risk countries and regions without pre-departure tests between Nov 18 and Dec 27 last year. So far around 100, or 0.85 per cent, have tested positive. None of these cases resulted in local transmission.
500
The number of visitors from China who arrived in Singapore under the fast lane scheme.
Under $50
The cost of one antigen rapid test, including operation and manpower costs. This is down from the $80 cost when such rapid tests were first administered here.
<>
<THAILAND-
.
Reported +527 new cases, total at 8,966 +1 new death, total deaths stands at 65.
Thailand counts more virus cases, limits travel
BANGKOK (AP) – Thailand reported 527 new coronavirus cases, most of them migrant workers who already were isolated, and the government said it was tightening movements of people around the country.
Thailand has been struggling with a sudden virus surge after months of hardly any cases of domestic transmission.
Field hospitals were being set up in parts of five provinces with many cases. Large parts of the country, including the capital Bangkok, are under various lockdown restrictions, and the government said it will additionally restrict travel between virus-hit provinces to goods, cargo and necessary travel, and set up checkpoints on some roads.
Of the new cases confirmed yesterday, 439 were migrants, 82 were local transmissions and six were in quarantined travellers, the Centre of COVID-19 Situation Administration said. The total was a drop from the 745 registered on Monday, the all-time high in Thailand, where the first case of the virus outside China was detected last January.
Most of the surge since last month has been in Samut Sakhon province, next to Bangkok, among migrant workers living in dormitories and employed in fish markets and factories. A field hospital next to the market is treating the infected migrants.
Although it has cancelled public activities and gatherings and shut schools, bars and other places where people gather, the government has not yet taken measures as strict as those that it imposed in March – when it successfully stamped out local transmission.
Malls and department stores remain open with social distancing required, and indoor dining at restaurants is allowed until 9pm.
Prime Minister Prayuth Chan-ocha instead implored people to stay home.
"We don't want to lock down the entire country because we know what the problems are, so can you all lock down yourselves?" he said. "This is up to everyone, if you don't want to get infected just stay home for 14 to 15 days. If you think like this then things will be safe, easier for screening."
The government also has been scrambling to try to acquire more vaccines after an initial period of complacency.
Prayuth said onMonday that Thailand is seeking to secure 63 million doses, which wouldn't cover half of its population of about 70 million. It has so far about 28 million doses on order for later in the year.
<>
<VIETNAM
.
Vietnam's Ministry of Health had +7 new cases and a total of 1,504 cases, no new death, total remains at  35.
.
PM orders suspension of flights from UK, South Africa due to new coronavirus variants
Update: January, 06/2021 – 10:30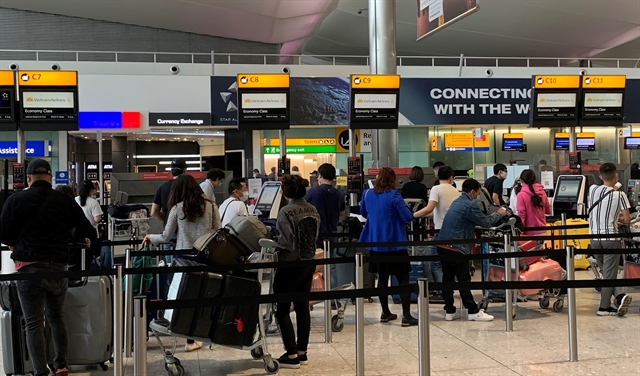 HÀ NỘI — Prime Minister Nguyễn Xuân Phúc has ordered the suspension of flights carrying Vietnamese citizens home from countries and territories which have reported new variants of SARS-CoV-2 and seen complex pandemic developments, initially the UK and South Africa.
The two countries have seen two new variants of the coronavirus that are reportedly much more transmissible than others and have been responsible for surging infections.
B117, the UK's variant of concern, is said to be up to 70 per cent more contagious and has been reported in Việt Nam in the case of a citizen repatriated from the UK.
Việt Nam has kept its borders closed since March last year to prevent the spread of the virus and only permitted a limited number of flights from overseas bringing in returning citizens, diplomats, foreign business executives and experts, and all arrivals are placed under quarantine for 14 days.
The Government leader made the instruction late on Tuesday as part of efforts to intensify COVID-19 prevention and control to ensure a safe Tết (Lunar New Year) holiday, which falls in the first half of February this year.
The Ministry of Foreign Affairs is tasked with the strict screening of Vietnamese citizens abroad who wish to return to the country, to ensure the repatriation of those most in need.
The PM's directive notes that the pandemic continues to spread rapidly in many countries, with more than 600,000 new cases and 6,000 fatalities recorded each day. In particular, several new and more contagious variants of the coronavirus SARS-CoV-2 have been detected in 38 countries.
The risk of the coronavirus entering and spreading in Việt Nam remains high due to both legal and illegal entries and negligence in disease prevention and control among the community.
In implementing the message of the Party Central Committee's Secretariat on intensifying disease prevention and control, the Prime Minister requested the Defence Ministry to work with the Ministry of Public Security and People's Committees of border provinces to tighten border management to prevent illegal entry.
The Ministry of Defence and local People's Committees should maintain close monitoring of all people entering Việt Nam and ensure the 14-day concentrated quarantine and strict medical surveillance after quarantine so as to stop the coronavirus from spreading at concentrated quarantine facilities and from these facilities to the community.
In case new infections are detected, the ministries of health, public security and defence, and provincial and municipal People's Committees must immediately trace those with possible contact with the patients, and apply necessary measures.
The Ministry of Public Security must intensify investigations and punish people entering Viet Nam illegally or organising illegal entry, accommodation facilities serving these people, and those disobeying disease prevention and control regulations.
The Ministry of Transport should direct the strict implementation of pandemic prevention regulations before, during and after flights.
Chairpersons of provincial and municipal People's Committees were requested to intensify supervision to detect illegal entry, and enforce the strict implementation of regulations on concentrated quarantine and medical surveillance after concentrated quarantine as well as on wearing face masks in public places.
Provinces and cities should tighten the implementation of disease prevention and control measures at organisations, residential areas and risky areas such as supermarkets, stations, airports, schools and hospitals.
The Government leader also required ministries and agencies to step up communications on the risk of the pandemic, and encourage the public to stay vigilant, wear face masks at public places and avoid mass gatherings, and report illegal entry and disease prevention and control violations. — VNS
Source: world meters
SIGN UP TO RECEIVE OUR EMAIL
.
The most important news of the day about the ASEAN Countries and the world in one email:  aseanews.net