ASEAN COVID-19 PANDEMIC UPDATES: PART 2: MYANMAR TO VIETNAM- Here is the ASEAN status as of Tuesday, 7am, January 12, 2021
COVID-19 infection crosses 91.2 million globally as deaths cross more than 1.95 million.
.
The coronavirus COVID-19 is affecting 218 countries and territories around the world and 2 international conveyances.
.
.
.
Ads by: Memento Maxima Digital Marketing
@[email protected]
SPACE RESERVE FOR  ADVERTISEMENT
.
MYANMAR:
Myanmar reported +582  new cases, taking total to 131,186 and +12 new deaths, total is at 2,858 deaths.
.
Myanmar Extends International Flight Ban Until January 1
The Department of Civil Aviation (DCA) has extended the effective period of Temporary Measures to Prevent Importation of COVID-19 to Myanmar Through Air Travel until January 1, 2021, which means that all the international commercial flights flying to and from Myanmar will remain suspended.
This is an extension of the flight ban which will end on December 31 due to the high number of reported cases in the country.
The Ministry of Health and Sports first placed the ban on international commercial passenger flights to and from Myanmar on March 29, when the country started to see COVID-19 cases in its territory.
On the other hand, the Ministry of Transport and Communications is also in talks to ease the ban based on the instruction of the National-level Central Committee on Prevention, Control and Treatment of Coronavirus Disease 2019, in order to help relieve the impact on the country's economy.
Written by Ko Myo
<>
>PHILIPPINES<
The Philippines recorded  +2,052 new cases, bringing the total to 489,736 with +11 new deaths, bringing total 9,416 deaths.
.
 Saliva test finally begins
Gordon gets first crack; 1,000 samples to be sent to DOH next week
The Philippine Red Cross (PRC) will be conducting 1,000 saliva COVID-19 tests starting on Monday as part of its study, an official said Sunday.
.
The cheaper COVID-19 test has been found to have a "95 percent concordance rate" with the RT-PCR test, Dr. Paulyn Ubial, head of PRC biomolecular laboratories, said.The non-government organization presented this option to the Department of Health in October but received feedback just this month, he said.
.
.
Ads by: Memento Maxima Digital Marketing
@[email protected]
SPACE RESERVE FOR  ADVERTISEMENT
<>
>SINGAPORE<
.
Reported +22 new cases, taking the total to 58,929 and 0 new death, tally now 29 deaths.
JAN 8, 2021, 8:17 PM SGT
24 work permit holders among 42 new imported Covid-19 cases in Singapore
SINGAPORE – The Republic reported a nine-month high of 42 imported cases on Sunday night (Jan 10), more than half of whom were work permit holders who arrived from Bangladesh, India, Indonesia, Malaysia and the Philippines.
Five of the 24 work permit holders were foreign domestic workers.
The other 18 cases comprised two Singaporeans, two permanent residents (PR), six dependant's pass holders, four work pass holders, one long-term visit pass holder, one short-term visit pass holder and two special pass holders.
A total of 40 cases were asymptomatic.
With the latest cases, Singapore has now reported a total of 58,907 Covid-19 infections.
All the new imported cases had been placed on stay-home-notice or isolated upon arrival in Singapore, and were tested during this period, said the Ministry of Health (MOH) on Sunday night.
The two Singaporeans had returned from Malaysia while both PRs arrived from India.
The long-term visit pass holder and the short-term visit pass holder both also arrived from India, while the six dependant's pass holders arrived from Austria, India, Nepal and the United Arab Emirates.
The two special pass holders are sea crew who arrived onboard separate vessels from Myanmar and Indonesia.
They had been tested onboard, and had not disembarked before being tested.
They were conveyed to the hospital when they tested positive for the Covid-19 virus, said the Health Ministry.
Forty-two is the highest number of imported cases since March 28, when the same number was reported.
The number of new cases in the community, though, has decreased from 10 cases in the week before to eight cases last week, the MOH said.
The number of unlinked cases in the community has increased from four cases in the week before to five cases in the past week.
With 25 cases discharged on Sunday, 58,621 patients have fully recovered from the disease.
A total of 60 patients remain in hospital, including one in the intensive care unit, while 182 are recuperating in community facilities.
Singapore has had 29 deaths from Covid-19 complications, while 15 who tested positive have died of other causes.
<>
>THAILAND<
.Reported +249 new cases, total at 10,547, +0 new death, total deaths stands at 67.
UPDATED: 10 JAN 2021 AT 13:53
Last updated: Jan 11, 2021 at 02:43 hrs.
THAILAND SITUATION
Total cases:10,298

Recovered:6,428

Daily New Cases:245

Deaths:67

Rank:128
245 new Covid cases Sunday, 224 local
PUBLISHED : 10 JAN 2021 AT 12:36
UPDATED: 10 JAN 2021 AT 13:53
Medical personnel take a nose swab on a man at a Covid-19 coronavirus testing centre at a private hospital in Bangkok on Friday after the government imposed further restrictions due to the recent outbreak. (AFP photo)
The government on Sunday recorded 245 new coronavirus cases, including 224 local transmissions, bringing the total number of confirmed cases to date to 10,298.
The Centre for Covid-19 Situation Administration (CCSA) said that aside from the 224 local transmissions, 21 infections were found among new arrivals in the country and in quarantine centres.
Fireworks displays for the New Year countdown at CentralWorld are always a magnet to draw hundreds of thousands of revellers to watch. But this New Year was different. The event was organised during the new normal with live streaming only due to Covid-19 curbs.
No new deaths were reported, leaving the accumulated toll at 67.
CCSA spokesman Taweesilp Visanuyothin said Samut Sakhon was the province with the most new local infections (73), followed by Chon Buri (49), Samut Prakan (23), Bangkok (22) and Rayong (15). The figures in Samut Sakhon included 22 migrant workers found in active testing, he added.
Thais returning from work at the Sky Complex casino in Myawaddy to Mae Sot district of Tak led the tally of imported infections — with 17 cases – while two Thai nationals arriving from Turkey and India tested positive for Covid-19. Two foreigners — a US citizen from the United States and a Hungarian — wrapped up the infections from overseas.
The infected Thai nationals who worked at the Myawaddy casino returned to Mae Sot through a checkpoint on Thursday, after Thailand temporarily opened the border to allow them to escape the outbreak in the Myanmar border town.
The virus has spread to 58 provinces since the new outbreak started in mid-December, with Samut Sakhon logging the highest number of infections at 3,261.
Screenshot from https://covid19.ddc.moph.go.th/en
Do you like the content of this article?

<>
>VIETNAM<
.
Vietnam's Ministry of Health had +1 new cases and a total of 1,515 cases, no new death, total remains at  35.
One new imported case on Sunday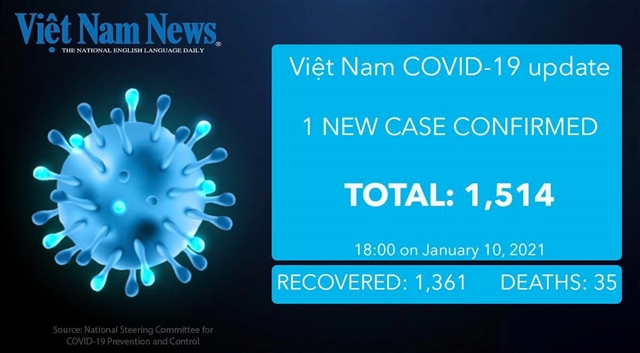 .
Update: January, 10/2021 – 17:21
PM order cutback on inbound flights until after Tết over new coronavirus variant concerns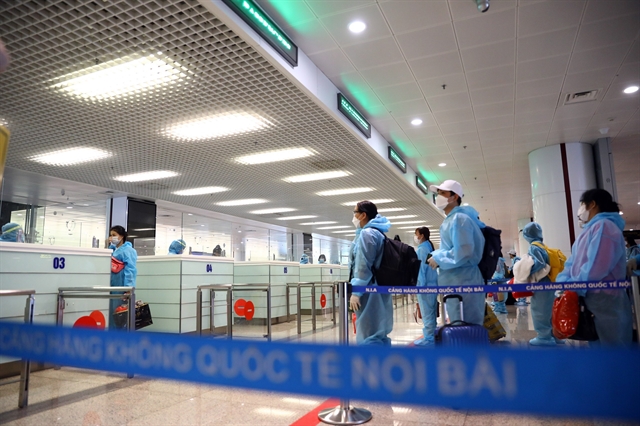 HÀ NỘI — The Vietnamese Government has decided to "minimise the number of inbound flights" into Việt Nam until after the Tết (Lunar New Year) holiday as more contagious variants of coronavirus have been recorded up in many countries.
In a directive communicating the decision from Prime Minister Nguyễn Xuân Phúc issued on Saturday, the country will only allow in "truly necessary" flights that have been approved on a case-by-case basis by five ministries – the Ministry of Health, the Ministry of Foreign Affairs, the Ministry of Public Security, the Ministry of Transport, and the Ministry of Defence – along with approval from the PM himself.
Việt Nam closed its border in March last year to curb the spread of the pandemic but has gradually opened up to a limited number of flights – including repatriated Vietnamese citizens from overseas, foreign business executives and experts or skilled workers, and diplomats.
The Ministry of Defence and the Ministry of Health are tasked with preparing facilities to implement mandatory quarantine for all Vietnamese entrants. Quarantine length and protocol must be reviewed to take into account the increased transmissibility of the new variants of the virus.
The directive asks local governments to beef up inspections of quarantine facilities under their jurisdictions (except centralised facilities managed by the military) to ensure the observance of COVID-19 prevention and control regulations.
All short-term foreign entries will be placed under centralised quarantine for 14 days, except in special cases considered by the Ministry of Foreign Affairs.
Local health departments must ensure the transport, reception and follow-up medical monitoring of people discharged from quarantine facilities are conducted properly and transgressions are strictly punished.
PM Phúc ordered the Ministry of Defence and the Ministry of Public Security to enhance entry and exit management on the country's land, sea, and other waterway border routes.
The Ministry of Public Security and provincial/municipal people's committees should work with local administrations to communicate to families with members staying overseas to discourage illegal entry.
People who wish to return to Việt Nam via land routes but suffer financial difficulties will be considered for quarantine fee support by local authorities, according to the directive.
After the Tết holiday ends (around mid-February), the Ministry of Transport should study the resumption of regular commercial flights as per the Government's instructions to serve the dual goal of pandemic containment and economic recovery, as well as the travel needs of citizens. — VNS
Source: world meters
SIGN UP TO RECEIVE OUR EMAIL
.
The most important news of the day about the ASEAN Countries and the world in one email:  aseanews.net