HEADLINE: MANILA- Palace: Public can't choose vaccine brand
A medical worker takes a box of Sinovac's vaccine against the coronavirus diseasefrom a refrigerator at a community health centre in Qingdao, Shandong province, China January 5, 2021. (China Daily via Reuters)
.
.
.
.
Cases globally  :91,193,976:
Deaths: 1,950,674: 
Recovered: 65,075,318.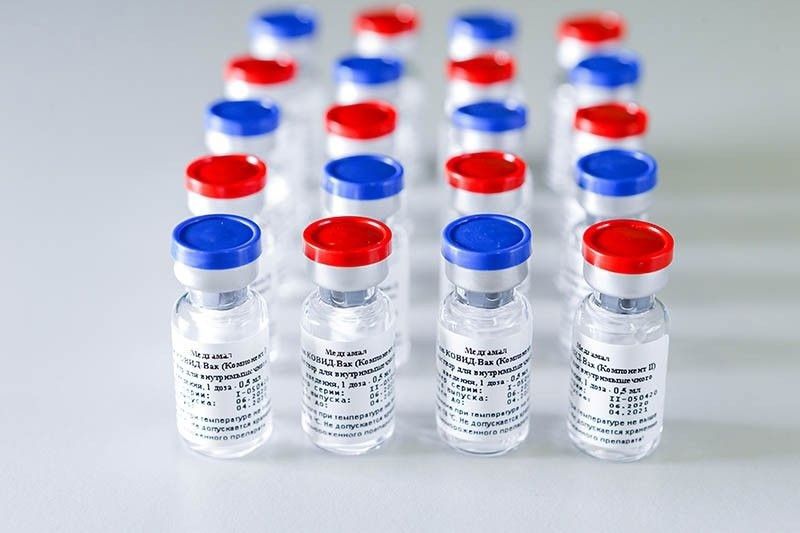 This handout picture taken on August 6, 2020 and provided by the Russian Direct Investment Fund shows the vaccine against the coronavirus disease, developed by the Gamaleya Research Institute of Epidemiology and Microbiology. AFP/Russian Direct Investment Fund, Handout
.
.
Philippines rolls out 25 million Chinese shots next month
MANILA, Philippines — Filipinos won't be able to select the brand of free COVID-19 vaccine that they might opt to receive from the government, Malacañang said yesterday.
Presidential spokesman Harry Roque said the public should not be choosy when it comes to the vaccine since many Filipinos have to be inoculated.
By next month, the first batch of 25 million doses of COVID-19 vaccine from Sinovac will arrive in the country despite questions about the efficacy of the Chinese-made drug.
been discussed but it is not yet covered by the IATF, but it seems that there is already a consensus. You can't choose, but you won't be forced to undergo vaccination," Roque said in Filipino at a press briefing, referring to the Inter-Agency Task Force for the Management of Emerging Infectious Diseases.
He said those who refuse to be vaccinated should sign a waiver.
"If you are among the priorities, you will lose your priority status. You will join the rest of the people waiting for the vaccine. So it's just right that there would be no choosing of brand because we cannot control the arrival (of vaccine doses) and they will be given for free," Roque said.
"It's true that we have the right to good health but we can't be choosy because many Filipinos have to be inoculated," he said.
Roque claimed that the administration is already implementing Vice President Leni Robredo's suggestion that they come up with a communication plan that would encourage Filipinos to be vaccinated against COVID-19.
He also assured the public that authorities are looking into reports about the smuggling of vaccines. "Let the investigation proceed," the Palace spokesman said.
Roque also said an initial 50,000 doses of Sinovac vaccines are expected to be delivered to the Philippines in February, citing reports by the Department of Health.
March deliveries
A total of 950,000 doses will be delivered in March while one million each will arrive in April and May, according to a timeline provided by Roque. Two million more doses of Sinovac vaccines will arrive in June. The delivery of the 25 million doses is expected to be completed in December.
Roque said 15,000 people would also participate in clinical trials to be conducted in the Philippines, which means that at least 65,000 people would receive vaccines in February.
The Palace spokesman disputed claims that the Duterte administration is favoring Sinovac, saying health authorities from other countries have found the vaccine to be effective.
He also noted that the vaccines produced by western manufacturers would be available in July at the earliest.
"So there is nothing spectacular about Sinovac other than it's been proven safe and efficient, 91.5 in at least three jurisdictions that we know of," Roque said.
Some sectors have assailed the government's plan to buy vaccines from Chinese companies, claiming they are less effective and more expensive compared to those produced by other countries.
Some senators have cited reports that the Sinovac vaccine's efficacy rate is just 50 percent, lower than the efficacy rate of vaccines manufactured by western companies.
Officials have said that the 50 percent efficacy rate is compliant with the minimum requirement set by the World Health Organization for vaccines.
.
Not free
Roque expressed hope that China would donate some of the Sinovac vaccines to the Philippines.
"I don't know about the terms and conditions. But of course, we expect that it will be paid, but let's see, maybe – just maybe, I'm just speculating – China will donate some of it. Let's see because their Chinese foreign minister is coming," he said, referring to Chinese Foreign Minister Wang Yi, who is scheduled to arrive in Manila this week.
"I do not know what he will say, but many of us are praying that perhaps some of these vaccines can be donated. After all, we do have very close relations with China," he added.
Last month, the Chinese embassy in Manila said Sinovac would provide 25 million doses of COVID-19 vaccines to the Philippines by March.
Roque said Sinovac has to secure an emergency use authorization from the Philippine Food and Drug Administration before the vaccines can be administered.
"But we can do what Indonesia did – accept delivery and wait for the approval of regulatory authorities," Roque said. "I know they're about to file; I do not know if they have in fact filed."
Roque reiterated that Sinovac vaccines are effective, saying they were found to be 91.25 percent effective in Turkey and in Indonesia. He also cited reports that Indonesian President Joko Widodo is set to receive the first shot of the vaccine.
Asked if President Duterte is ready to be inoculated with the Sinovac vaccine, Roque said he is willing to receive shots from vaccines made by Chinese and Russian companies.
"He wants to be vaccinated immediately. He wants vaccines from Chinese and Russian (firms). He was asking if he can receive both. I don't think so. The President has to choose between Chinese and Russian vaccines," Roque said.
"But since the Chinese will be the first to arrive, maybe he will prioritize (this)," he added.
Roque said Filipinos with "colonial mentality" and who prefer Pfizer should wait for the arrival of its vaccines, which he said may only be available in major cities because of its storage requirements. "We don't have cold chain capacity outside of Metro Manila that is -70 (degree Celsius). The freezing point is zero. Where will you get the -70?"
.
Indian vaccine
The Philippine government has signed an agreement for the supply by the third quarter of the year of some 30 million doses of Covovax COVID-19 vaccines from India, according to the DOH.
In a statement, the DOH said the government – represented by vaccine czar Carlito Galvez – signed the deal with Serum Institute of India (SII) and its Philippine partner Faberco Life Sciences Inc.
Health Secretary Francisco Duque III said on Twitter that the country is already "in the final stages of closing agreements with various manufacturers to vaccinate at least 60-70 percent of the population."
"Sec. Charlie and I will share details (today). Kudos to our tireless inter-agency team working round-the-clock on PRRD's guidance on vaccines: safe, steady, sure and secure," he said, referring to Galvez by his nickname and Duterte by initials.
Faberco founder Kishore Hemlani called the agreement "a significant milestone in relations between India and the Philippines."
"It shows that we don't have to look far beyond Philippine shores to find friends who are willing to help each other out," Hemlani added.
The development of Covovax vaccine is a partnership between SII and Novavax. SII is the world's largest vaccine manufacturer, while Novavax is a US-based biotechnology company.
Covovax is in third-stage trials and is expected to be approved for use by international regulators.
Faberco Life Sciences Medical director Luningning Villa said the vaccine will benefit 15 million vulnerable and poor Filipinos.
"The vaccine is stable at 2°C to 8°C, the standard temperature that is within the existing cold chain system in the Philippines, thus allowing its distribution to the remotest barangays," Villa added.
Covovax underwent the initial phase of clinical trials in Australia, South Africa and India.
Phase-three trial is currently being carried out in the United Kingdom with 15,000 subjects as well as in the US and Mexico, with 30,000 subjects.
It has been thoroughly evaluated in different geographies, various age groups, groups most affected by COVID-19, including people living with HIV, and racial and ethnic minorities. The price of the vaccine is still being finalized.
SII, through Faberco, also supplies the Philippine government with other vaccines for its Expanded Program for immunization, such as Inactivated polio vaccine, rotavirus vaccine and pneumococcal conjugate vaccine.
.
Private help
Meanwhile, the Philippine Medical Association (PMA) is offering to help the government in its vaccination program, as the first inoculation in the country against COVID-19 is expected to begin by next month.
"PMA… lauds and will strongly support the efforts of the Philippine government in adopting a nationwide vaccination program to address the COVID-19 pandemic," PMA said in a position paper.
The PMA has also expressed "gratitude" to government for prioritizing frontliners in the vaccination efforts.
The group said this would "enable medical professionals to fully and without fear participate in the program and attend to patients requiring medical attention."
PMA has committed to conduct an information campaign to increase public awareness about the need for vaccination.
It has also promised to help in monitoring the side effects or adverse reaction among the vaccinated population.
"Subject to its limited resources, the PMA stands ready to help the Philippine government in other ways as may be needed for the vaccination program," the group added.
Sen. Risa Hontiveros meanwhile has urged the Chinese government to actively cooperate with Philippine agencies in investigating the illegal entry of unauthorized China-made vaccines in the country.
"With the strength of security and surveillance in China, it is impossible for them not to know who is plotting these black market vaccines," Hontiveros said in Filipino.
"China must explain. Beijing should lead its own inquiry and submit pertinent information to Philippine agencies. It is their responsibility to find out how illegal vaccines got out of their country and reached our country," Hontiveros said.
Hontiveros believes a Beijing-led investigation is also in China's best interest. "Transparency from their end could raise the public trust in China-made vaccines, not only in the Philippines but also across the world. Ultimately, it will help lift the world against the pandemic," she said. – Sheila Crisostomo, Cecille Suerte Felipe
Related video: