ASEAN COVID-19, NEW VARIANTS & VACCINES: PART 2: MYANMAR TO VIETNAM- Here is the ASEAN status as of Tuesday, 7am, January 26, 2021
COVID-19 infection crosses 97.2 million globally as deaths cross more than 2.08 million.
.
.
.
Ads by: Memento Maxima Digital Marketing
@[email protected]
SPACE RESERVE FOR  ADVERTISEMENT
.
Here is the ASEAN status as of Tuesday, 7am, January 26, 2021
.
.
Myanmar
Myanmar reported +448   new cases, taking total to 135,243 and +13 new deaths, total is at 2,986               deaths.
.
Philippines
.
DOH confirms local transmission of UK COVID-19 variant in Bontoc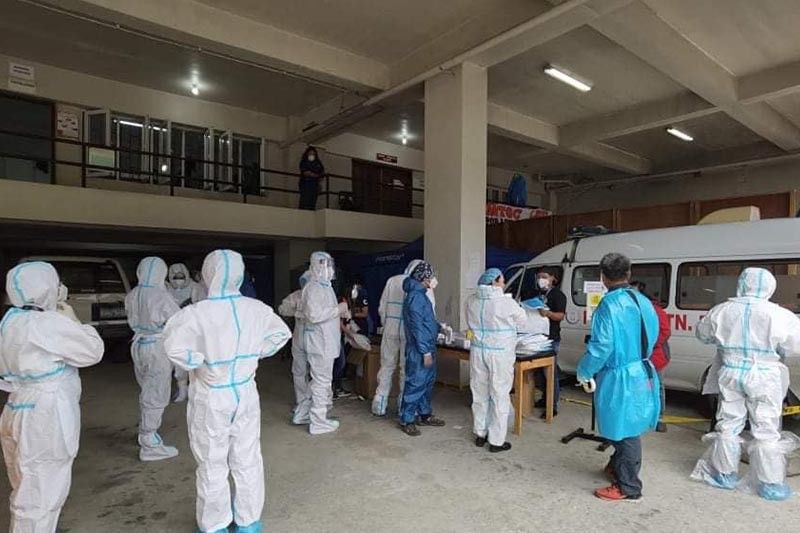 Intensified and expanded contact tracing is underway for the 12 confirmed cases of the new and more transmissible COVID-19 UK in Bontoc, Mountain Province on January 25, 2021.
Municipality of Bontoc, Mountain Province
.
MANILA, Philippines — The Department of Health confirmed the local transmission of the new and more contagious coronavirus variant in Bontoc, Mountain Province.
"The Department of Health confirms local transmission in Bontoc of the B.1.1.7 variant of SARS-CoV-2 as identified through genomic sequencing," the DOH said in a statement released late Monday evening.
.
38 contacts of UK variant cases positive for COVID-19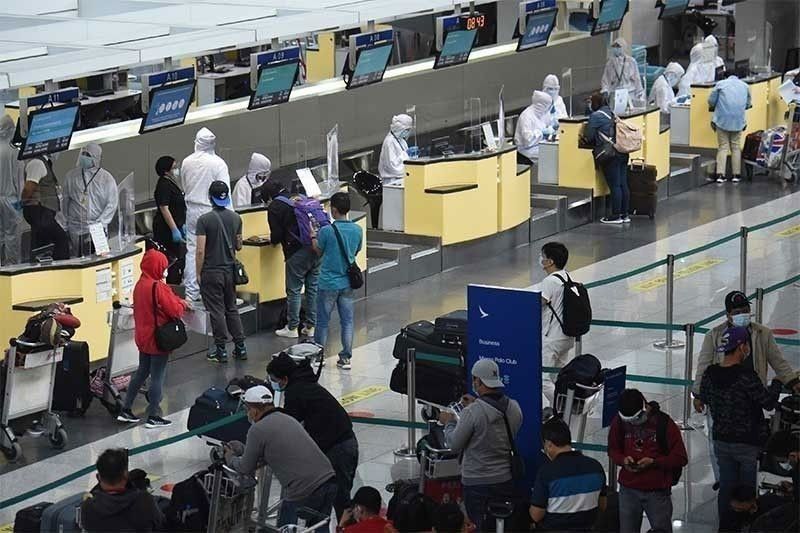 DOH Undersecretary Maria Rosario Vergeire disclosed that from 144 close contacts in Bontoc, 34 turned out positive for COVID-19.
AFP/Ted Aljibe
.
MANILA, Philippines — The Department of Health (DOH) said yesterday that 38 close contacts of persons infected with the UK variant of coronavirus in Bontoc, Mountain Province and Calamba City, Laguna have tested positive for the original COVID-19.
DOH Undersecretary Maria Rosario Vergeire disclosed that from 144 close contacts in Bontoc, 34 turned out positive for COVID-19.
Data showed that 28 out of these 34 contacts are still subject to genome sequencing to determine the possible presence of the UK variant.
.
PREVIOUS:
The Philippines recorded +1,357 new cases, bringing the total to 504,084 with +69 new deaths, bringing total 9,978 deaths.
.
Singapore-
S'pore reports 44 new COVID-19 cases, all imported
SINGAPORE (CNA) – Singapore reported 44 new COVID-19 cases as of Monday noon, and all were imported infections, said the Ministry of Health (MoH) in its preliminary daily update.
.
Govts must be ready to deal with setbacks, protect weakest amid Covid-19 uncertainty: Tharman
SINGAPORE – Until the roll-out of Covid-19 vaccines is widespread and the world achieves herd immunity, global economic recovery will be uncertain, Senior Minister Tharman Shanmugaratnam said. Governments must therefore prepare for a range of possibilities, be ready to deal with setbacks, and ensure that policies are in place to protect their weakest citizens.
READ MORE:
.
Covid-19 pandemic could last four or five years: Lawrence Wong
SINGAPORE – It could be four or five years before the world sees the end of the Covid-19 pandemic and the start of a post-pandemic normal, said Education Minister Lawrence Wong.
In setting out this time frame, he noted that the world is likely to encounter many more bumps along the way in handling the crisis.
While the availability of Covid-19 vaccines will progressively restart global travel, getting the world vaccinated will not be quick or easy.
.
That means that for the rest of this year – and perhaps a good part of next year – Singaporeans have to be prepared to live in an acutely changed world, Mr Wong said in a speech at the Institute of Policy Studies' Singapore Perspectives Conference on Monday (Jan 25).
"The rules around wearing of masks, upholding of safe distancing measures, and avoiding crowded places – these will continue to be part of everyday life," he added.
On possible bumps ahead, the minister cited how initial research suggests that current vaccines may not be so effective against the South African mutant strain of the virus.
In a positive scenario, the world ends up developing a vaccine that works against all strains of the coronavirus. Alternatively, vaccination ends up looking like a flu jab, where a new formulation is created on a regular basis.
In the worst case, the world remains always a step behind an evolving virus, he said. "And the bottom line is that we live in a shared world, and no one is safe until everyone is safe."
No one can tell what the post-coronavirus world will look like, although some positive changes may arise, Mr Wong said.
He gave the example of how spittoons and public spitting were seen as unsanitary after the 1918 influenza pandemic.
Similarly, in Singapore, the pandemic has prompted greater awareness of hygiene habits and social responsibility. Even so, some old habits – such as handshaking – may die hard, he said.
"Each time there is a pandemic, there is a call to say: 'Let's have different forms of greeting, in order to reduce the risk of transmission,'" he added, noting that this happened when Singapore faced the severe acute respiratory syndrome (Sars) crisis in 2003.
"But somehow, humans being what we are, we have always gravitated back towards some form of human contact."
In a crisis like this, the natural tendency is to extrapolate the worst from one's immediate circumstances, Mr Wong said. For instance, some have predicted that digitalisation will precipitate a move towards decentralised living arrangements, rendering cities obsolete.
But history contains multiple examples of cities that bounced back after pandemics, he noted.
For example, 14th-century Florence flourished after the bubonic plague and launched the Renaissance movement. American cities such as Chicago and New York also saw a boom in the 1920s, after the 1918 pandemic ravaged the country.
"And the reason this happens is that cities are not just buildings and monuments," Mr Wong said. "They are fundamentally about the people who dwell in them, and humans are, by nature, social animals."
Humans are also adaptable, and therefore have the ability to shape their future, he added. "Let's think of the crisis as setting the stage for a software update – a reboot of sorts after the tremendous damage inflicted by the virus."
.
CNY visiting rules, seniors to get vaccine: S'pore's new Covid-19 measures at a glance
SINGAPORE – From Tuesday (Jan 26), all households will be able to host a maximum of eight guests a day, as part of stepped-up measures to combat rising Covid-19 infections ahead of Chinese New Year.
Singapore will also begin Covid-19 vaccinations for those aged 70 and above from next Wednesday, starting with pilot schemes in Ang Mo Kio and Tanjong Pagar.
.
Thailand
.
COVID-19 OUTBREAK
Last updated: Jan 26, 2021 at 07:28 hrs.
THAILAND SITUATION
Total cases:13,687

Recovered:10,662

Daily New Cases:187

Deaths:75

Rank:126
914 new cases in Samut Sakhon
CCSA hints at easing controls elsewhere
PUBLISHED : 26 JAN 2021 AT 04:00
Samut Sakhon reported 914 new cases of the novel coronavirus on Monday, as the Centre for Covid-19 Situation Administration (CCSA) hinted that it may begin relaxing disease control measures in some provinces.
From the 914 cases reported in the province on Monday, the highest daily number since the province was found to be the epicentre of the second wave, 844 were found through active case-finding. Out of the 844, 760 cases were detected among foreign migrant workers, while the rest were Thais.
The remaining 70 cases — 35 Thais and 35 migrant workers — were found in hospitals.
The latest report brought the total number of confirmed cases in Samut Sakhon to 6,555, according to the province's public relations office.
.
Earlier on Monday, assistant spokesperson for the CCSA, Apisamai Srirangsun, said the public health officials are aiming to test 10,000 people a day in Samut Sakhon until the end of the month.
As active case-finding has been stepped up, it is likely that the province will report high numbers of confirmed cases, she said
"With the target [for testing] set at 10,000 people a day, there is a high chance of finding around 800 new cases each day," she said, before moving on to assure the public that the government has the ability to rein in the outbreak.
When asked if Samut Sakhon's public health infrastructure is ready to cope with the expected increase in confirmed cases, Dr Apisamai said in addition to the 1,091 beds currently available at the province's field hospital, 400 more beds will be added today, while 1,000 more will be added on Friday.
A private company has also allowed its factory to be used as a field hospital, which will be able to accommodate 2,000 patients once it is ready.
When asked about the easing of restrictions, Dr Apisamai said the decision will be made based on the information sent by provincial governors and local health authorities which have been closely working with the CCSA.
"This week is important as we will see some easing [of curbs]. Some provinces may see restrictions lifted, while others may be subjected to tighter curbs, especially in red zone areas," the spokeswoman said.
Separately, the deputy governor of Samut Sakhon, Surasak Pholyoungsong, said he has invited stall owners and operators at the province's Central Shrimp Market to discuss the best way to manage the migrant workers' accommodation in the market.
"The result of the discussions will then be presented to the CCSA," he said.
He also said that it is highly unlikely that the market will be allowed to reopen tomorrow as originally planned, as the number of infections around the market remains high.
.
"Once the market reopens, strict disease control measures must be enforced," he said.
Meanwhile, Deputy Prime Minister and Public Health Minister Anutin Charnvirakul said on Monday the Public Health Ministry will present its recommendations for reopening to the CCSA, with a focus on the economic impact on business operators.
The CCSA will make the final decision on how the restrictions will be eased, Mr Anutin said.
On the issue of getting students back to class safely on Feb 1, he said that the Public Health Ministry will discuss safeguards that need to be in place at schools before they reopen. The safeguards, he said, will differ from province to province, depending on the severity of the Covid-19 situation in the area.
A government source said that Prime Minister Prayut Chan-o-cha, in his capacity as the CCSA's chairman, will convene the CCSA to discuss the possibility of relaxing virus-related curbs on Friday.
Among the issues which will be discussed at the meeting is the extension of dine-in hours at restaurants, which are currently allowed to open only until 9pm in Bangkok.
Meanwhile, Defence Ministry spokesman Kongcheep Tantravanich said Gen Prayut, in his capacity as Defence Minister, has instructed the armed forces to step up border patrols and surveillance to prevent the spread of Covid-19 from neighbouring countries.
A total of 2,043 illegal migrants were arrested between October last year and January, he said.
>
Thai scientists race to develop homemade COVID-19 vaccine
ChulaCov19 is a vaccine that is being developed by the Medicine Faculty of Chulalongkorn University in Thailand to fight the COVID-19 pandemic. PHOTO: CNA
.
BANGKOK (CNA) – As the Thai government races to secure more COVID-19 vaccines from various sources, a group of medical scientists is preparing for the first clinical trial of a home-grown cure they are developing to fight the pandemic.
In April, they expect to inject 72 volunteers aged between 18 and 75 with ChulaCov19 – a vaccine that is being developed by the Medicine Faculty of Chulalongkorn University in Bangkok to fight the infectious disease.
"We'll inject our first volunteer in April, probably around the end of the month. Within two months, we should know the results of Phase 1, which will show what appropriate dosages will be," said Kiat Ruxrungtham, professor of medicine and director of Chulalongkorn University's vaccine research centre – Chula VRC.
Globally, there are several types of vaccine technologies being used for COVID-19. ChulaCov19 employs Messenger RNA or mRNA, which enables the body to produce a protein that triggers an immune response to the virus. The technology is used by leading pharmaceutical companies such as Moderna, Pfizer and BioNTech. They have released data backed by large-scale clinical trials indicating that their vaccines are more than 90 per cent effective in preventing the disease in humans.
Other types include viral vector technology, which is used by AstraZeneca and Oxford University, and inactivated vaccines such as CoronaVac by China's Sinovac Biotech.
"We chose mRNA because we believe it is a technology of the future. It has also been proven that this technology developed the fastest and reported 94 per cent to 95 per cent efficacy in humans, which is the highest rate," Kiat told CNA.
His team expects to complete Phase 1 in June. They will then move on to Phase 2 and later Phase 2B with 600 and 5,000 volunteers respectively. If all goes as planned, Kiat added, ChulaCov19 could be manufactured in Thailand by the end of this year.
.
Vietnam
One new imported COVID-19 case confirmed on Monday
Update: January, 25/2021 – 18:08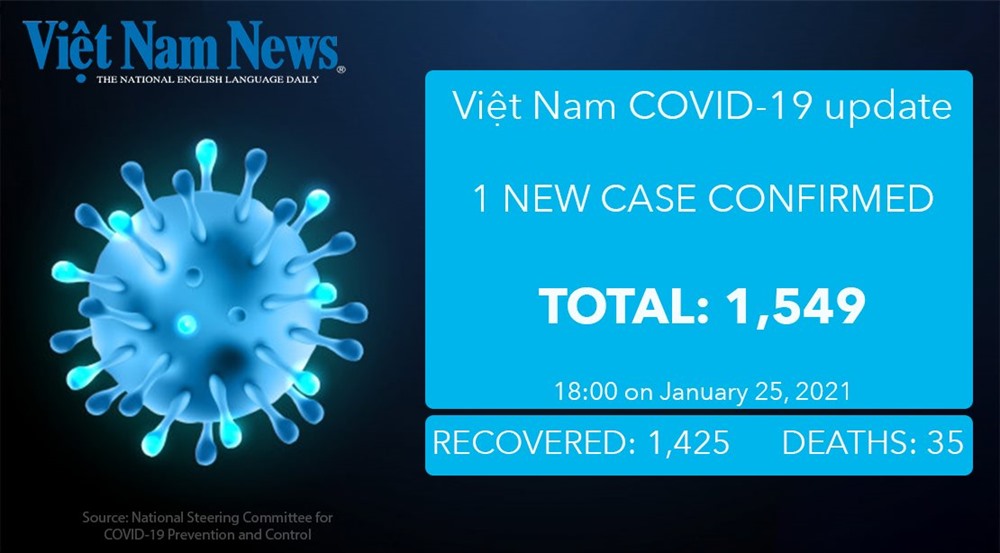 A woman returning from Indonesia was the latest COVID-19 case confirmed today.
Source: world meters