ASEAN COVID-19, NEW VARIANTS & VACCINES: PART 2: MYANMAR TO VIETNAM- Here is the ASEAN status as of Sunday 7am January 31 2021
The coronavirus COVID-19 is affecting 219 countries and territories around the world and 2 international conveyances.
Here is the ASEAN status as of Sunday 7am, January 31, 2021
.
.
Ads by: Memento Maxima Digital Marketing
@[email protected]
SPACE RESERVE FOR  ADVERTISEMENT
.
Myanmar
Myanmar reported +349 new cases, taking total to 139,864 and +10 new deaths, total is at 3,125 deaths.
Philippines
The Philippines recorded + 2,109, taking total to 523,516 and +71 new deaths, total is at 10,669 deaths.
Singapore
Reported +58 new cases, taking the total to 59,507 and 0 new death, tally now 29 deaths.
Thailand
Reported +930 new cases, total at 17,953, +1 new death, total deaths stands at 77.
Vietnam
Vietnam's Ministry of Health had +62 new cases and a total of 1,767 cases, no new death, total remains at 35.
.
Hà Nội shuts schools ahead of planned holiday break over COVID-19 community outbreak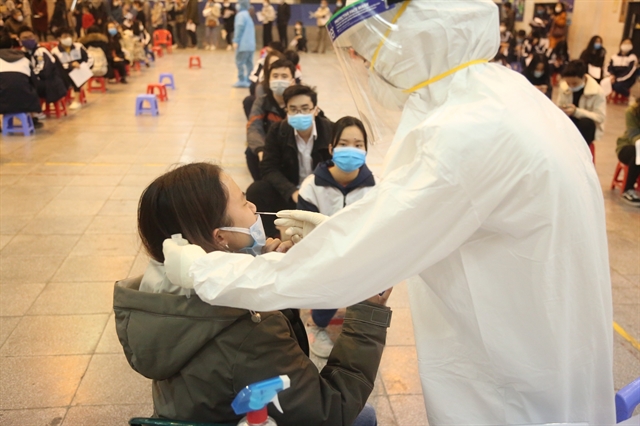 HÀ NỘI — After recording 11 community COVID-19 cases, Hà Nội authorities decided to close schools starting Monday (February 1), one week ahead of the Tết (Lunar New Year) holiday.
Chử Xuân Dũng, Deputy Chairman of Hà Nội People's Committee and head of the city's COVID-19 response committee, on Sunday agreed with the proposal from the city's education and training department to let all students in the capital city – in public or private kindergarten, primary, secondary high, high, and vocational schools – stay home as a measure to contain the outbreak.
Hà Nội People's Committee called for "utmost readiness" and prepare to handle all possible developments of the outbreak to ensure the safety and health of the educational officials, teachers, school's staff and the students.
If the outbreak is contained, students will return to school on February 16.
The cases in Hà Nội are connected to the ongoing outbreak in the northern province of Hải Dương, the epicentre of the community wave of infections to hit the country since the pandemic began – this time marked by the presence of the more contagious coronavirus variant first reported in the UK.
Six of the new cases reported this morning are relatives related to the 40-year-old Patient No.1,694 in Nam Từ Liêm District, Hà Nội – his wife, son, mother and father-in-law, and brother-in-law, leaving his six-year-old daughter in the family of seven to be the only member to test negative.
Notably, his son – N.Đ.N.K, a nine-year-old third grader – went to Xuân Phương Primary School, Nam Từ Liêm District, Hà Nội during January 18-29 and 57 students, 12 teachers and 11 parents were identified as the direct contacts and had to go into quarantine.
The venue for quarantine was decided to be the Xuân Phương school itself. The military and local police officers have cordoned off the school, and family members of the quarantined people could be seen outside the school perimeters on Sunday to supply food, clothes, and other necessary items.
One parent is permitted to stay with their child who has to quarantine at the school.
Health workers have collected samples from the quarantined cases on Saturday night, with results pending.
Those who came into contacts with these quarantined cases are asked to self-isolate at home, under the supervision of the local administrations.
Phạm Xuân Tiến, deputy director of the Hà Nội Education and Training Department asked students to stay home and schools to organise online sessions. By doing so schools would be better prepared for even more complicated developments of the pandemic after the Tết holidays, he said.
Hà Nội was the ninth locality in Việt Nam to announce school closures following the slate of community cases in Quảng Ninh and Hải Dương provinces reported on Thursday.
The northern provinces of Hải Phòng, Bắc Ninh, Hoà Bình, Bắc Giang, Thái Bình along with the Central Highlands Province of Gia Lai, which have recorded cases related to the outbreak or direct contacts of confirmed cases, quickly followed suit and asked schools to conduct virtual learning if needed. — VNS
 .
Việt Nam confirms first COVID-19 patient carrying South Africa variant
Update: January, 31/2021 – 10:53
HÀ NỘI — Việt Nam's health authorities on Sunday confirmed the country's first COVID-19 case with the highly contagious variant first reported in South Africa.
The patient is a 25-year-old female expert from South Africa who landed in Việt Nam at Nội Bài International Airport on December 19, after transiting through Doha, Qatar.
The woman was quarantined on arrival and her COVID-19 test results return positive on December 23.
She is currently being treated at the Đông Anh campus of the National Hospital for Tropical Diseases in Hà Nội.
The National Institute of Hygiene and Epidemiology based in Hà Nội has been conducting genomic sequencing of all COVID-19 cases in the northern region, and prior to the current community outbreaks centred in Hải Dương and Quảng Ninh cropped up earlier this week – the institute's works mostly dealt with imported coronavirus patients.
On January 5, the Vietnamese Government imposed a ban on inbound flights from the UK and South Africa over concerns of the mutated coronavirus that could result in faster and stronger spread among humans.
The country has closed off its border against nearly all foreign arrivals since March last year, but still occasionally permitted a limited number of flights to repatriate its citizens overseas or bring in foreign businesspeople or experts considered essential for its economic development but all have to be quarantined for 14 days.
The ongoing outbreak in the northern province of Hải Dương, centred around a Taiwan-invested electronics factory in Chí Linh City, was highly concerning due to the presence of SARS-CoV-2 variant first reported in the UK – which is also very contagious but not necessarily causing more severe disease in the infected.
The outbreak was discovered following a testing drive prompted after a female worker at the factory tested positive for the new variant after arriving in Japan, as the country at the time has not recorded any local infection for more than 50 days. — VNS
Source: world meters
.
Ads by: Memento Maxima Digital Marketing
@[email protected]
SPACE RESERVE FOR  ADVERTISEMENT