SCI TECH-PRIMATOLOGY: HEADLINE: HANOI, Viet Nam- Monkeying around: farmers focused on langur protection
.
.
Starting out as a voluntary group since 2011 to safeguard some 20 flocks of Hatinh langurs (Trachypithecus hatinhensis), a team of 14 farmers in Tuyên Hóa District of Quảng Bình Province is working hard to protect the endangered species, which can only be found in Việt Nam and Laos.
The team, which was previously 80 per cent men, has recruited several female farmers over the last five years, for tracking on karst mountain trails to protect the primate population from poachers. They are the first female volunteers to do such work in central Việt Nam.
Đoàn Thị Hợi, whose husband is also a team member, said she initially just followed her husband, Nguyễn Văn Hồng, in trailing the primates, when she had time off from farm work, but soon became fascinated by the lively mammals.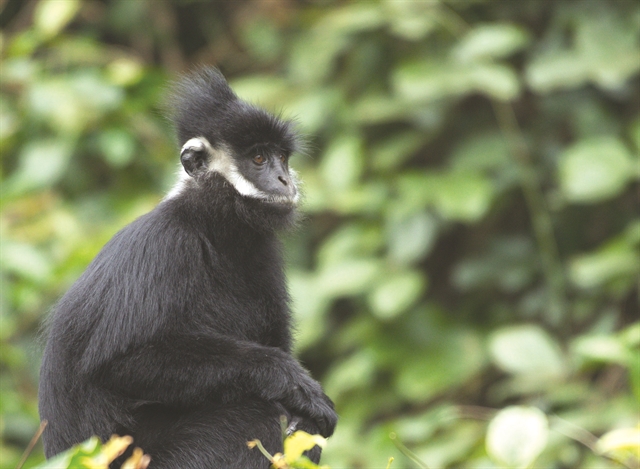 ___________________________
SPACE RESERVE FOR  ADVERTISEMENT
_________________________________________________
"At first, I followed a jungle trek with my husband, but I then found the jungle trips with langurs were just so interesting. We arrange time at least once per week to visit the primates," Hợi said.
She said her husband, formerly a skilled hunter in Thạnh Hóa Village – had stopped illegal hunting to become one of two key members of the team a few years ago.
The 51-year-old farmer said almost all team members earn a living from rice farming and labour intensive jobs, but always spare time to visit the langurs who they see as friends.
"We come to check what dangers threaten them. We see them like our kids and family members," she said.
Voluntary work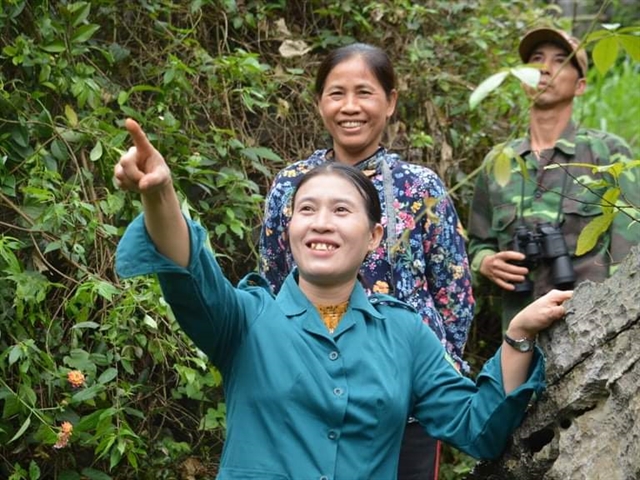 ___________________________
SPACE RESERVE FOR  ADVERTISEMENT
_________________________________________________
Hợi said that they brought water to the langurs in the dry season (between April and June) when water sources were limited.
"Each of us carries one or two containers of water to keep in the rock hollows. It takes us two or three hours to trek up to seven kilometres to the langurs' shelters. We are so happy when the langurs do not go away as we approach them up close," she said.
Hà Thị Thu Hiền, 35, from Sơn Hóa Commune has spent five years tracking the langurs with the team leader, Nguyễn Thanh Tú, a retired border soldier, in jungle patrols and wildlife protection campaigns.
"It's hard for women trekking uphill, and it gets even harder with sloppy paths in the rainy season," Hiền said.
She said her four-member family, including two primary school aged children, still reserved time for visiting the langurs in their free time, even though they were often busy working on the rice farms.
"At first, our patrol did not get support from the villagers as our jungle trips earn nothing, but they eventually understood our work," Hiền said.
"The community has acknowledged the langur population is endangered, and that the existence of them was important to the environment and that the protection would promote the honour of the locals."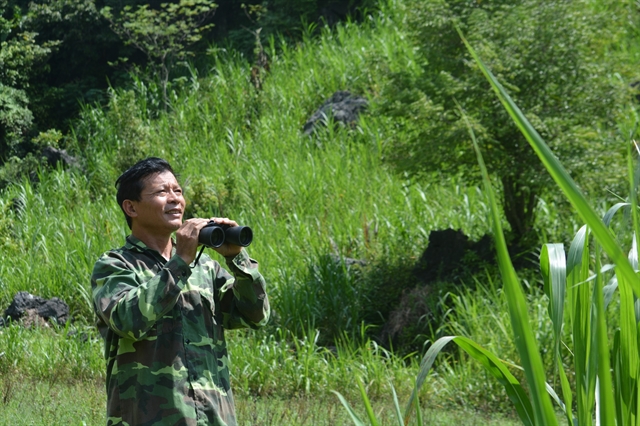 ___________________________
SPACE RESERVE FOR  ADVERTISEMENT
_________________________________________________
]Hiền said each member of the team had recently been given an allowance of VNĐ300,000 (US$13) for travel costs from the Centre for Highlands Natural Resources Governance (Cegorn) – a local NGO – and training courses for wildlife conservation.
Head of the team Tú, 59, said the langur population had been growing well since the team had been monitoring them from 2012.
He said he could only see 10 groups of langurs back then, but at the latest count were 22 flocks with 156 individuals as of July of 2021.
Tú said at least 20 new langurs were born each year according to data and field surveys of the team over the past 10 years.
He said two flocks of Assam macaque (Macaca assamensis), with a total of 30 individuals were also found living in the regional forest.
"We do not have good equipment to track down the primates, only two binoculars, jungle trekking experience and manual records on the existence of the animals. Cegorn began supporting the team with technical assistance in June of 2021," Tú said.
"However, a few of us have smartphones to utilise software on the supervision of the primate population. The team, in co-operation with local rangers, hosts wildlife protection awareness communication for at least 200 locals who work on farms near the langurs' natural habitats."
The team leader said female members had made great contributions to the protection of Hatinh langurs by boosting awareness among local people, removing traps and snares, as well as blocking illegal hunting in the region.
The team assigns members to patrol territories in the four communes of Thạch Hóa, Đồng Hóa, Sơn Hóa and Thuận Hóa, but they will also group together in a mass trekking expedition if needed, he added.
The endless efforts of the team paid off when the Ministry of Natural Resources and Environment recently presented them with awards for protection of the endangered species.
The central province of Quảng Bình also approved the establishment of a strict protection zone over 710 hectares of special-use forest area to protect 22 Hatinh langur flocks in Tuyên Hóa.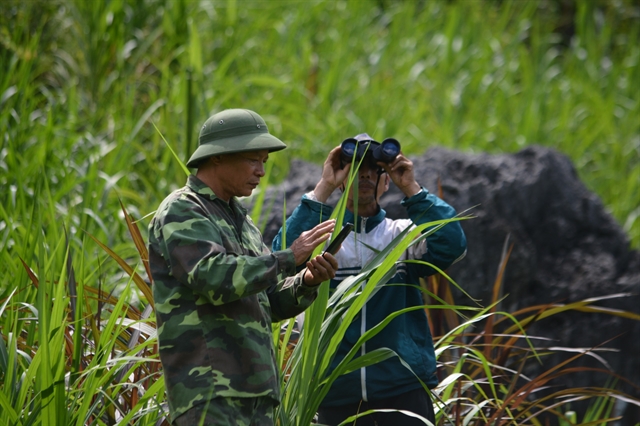 ___________________________
SPACE RESERVE FOR  ADVERTISEMENT
_________________________________________________
Local authorities have also banned limestone mining and mineral exploitation activities in the area and surrounding communes to ensure a safe habitat for the endangered primates.
The existence of the langurs has lured international biologists, conservationists and wildlife photographers to visit the site in recent years.
"We are so happy. Our endeavour was recognised by the local community and authorities, but the growing population of the endangered langurs is an even more priceless prize for us. This poverty-stricken region is now on the map for having some of the most precious animals in Việt Nam and the world," Tú said. VNS
.
_____________________________________
Ads by: Memento Maxima Digital Marketing
@[email protected]
SPACE RESERVE FOR  ADVERTISEMENT
___________________________________________________
 TRIVIA:
<>
Primatology – Wikipedia
https://en.wikipedia.org
 › wiki › Primatology
Primatology is the scientific study of primates. It is a diverse discipline at the boundary between mammalogy and anthropology, and researchers can be found …