LIFE+STYLE: Features-   A potted history of Vietnamese tea
.
.
An old Asian scholar once said: "There is something in the nature of tea that leads us into a world of quiet contemplation of life." And he was not wrong.
Tea has been a central cultural feature of East Asia for millennia, and Việt Nam is one of the earliest tea-drinking nations in the world. The art of tea drinking in Việt Nam is simple but elegant, with features that are hard to find anywhere else in the world.
A cup of tea is always a great way to start a conversation, and a good pot of tea provides a wonderful way to strengthen family bonds or friendships.
Brewing a hot pot of fresh tea and sipping it during the rare leisure time offered by the Lunar New Year holidays brings a feeling of peace and harmony, dissolving the stresses and strains typical to everyday life.
.
Ads by:
Memento Maxima Digital Marketing
@[email protected]
SPACE RESERVE FOR ADVERTISEMENT
Over thousands of years, Vietnamese tradition has refined the art of tea drinking to six key factors: Nhất Nước (First, water), Nhì Trà (Second, tea), Tam Pha (Third, making), Tứ Ấm (Fourth, pot), Ngũ Trạch (Fifth, place), and Lục Nhạc (Sixth, sound).
According to Nguyễn Ngọc Tuấn, a tea connoisseur, Trạch means a space to enjoy tea. It can be a tea table in a living room, a porch, a communal house, the middle of a forest, or the quiet of a temple or pagoda.
.
Ads by:
Memento Maxima Digital Marketing
@[email protected]
SPACE RESERVE FOR ADVERTISEMENT
Nhạc can include the sound of water-boiling, wind-blowing in the bamboo bushes, birdsongs or flutes gently humming.
"These are the six necessary and sufficient factors that can make a drink of tea satisfying. Without any one of them, it is difficult to achieve the perfect art of tea. None of those six factors is more important than the other but throughout that process is the role of the tea and tea maker," Tuấn told the website baoquocte.
"Tea makers hold a very important role in the art of tea. They must be thoroughly knowledgeable in choosing tea, water and teapot. They should also be masters in preparing, decorating, and choosing space and time for organising the tea drinks. Tea persons are tea makers that help bring the Vietnamese love of tea to all who drink it."
.
Ads by:
Memento Maxima Digital Marketing
@[email protected]
SPACE RESERVE FOR ADVERTISEMENT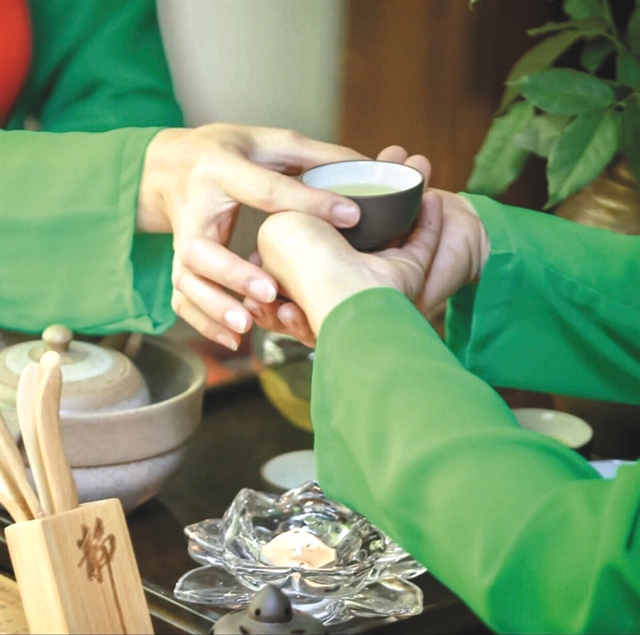 .
The Vietnamese traditional tea art is not sophisticated with many principles like the Japanese, nor has the rich history of the Chinese, nor is even practical as with Western tea, but it gives a strong impression through its authentic and rustic features from the way it is prepared to the refined taste.
Việt Nam is a cradle of tea culture with a long history of between 3,000 to 4,000 years.
"When making tea, we highlight the quality of water, considering it as the 'mother of tea', and the ways to enjoy include độc ẩm (drinking alone), song ẩm (drinking with another) or quần ẩm (drinking with many)," Tuấn said.
Research by the Việt Nam Commission for Social Sciences has traced fossilised tea leaves and stems in the ancestral land of Hùng Kings in the northern province of Phú Thọ.
The research, published by the Hà Nội Department of Culture and Sports, suggests that tea trees may date back to the Sơn Vi Stone Age (i.e. Hòa Bình Culture), about 20,000 years ago.
Drinking tea in Việt Nam is rich in forms. It can be sophisticated, as among the royal and aristocratic classes, but also simple as with the common people. Its history runs from the past right through to modern times.
.
Ads by:
Memento Maxima Digital Marketing
@[email protected]
SPACE RESERVE FOR ADVERTISEMENT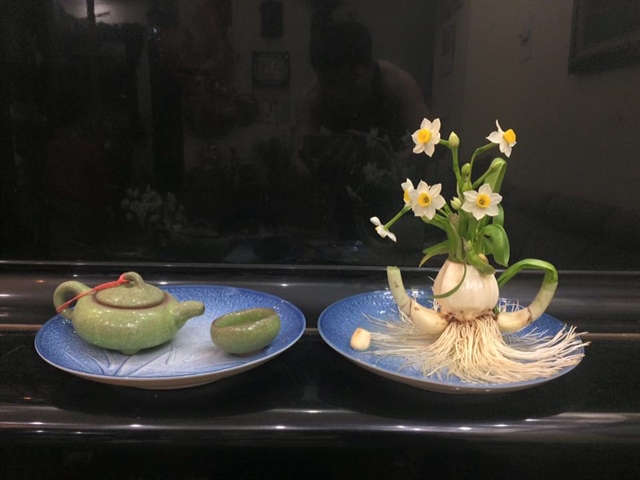 .
Vietnamese tea, no matter how it is processed or drunk, represents the traditional artistic features and hospitality of the Vietnamese people.
Tea is grown in many high mountain regions in Việt Nam, mostly in provinces of Thái Nguyên, Yên Bái, Hòa Bình, Sơn La and the Central Highlands province of Lâm Đồng, with multiple varieties and a uniquely delicious taste.
In areas such as Nghĩa Lộ in Yên Bái, Pà Có in Hòa Bình, and Tà Xùa in Sơn La, there are ancient Shan Tuyết tea trees that are hundreds of years old.
Việt Nam has many types of tea. Primitive tea, known as rustic tea, is often blended with different natural flavours to make different types such as lotus-scented tea, gooey tea, chrysanthemum tea, and white jade tea (scented with five types of white flowers).
.
Ads by:
Memento Maxima Digital Marketing
@[email protected]
SPACE RESERVE FOR ADVERTISEMENT
Tây Hồ lotus tea is one of the most famous. It is a speciality of Hà Nội, as the tea is made only with lotus flowers grown in the city's Hồ Tây (West Lake). Hanoians especially like to drink it.
A theory says to have 1kg of lotus tea, producers must use up to 1,200 lotus flowers that have the highest "degree" of fragrance, but Lê Hồng Quang, 48, a Hanoian lotus tea lover, believes that it actually depends on the quality of the tea involved.
Quang, who has studied and experienced all types of Vietnamese tea for dozens of years, is addicted to drinking tea and regards it as a way of enjoying the life, art and culture of Hà Nội, his home city.
"I often always have green tea in the morning and black tea in the evening. My favourite flavours are Thái Nguyên green tea and Suối Giàng black tea," he said.
Tây Hồ lotus tea is also one of Quang's favourites in the summer when he often sits by the West Lake admiring the beauty of the lotus ponds while watching youngsters enthusiastically take photos.
According to tea connoisseur Hoàng Anh Sướng, to have a tea product, growers have to focus on many factors such as the soil, terrain, mountain air, sunshine, wind, and rain. Tea cultivation should be careful in nursing, watering, and bathing the plants, so that young buds and leaves can be harvested.
"To get a pot of fragrant tea, tea growers, producers, and makers all experience different paths of a long journey to reach the final destination that is the perfect cup of tea," said Sướng.
Sướng, 49, is a sixth generation successor of the famous Trường Xuân and Linh Dược tea lines in Hà Nội.
His father, the late Trường Xuân, dedicated his life to studying tea and the art of enjoying it, and passed that passion down to his son.
Sướng said even when grown on the same hill, tea grown on the eastern part is always better than that grown on the western side.
Ads by:
Memento Maxima Digital Marketing
@[email protected]
SPACE RESERVE FOR ADVERTISEMENT
.
Tea is grown through all four seasons, but its flavour in each is different, according to Sướng. The best tea is harvested in spring, called "Tiền Minh", before the Thanh Minh (Ancestors Day) Festival period. In the past, this tea was offered to Kings.
Meanwhile, Tuấn believes that culture is the totality of human's relationship with nature and society, and Vietnamese tea culture is thus a key part of that relationship.
"We are always absorbing new things and the evidence is that the more young people learn about the art of tea, the more they drink it. It is different from the past when you could only see old or middle-aged people sitting together to enjoy tea," Tuấn said.
Today, despite many new types of imported tea products, especially milk tea and bubble tea, the core of Vietnamese tea culture is still preserved through the generations, such as the unique way of drinking fresh tea that has existed for thousands of years.
"A teapot and tea tools must be neat and simple to prepare for a set of tea. The first thing for welcoming guests is to make a cup of tea and invite them to drink," Tuấn said.
"The customs of rubbing tea leaves on newborns' feet so that they have strong legs, and worshipping the gods of the forest to give many buds with big sizes and strength still exist in the religious culture of many Vietnamese ethnic groups."
Ads by:
Memento Maxima Digital Marketing
@[email protected]
SPACE RESERVE FOR ADVERTISEMENT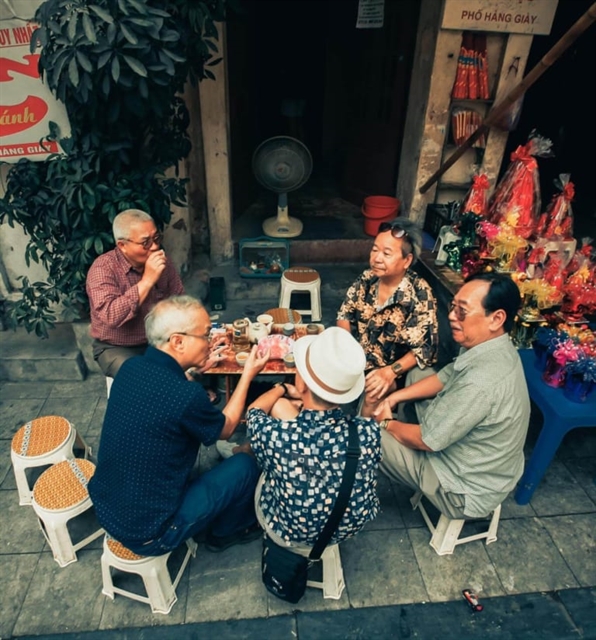 .
Enjoying tea is not only a feeling for the taste of tea but also feeling for the people around, especially the subtlety of the tea makers' skillful hands. Along with the understanding of each type of tea and teapot, connoisseurs have been constantly bringing the essence of tea to drinkers throughout the country and beyond.
A cup of tea opens the conversation, and a cup of tea can connect humanity with its simple, elegant and hidden simplicity. VNS
Update: February, 13/2022