WORLD-EUROPE: Photos of the Day 2.25.22 | Day 2 | Russia invades Ukraine
French Finance Minister Bruno Le Maire, left, walks with Dutch Finance Minister Sigrid Kaag prior to a meeting of EU finance ministers in Paris, Friday, Feb. 25, 2022. European Union leaders put on a united front after a six-hour meeting that went into early Friday morning, during which they agreed on a second package of economic and financial sanctions against Russia. (AP Photo/Francois Mori)
.
EU wants to cut 'all links' between Russia and global financial system
 <>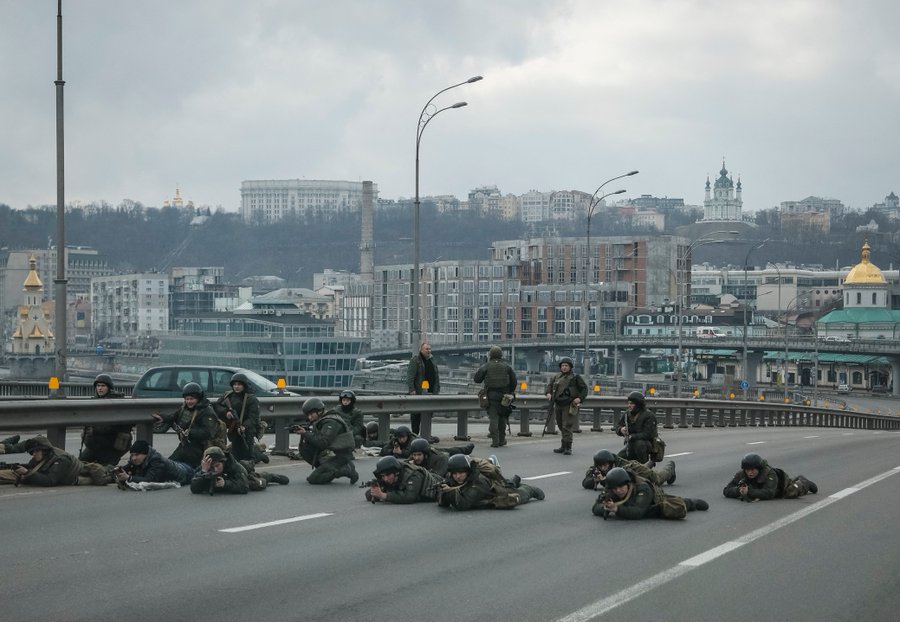 Photo: Ukrainian National Guard in central Kyiv, 📷 Gleb Garanich/Reuters
<>
Ukrainian and Russian forces fight over capital Kyiv
Ukrainian servicemen stand near an armored personnel carrier BTR-3 on the northwest of Kyiv on February 24, 2022. Ukraine army says battle under way for airbase near Kyiv on February 24, 2022. (AFP/Daniel Leal)
<>
Russian attacks in Ukraine 'could constitute war crimes': Amnesty International
LONDON: Russian attacks in Ukraine "could constitute war crimes," Amnesty International said Friday.
The London-based right watchdog said in a statement that it documented "three incidents that it believes to have killed at least six civilians and injured at least 12 more."
<>
Ukraine Girds for Kyiv Attack Amid Signs of Slowing Russian Advance
President Volodymyr Zelensky warned in a video address that Russian "sabotage groups" had entered Kyiv with the aim of decapitating his government by "destroying the head of state."
I saw a residential complex that officials said was taken out by a Russian missile. Radio is broadcasting recipes for Molotov cocktails. Sustained shelling. The president braced Kyiv:
"Tonight the enemy will storm. We must all understand what awaits us."
<>
Ads by:
Memento Maxima Digital Marketing
@[email protected]
SPACE RESERVE FOR ADVERTISEMENT
<>
Kyiv's ragtag volunteer force fights stealth invader
People leave Kyiv after Russia launched a massive military operation against Ukraine, in Kyiv, Ukraine February 25, 2022. (Reuters/Gleb Garanich)
.
Dmitry Zaks (AFP) Kyiv   ●   Sat, February 26, 2022
Ukrainian historian Yuriy Korchemniy has never fired an assault rifle in his life.
<>
EU wants to cut 'all links' between Russia and global financial system
<>
Ads by:
Memento Maxima Digital Marketing
@[email protected]
SPACE RESERVE FOR ADVERTISEMENT
<>
<>
__________________________________________