EDITORIALS & CARTOONS: Containing aggression
.

The Editor
PHILIPPINES
.
Philippine Daily Inquirer
COMMENT:  
It's regrettable that the religious people had abandoned Cardinal Sin's fight for Freedom of Spirit of the Filipinos. Bishops ..wake up and the way with the lighted candles into the dark of the tunnel.
Ads by:
Memento Maxima Digital Marketing
@[email protected]
SPACE RESERVE FOR ADVERTISEMENT
 .
THE MANILA TIMES
EDITORIAL- PRESIDENTIAL DEBATES
3.3.22
EDITORIAL
Other options for fighting high fuel prices
 .
THE recent increase in petroleum prices, which is largely a consequence of Russia's invasion of Ukraine, has naturally caused great concern here in the energy import-dependent Philippines. Not surprisingly, as this situation has developed during the election campaign season, it has always provided populist fodder for politicians seeking to gain public attention and approval, with many calls for the government to provide some relief through suspending the fuel excise tax, providing fuel subsidies, or approving higher public transport fares.
><>
Increasing the proportion of ethanol and biodiesel in Philippine fuels directly addresses fuel supply needs, and can also serve as a significant boost to our agribusiness sector. Ethanol is most often produced from corn, but can be produced from other crops such as sugarcane. Biodiesel, on the other hand, can be produced from vegetable oils (such as palm oil), used cooking oil from restaurants and food manufacturing operations, and even animal fats. In addition, the secondary product of biodiesel production is glycerin, which is a basic raw material that can be used in the manufacture of various hygiene, cosmetic, and food products.
READ MORE: https://www.manilatimes.net/2022/03/03/opinion/editorial/other-options-for-fighting-high-fuel-prices/1834927
<>
COMMENT:  
Since its the nation's natural resource, energy must be subsidized by the gobvernment.
.
Ads by:
Memento Maxima Digital Marketing
@[email protected]
SPACE RESERVE FOR ADVERTISEMENT
 .
EDITORIAL – Containing aggression
The Philippine Star
March 3, 2022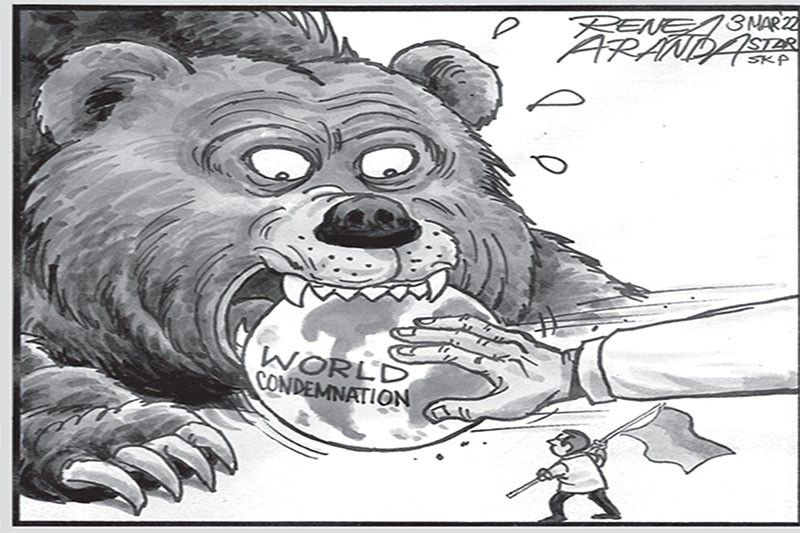 The international response to Russia's invasion of Ukraine is instructive of what's in store for states that behave on the premise that might makes right.
This week Switzerland adopted the sanctions slapped by the European Union on Russia. The Swiss have stressed that their move is compatible with their tradition of neutrality. Russia has engaged in an "attack on sovereignty, freedom, democracy and the population and institutions of a free country," according to Swiss President Ignazio Cassis. "Playing into the hands of an aggressor is not neutral."
 <>
Ukraine, armed with weapons partly supplied by sympathetic states, has put up strong resistance to the invasion. The conflict, however, has displaced many of its people, and Russian bombardment has hit even Ukrainian civilians and killed children. The conflict has rattled global markets particularly crude oil trading; the Philippines itself is reeling from surging fuel prices. The global community must send a message in the strongest terms that this invasion will turn the perpetrator into an international pariah, with all its dire consequences.
READ MORE  https://www.philstar.com/opinion/2022/03/03/2164524/editorial-containing-aggression
COMMENT:

It's timely to re-establish the U.N. leaving no space for the undemocratic countries to bully small countries.
..
Ads by:
Memento Maxima Digital Marketing
@[email protected]
SPACE RESERVE FOR ADVERTISEMENT
EDITORYAL – Buwan ng sunog
Pilipino Star Ngayon 

March 3, 2022 | 12:00am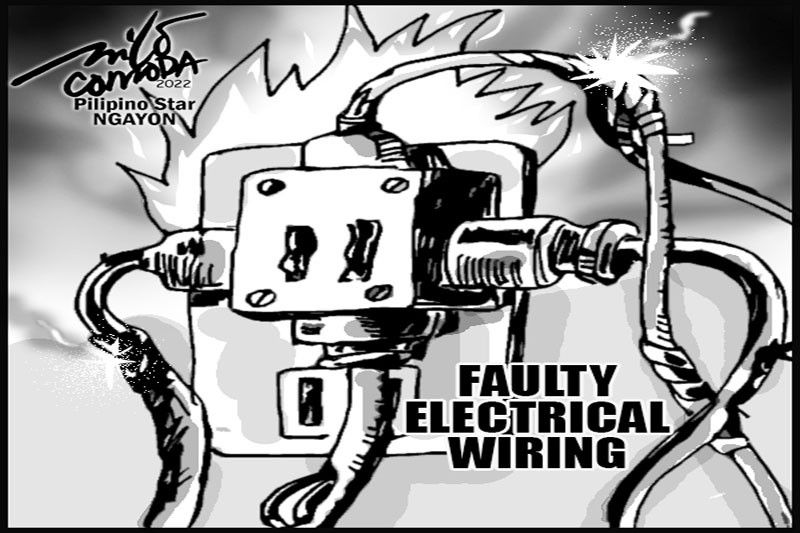 Ang Marso ay Fire Prevention Month (FPM). Noong Martes na umpisa ng FPM, tatlong sunog ang sumiklab, dalawa sa Metro Manila at isa sa Visayas. Mula Enero 1, hanggang Marso 1, 2022, naka­pagtala ang Bureau of Fire Protection (BFP) ng 2,103 na sunog at karamihan sa mga ito ay faulty electrical wiring ang dahilan. Ang iba pang dahilan ay naiwanang charger ng cell phone na nakasaksak, naiwang may sinding kandila at gasera at malilikot na mga batang naglalaro ng posporo.
<>
Hindi na dapat maulit ang malalagim na sunog na umuutang nang maraming buhay. Mag-ingat at maging alerto sa lahat ng oras sapagkat ang sunog ay maaring sumiklab anumang oras.
READ MORE:  https://www.philstar.com/pilipino-star-ngayon/opinyon/2022/03/03/2164585/editoryal-buwan-ng-sunog
COMMENT:
Parang kinatutuwa pa ng mga Filipino ang taonang paggunita sa Buwan ng Sunog..  Maling Pag-iisip na galing sa kapabayaan ng mga taong may otoridad sa Fire Safety.
.