ASEANEWS | Paper Edition-Today's Headline: HÀ NỘI- Bouncing Back
.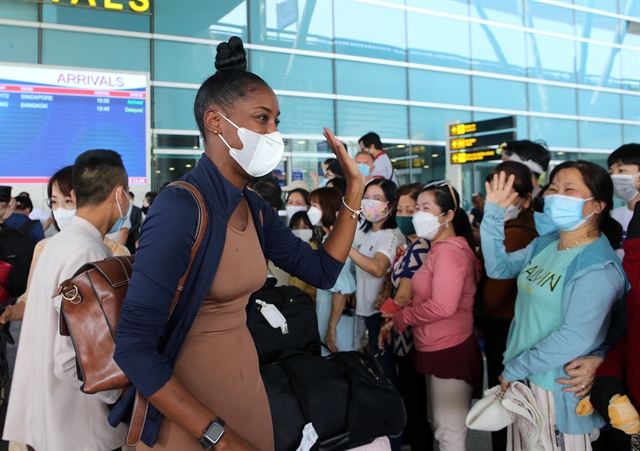 ..
HÀ NỘI — The number of international arrivals to Việt Nam in March increased by 41.4 per cent over the previous month and 2.2 times against the same period last year.
The figures were released by the General Statistics Office (GSO) as Việt Nam starts to resume international tourism and most international flights have been restored.
In the first quarter of this year, the number of foreign tourists to the country reached nearly 91,000, a year-on-year rise of 89.1 per cent. Among them, visitors arriving by air accounted for nearly 90.5 per cent of the total international arrivals to Việt Nam, an increase of 165.2 per cent.
Revenue from accommodation and food services in the January-March period increased by 1.2 per cent year on year, while tourism revenue rose by 1.9 per cent year on year.
From March 15, tourism activities have been fully reopened for both international and domestic tourism, via air, road, rail, and sea routes.
READ MORE: https://vietnamnews.vn/society/1169370/foreign-arrivals-to-viet-nam-surge-in-march-as-country-reopens.html
Ads by:
Memento Maxima Digital Marketing
@[email protected]
SPACE RESERVE FOR ADVERTISEMENT
Today's Paper: March 30, 2022
3.29.22
<>
Ads by:
Memento Maxima Digital Marketing
@[email protected]
SPACE RESERVE FOR ADVERTISEMENT
3.29.22
<>
Ads by:
Memento Maxima Digital Marketing
@[email protected]
SPACE RESERVE FOR ADVERTISEMENT
3.29.22
 <>
Ads by:
Memento Maxima Digital Marketing
@[email protected]
SPACE RESERVE FOR ADVERTISEMENT
Today's Paper: March 30, 2022
Ads by: Memento Maxima Digital Marketing
@[email protected]
SPACE RESERVE FOR  ADVERTISEMENT