HEADLINE: 31st SEA GAMES | HÀ NỘI – Goodbye to the SEA Games
HEAD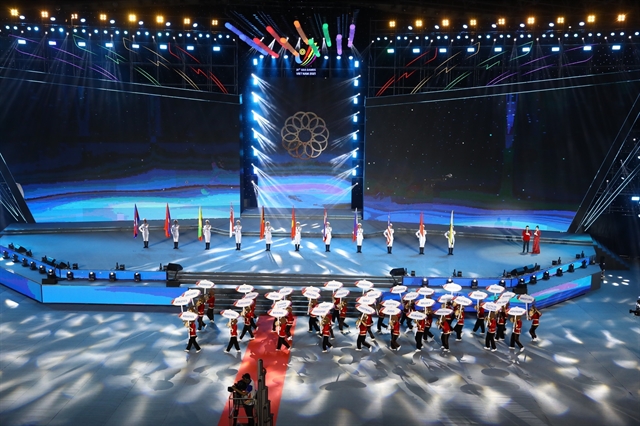 .
.
HÀ NỘI — The SEA Games 31 in Việt Nam has come to an end with a closing ceremony on May 23 at Hà Nội's Indoor Games Gymnasium, attended by Vietnamese and international leaders, athletes and fans.
Announcing the official closing of the Games, Vietnamese PM Phạm Minh Chính said: "The SEA Games 31 has been a great success.
"More than 10,000 athletes, referees and coaches have more than 10,000 stories about their efforts and sacrifices in overcoming difficulties and challenges to participate in the region's biggest sports festival.
>
Memento Maxima Digital Marketing
@[email protected]
SPACE RESERVE FOR ADVERTISEMENT
.
"There were smiles and joy of winning and there are also tears, sadness and regret when the results weren't as expected.
"But above all, every athlete tried their best, competed hard, exchanged, learned, explored different cultures and received support and encouragement from fans. That's a true victory for all of us.
"On behalf of the Leaders of the Party and State of Việt Nam, I announce the closing of the Games. The torch of winning faith, the torch of friendship and solidarity, the torch of peace and development in Southeast Asia will be forever lit.
"We will meet again at the SEA Games 32 in the beautiful and hospitable Cambodia."
A performance with images of the capital city of Hà Nội, a city of thousands years of civilization. — VNA/VNS Photo
.
>
Memento Maxima Digital Marketing
@[email protected]
SPACE RESERVE FOR ADVERTISEMENT
.
The main event began with the National Anthem of the hosts Việt Nam, followed by a parade of all 11 participating countries, referees and volunteers.
At the event, the Organising Committee honoured four athletes: Việt Nam's Nguyễn Thị Oanh and Nguyễn Huy Hoàng, Joshua Robert Atkinson of Thailand and Quah Jing Wen of Singapore with the Most Valuable Player of the SEA Games 31 awards.
The ceremony also featured Việt Nam handing over the Southeast Asian Games Federation flag to Cambodia – the host country of the SEA Games 32.
The ceremony, with the motto "Gather to shine", sent a warm farewell to regional athletes and fans through special art displays, dances with traditional conical hats, áo dài and circus performances from the Central Highlands.
With these unique displays, the ceremony showed the image of Việt Nam as not only a culture imbued with a traditional identity but also a destination integrating deeply with the world and a much-loved hub of development that is attractive to young people.
The closing ceremony ended with a medley of songs to bid farewell to international friends, including Việt Nam's Miracle, A Thousand Dreams of Việt Nam, Beautiful Việt Nam, Việt Nam's Journeys, The Hearts of Việt Nam and Việt Nam in Harmony with the Five Continents, performed by famous Vietnamese singers Văn Mai Hương, Uyên Linh, Dương Hoàng Yến and Hà Nhi, with hundreds of art performers.
For the second time hosting the regional biggest sports competition, Việt Nam welcomed more than 4,900 athletes from the region who competed in 40 different sports across 526 categories.
Việt Nam dominated the medal tally with 446 medals in total, including 205 golds, 125 silvers and 116 bronze medals, breaking the record for the number of gold medals won at one Southeast Asian Games to become the most successful delegation in SEA Games history.
The SEA Games 32 will take place in Phnom Penh, Cambodia in 2023. — VNS
The closing of 31st SEA Games held in Việt Nam. — VNA/VNS Photo
>
Memento Maxima Digital Marketing
@[email protected]
SPACE RESERVE FOR ADVERTISEMENT
.
A performance of Apsara dance as Cambodia assumes the host of SEA Games in 2023. — VNA/VNS Photo