CHESS: Grandmaster couple shine in SEA Games
.
.
.
Laughter and applause broke out in the hall when Grandmaster Nguyễn Ngọc Trường Sơn checkmated his rival and won the rapid chess final at the recently ended SEA Games 31.
It was his second gold in the tournament after winning the standard chess event.
Minutes later, his wife, International Master Phạm Lê Thảo Nguyên, doubled the happiness for the hosts Việt Nam when she also won a rapid chess title.
Four days later, Nguyên pocketed her second gold in the blitz event.
The husband and wife became the first couple to win a gold medal at the SEA Games and the most successful one as they secured two golds each in their second time participating.
"I was worried before the tournament because I had not competed internationally for about two years because of the pandemic," Sơn said.
"However, after winning a gold in the standard chess, my worries went away, and I was more confident to have a good competition."
Meanwhile, his wife said she was happy because she faced a hard rival and their matches were tense, but she finally won.
It was Sơn's eighth gold medal at the regional sports meet. Meanwhile, Nguyên made it for the second time.
"It is difficult to describe the feeling when competing for golds for Việt Nam with my husband in a SEA Games. I pushed to strive harder so that my family could get a high result," said Nguyên.
Ads by:
Memento Maxima Digital Marketing
@[email protected]
SPACE RESERVE FOR ADVERTISEMENT
.
Life of chess
Sơn is currently the No 2 chess master in Việt Nam with an Elo rating of 2,641.
Born in 1990, Sơn played chess from the age of three and was the world U10 champion in 2000. He is the youngest Vietnamese ever to become a Grandmaster, and one of the youngest grandmasters in the game's history, having qualified for the title at the age of fourteen.
He has represented Việt Nam and taken high results in prestigious tournaments, including the Aeroflot Open, World Blitz Championship, Chess World Cup, and Chess Olympiad.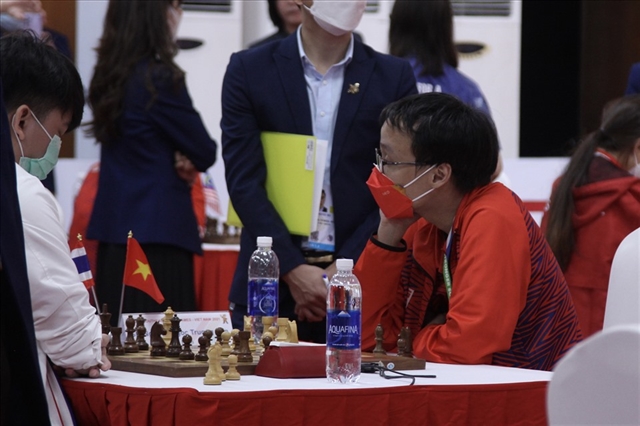 Ads by:
Memento Maxima Digital Marketing
@[email protected]
SPACE RESERVE FOR ADVERTISEMENT
.
He grabbed four gold medals in his first SEA Games participation in 2015 in Singapore when he was 15.
"I am a professional master. Chess is my job. I have been competing for many years, enjoying victories and suffering losses. I think chess is my fate, and through chess, I met the most important person in life, my wife," Sơn said.
"Through chess, I also have had many other things. I don't know how my life would be without it."
Nguyên, three years older than Sơn, is the highest-ranking female chess master in Việt Nam.
She is the only Vietnamese and one of three ASEAN players in the world's top 100.
She was a member of the Vietnamese women's team, which won a gold at the Asian championship, a gold at the Asian Indoor Games in 2009, and a bronze at the 2010 Asian Games. She has played multiple times in the Women's Chess Olympiad in 2014, 2016 and 2018.
Nguyên's first SEA Games was in 2011, when she took gold in rapid chess.
The duo hand-in-hand competed for the first-time at the SEA Games in 2013 in Myanmar. Sơn took two golds in rapid and blitz while Nguyên grabbed silver in rapid.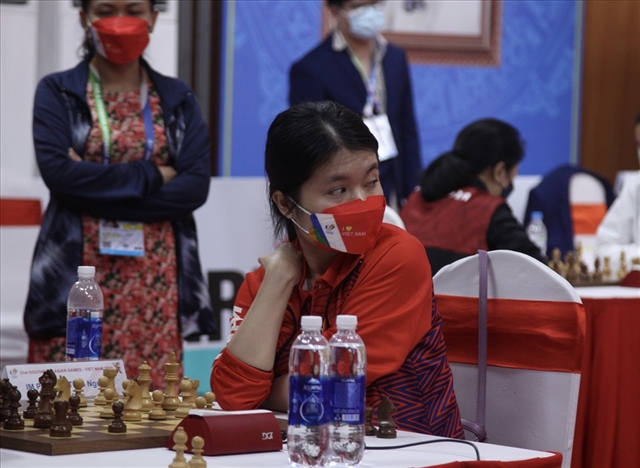 Ads by:
Memento Maxima Digital Marketing
@[email protected]
SPACE RESERVE FOR ADVERTISEMENT
.
They got married in 2015. Two years later, they were the first couple in the world of chess to qualify for the seventh World Cup, a 128-player single-elimination chess tournament held in Georgia.
Currently, they are the only married couple awarded the Grandmaster title.
But during their first time competing as a couple in 2019, they failed to win a gold medal. Sơn finished second in the men's rapid while Nguyên disappeared from the top three.
Returning to the SEA Games this year, they were determined despite several difficulties.
"I thought my skills were not sharp enough after months of social distancing and no direct competition. And I could not ensure if I could catch the pace of the tournament," Sơn said.
Ads by:
Memento Maxima Digital Marketing
@[email protected]
SPACE RESERVE FOR ADVERTISEMENT
.
"My wife and I are teammates, so we can easily support each other while sharing our difficulties. During the pandemic, we made our plan for training. We practised together at home and took part in online tournaments. During the SEA Games, we encouraged  each other."
Nguyên said Southeast Asian players knew each other very well, so she spent much time preparing for the tournament, improving her technique and psychology. Meanwhile, she tried to begin her games with a comfortable mind.
"I was nervous a little from the beginning but looking to the left and seeing my husband, I felt much better. He was my strong force to play well," Nguyên said.
"Playing on home ground was also a big advantage because we received strong support from family and friends. Having such good results is so amazing. We both won gold, and we are pleased."
Coach Lâm Minh Châu of the national team said both Sơn and Nguyên were top players of Việt Nam and had contributed a lot to the team in the SEA Games and other tournaments.
He said with their stable high performance, the couple are always a first choice of the coaching board. VNS
Ads by: Memento Maxima Digital Marketing
@[email protected]
SPACE RESERVE FOR  ADVERTISEMENT