RUSSIA INVADES UKRAINE-2.24.22-DAY 190 | Ravil Maganov, Russian Oil Exec, Dies After Falling Out of Hospital Window
In this image, Vladimir Putin and Ravil Maganov  pictured in 2019.
.
BREAKING NEWS:
"In the short-to-medium run, Russia isn't capable of generating much more effective conventional force than it has already deployed," an analyst told Newsweek.
.
.
The chairman of a Russian oil giant has died after reportedly falling out of a hospital window.
Ravil Maganov, 67, the chairman of Russia's second-largest oil producer Lukoil, died on Thursday after falling from a window on the sixth floor of the Central Clinical Hospital in Moscow, according to Russian media reports.
Maganov died "on the spot" and his body was found by medical personnel, according to Mash, a Russian news outlet.
The report said Maganov had been in the hospital with heart problems.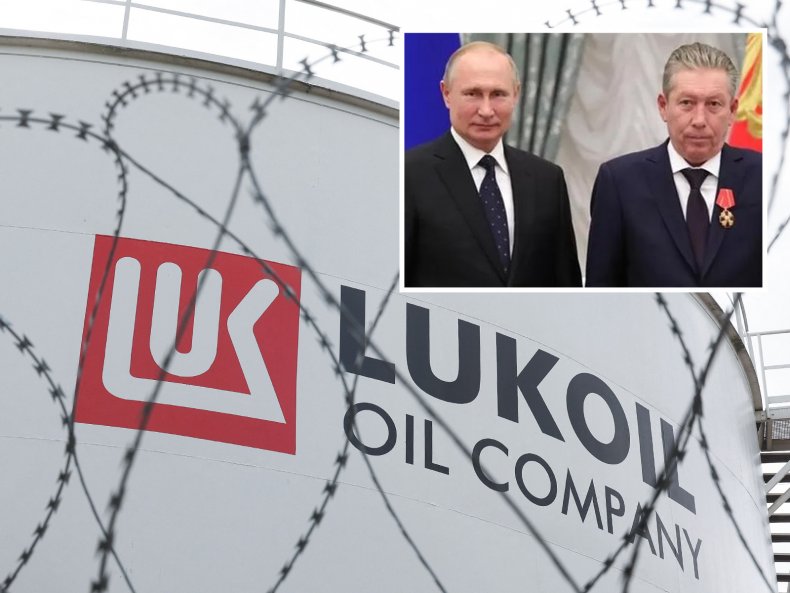 Police are investigating and have not yet confirmed the cause of death. However, police believe Maganov's death was a suicide, according to Russian-language online newspaper Lenta.ru.
Lukoil confirmed Maganov's death in a press release on Thursday, but said only that it came "after a serious illness."
But Maganov is now the latest in a series of Russian business executives who have died in unusual circumstances this year, amid speculation that murders of top businessmen are being staged to look like suicides.
Ads by:
Memento Maxima Digital Marketing
@[email protected]
SPACE RESERVE FOR ADVERTISEMENT
.
Lukoil's statement paid tribute to Maganov, saying he "made an invaluable contribution not only to the development of the company, but to the entire Russian oil and gas industry."
It said: "LUKOIL's team of thousands mourns the irreparable loss and expresses its deepest condolences to the family of Ravil Ulfatovich Maganov."
Maganov began working for Lukoil in 1993 shortly after its inception and took over as chairman in 2020.
The company was one of few in Russia to publicly criticize Russia's invasion of Ukraine.
In March, Lukoil's board of directors issued a statement expressing "its deepest concerns about the tragic events in Ukraine."
It said: "Calling for the soonest termination of the armed conflict, we express our sincere empathy for all victims, who are affected by this tragedy. We strongly support a lasting ceasefire and a settlement of problems through serious negotiations and diplomacy."
Billionaire Alexander Subbotin, the former top manager at Lukoil, was one of the oligarchs who died in strange circumstances this year.
Subbotin who was found dead in the basement of the home of a shaman in Mytishchi, a city just northeast of Moscow, in May after suffering an apparent heart attack, according to reports.
In July, multi-millionaire businessman Yuri Voronov was found dead in his swimming pool at his home in the ultra-wealthy Vyborgsky district of the Leningrad region.
And in April, two Russian oligarchs were found dead alongside their families in luxurious homes in Russia and Spain within 24 hours of each other.