TODAY'S HEADLINES: WHO – News right arrow Nation End of Covid 'in sight'
.
(UPDATE) THE Department of Health (DoH) agreed with the observation of the World Health Organization (WHO) that the end of the Covid-19 pandemic is "in sight," but added that the country must be prepared to transition to the endemic stage.
WHO Director-General Dr. Tedros Adhanom Ghebreyesus noted that with the number of new cases and deaths continuing to fall, the Covid-19 pandemic is nearing its end.
"We have never been in a better position to end the pandemic. We are not there yet, but the end is in sight," Tedros said in his briefing on Wednesday.
DoH Officer in Charge Maria Rosario Vergeire agreed with Tedros, but said the country's health system must be ready to treat Covid as an endemic.
In a briefing Friday, Vergeire said the country must also brace for possible outbreaks of Covid-19 "every now and then" by continuing to build up the immunity of the population.Metro Manila Covid positivity rate rising
 Vergeire said the declaration of the pandemic being downgraded to an endemic will be made by the President on the recommendation of the DoH.
Covid-19 cases in the National Capital Region have risen slightly, along with the positivity rate which is now at 16.4 percent. But hospital utilization rate remains steady below 40 percent for both ward and intensive care unit beds.
Vergeire said the increase in the positivity rate cannot be attributed to the recent lifting of the mask mandate, but the increased mobility brought about by the start of face-to-face classes may have contributed to it.
In a separate briefing, OCTA Research senior fellow Dr. Guido David said Covid cases were up in Bulacan, Rizal and Pangasinan.
NCR cases on downward trend
READ MORE:  https://www.manilatimes.net/2022/09/17/news/national/end-of-covid-in-sight/1858708
Ads by:
Memento Maxima Digital Marketing
@[email protected]
SPACE RESERVE FOR ADVERTISEMENT
Today's Headlines: September 17, 2022
 <>
 9.15.22
 CAMBODIA
54th ASEAN Economic Ministers' Meeting opens
The 54th ASEAN Economic Ministers' Meeting (AEM 54) and related meetings officially opened in Siem Reap, Cambodia, on Wednesday.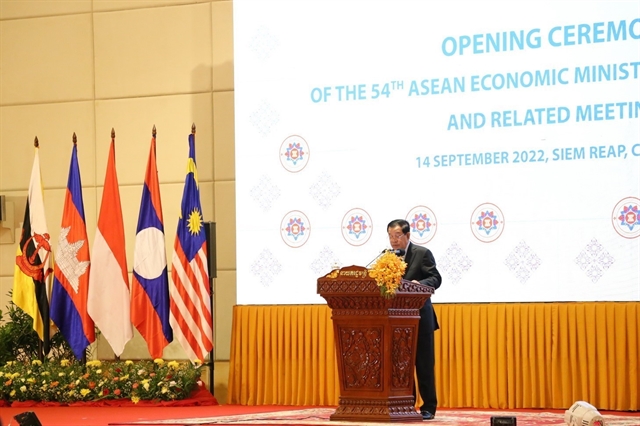 Cambodian Prime Minister Techo Hun Sen delivers a speech at the event. — VNA/VNS Photo
.
PHNOM PENH — The 54th ASEAN Economic Ministers' Meeting (AEM 54) and related meetings officially opened in Siem Reap, Cambodia, on Wednesday.
Minister of Industry and Trade Nguyễn Hồng Diên led the Vietnamese delegation to the event.
Opening the AEM 54, Cambodian Prime Minister Techo Hun Sen reviewed Cambodia's engagement in building the common community, especially the ASEAN Economic Community, along with the ASEAN efforts and achievements over the past 30 years, making the association the third largest area in Asia and the sixth in the world in terms of economic scale.
Reviewing common difficulties due to the COVID-19 pandemic over the past two years, the Cambodian PM underlined that efforts and priorities of the ASEAN Chair in 2022 are to ensure the efficiency of the association in response to relevant challenges and risks, especially in speeding up the economic recovery in a sustainable and comprehensive manner.
READ MORE :    https://vietnamnews.vn/politics-laws/1315185/54th-asean-economic-ministers-meeting-opens.html
…
Latest stories
School gardens a lifeline for hungry Cambodian children
.
.
SIEM REAP: Among the spinach crops at a rural Cambodian school garden, children test their maths skills while weighing produce — but as food prices rise, the vegetable patch has become a safety net for struggling families.
Long before Covid restrictions ravaged the economy, malnutrition and poverty stalked Cambodia's youth — the legacy of decades of conflict and instability following the Khmer Rouge's genocidal rule in the 1970s.
Food insecurity has worsened since Russia's invasion of Ukraine stoked global shortages and inflation.
The World Food Programme (WFP) the prices of local staples have shot up in the past year: duck eggs by more than 20 percent and cooking oil by almost 40 percent.
READ MORE :  https://www.manilatimes.net/2022/09/06/latest-stories/school-gardens-a-lifeline-for-hungry-cambodian-children/1857433
<>
9.17.22
<>
Ad by:
Memento Maxima Digital Marketing
@[email protected]
SPACE RESERVE FOR ADVERTISEMENT
9.16.22
<>
Ads by:
Memento Maxima Digital Marketing
@[email protected]
SPACE RESERVE FOR ADVERTISEMENT
9.15.22
<>
 9.17.22
MYANMAR |
Myanmar court sentences journalist to three years in prison
ANN/THE STAR – A court in military-ruled Myanmar sentenced a freelance journalist associated with the international broadcaster BBC to three years in prison with labour on Thursday evening after she was found guilty of incitement, a legal official said.
Htet Htet Khine, who presented a programme called Khan Sar Kyi – 'Feel It' – for BBC Media Action, still faces an additional charge of unlawful association under which she could receive up to another three years in prison. The documentary programme, on which she worked from 2016 to 2020, showed the problems of people across the country caused by years of unrest and conflict.
Since seizing power in February last year by ousting the elected government of Aung San Suu Kyi, the military government has cracked down heavily on media freedom. It has forced at least 11 media outlets to shut down and arrested about 142 journalists, 57 of whom remain detained awaiting charges or trial.
Some of the closed media outlets have continued operating without a license, publishing online as their staff members dodge arrest.
Htet Htet Khine was arrested in August 2021 along with Sithu Aung Myint, a columnist who did commentaries for the online magazine Frontier Myanmar and the broadcaster Voice of America, at an apartment in the country's largest city, Yangon, where they had been hiding.
Htet Htet Khine was initially accused of serving as volunteer editor for Federal FM Radio, an underground broadcaster of the National Unity Government, a shadow civilian administration established to oppose the military takeover. The ruling military council has declared the group a terrorist organisation.
Russian President Vladimir Putin meets with Myanmar junta leader Min Aung Hlaing on the sidelines of the 2022 Eastern Economic Forum in Vladivostok on September 7, 2022.
Russian President Vladimir Putin hailed "positive" ties with Myanmar on Wednesday as he met with the country's junta chief Min Aung Hlaing in Russia's far eastern city of Vladivostok. "Myanmar is our long-standing and reliable partner in Southeast Asia…Our relations are developing in a positive way," Putin said during the meeting on the sidelines of the Eastern Economic Forum. Min Aung Hlaing's visit comes as both governments face diplomatic isolation — Moscow for its February military intervention in pro-Western Ukraine, and Naypyidaw for a military coup last year. As Moscow's ties with the West unravel over Ukraine, the Kremlin is seeking to pivot the country towards the Middle East, Asia, and Africa. "I am very proud of you, because when you came to power in the country, Russia, so to say, became number one in the world," Min Aung Hlaing told Putin, as quoted by a Kremlin statement that translated his remarks into Russian. "We would call you not just the leader of Russia but a leader of the world because you control and organise stability around the whole world," he said.  The two leaders "friendly and openly" discussed cooperation and "exchanged views on relations and the international situation", the Myanmar junta said in a statement.  Since the putsch that ousted Aung San Suu Kyi's civilian government in February last year, Myanmar has faced Western sanctions and a downgrade in relations. Myanmar has been in chaos and its economy paralysed as the military regime struggles to crush resistance. Russia and its ally China have been accused of arming Myanmar's junta with weapons used to attack civilians since the coup. More than 2,200 people have been killed in the crackdown, according to a local monitor. During a trip to Naypyidaw in early August, Russia's foreign minister Sergei Lavrov backed the junta's efforts to "stabilise" the country and hold a national poll next year. But US Secretary of State Antony Blinken warned the international community to reject the junta's "sham elections".
Wed, September 7, 2022TOPICS : Vladimir-Putin Min-Aung-Hlaing Myanmar junta China politics
AFP/Valery Sharifulin
AFP Moscow, Russia   ●
.
Ads by:
Memento Maxima Digital Marketing
@[email protected]
SPACE RESERVE FOR ADVERTISEMENT
Today's Paper: September 17, 2022
9.17.22
Marcos -Romualdez Family Newspaper- The Manila Times Political Troll … propagates FAKES NEWS
PAGE ONE SINGLE

 <>
SINGAPORE |
Passengers from S'pore and Malaysia unable to board after cruise is overbooked
Adeline Tan
SEP 5, 2022, 10:53 PM SGT
SINGAPORE – Some passengers from Singapore and Malaysia who were booked on cruise ship Genting Dream were unable to board after they were informed that the trip had been overbooked.
The cruise was due to depart Singapore on Sunday, call at Port Klang on Monday, Penang on Tuesday, back to Singapore on Wednesday, before returning to Port Klang on Thursday.
But more than a hundred passengers were unable to board the ship at the Marina Bay Cruise Centre here on Sunday.
 READ MORE:   https://www.straitstimes.com/singapore/consumer/passengers-from-singapore-and-malaysia-unable-to-board-after-cruise-overbooked
Ads by:
Memento Maxima Digital Marketing
@[email protected]
SPACE RESERVE FOR ADVERTISEMENT
 <>
9.17.22