Videos Show Iran's Evin Prison in Flames as Gunfire Heard Amid Unrest
.
Iran's notorious Evin Prison—where political prisoners are routinely held—caught fire Saturday evening as what sounded like gunfire could be heard, according to multiple videos circulating widely on social media.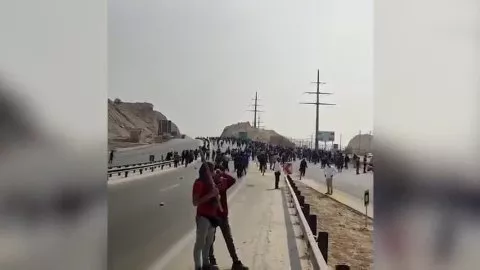 Protesters have taken to the streets across Iran since mid-September, when Mahsa Amini died after being detained by the Islamic Republic's so-called morality police for allegedly violating the nation's conservative modesty laws. The anti-government demonstrations have been met with a fierce crackdown—as more than 200 people, including as many as 32 children, have been killed, according to U.S.-based Human Rights Activists News Agency.
Evin Prison is reportedly crowded and regularly houses political dissidents. Video shared to Twitter showed the facility in flames as the sound of gunshots echoed in the background.
Ads by:
Memento Maxima Digital Marketing
@[email protected]
SPACE RESERVE FOR ADVERTISEMENT
.
Borzou Daragahi, an international correspondent for British news site The Independent shared several videos. He wrote: "the infamous fortress where Tehran's political prisoners are warehoused, is on fire today, October 15, with reports of gunfire from the facility."
"This is alarming: Tonight, Evin Prison in Tehran. We hear gunshots & see fire smoke. There is not much info abt what's happening inside. The Islamic Republic is responsible for all those lives unjustly behind bars," Omid Memarian, communications director at DAWN MENA, tweeted, sharing a clip.
Daraghi reported in follow-up posts that regime forces were "racing toward the burning" prison instead of "ambulances or fire trucks," citing a video clip. He added that there was "not an emergency vehicle to be heard." In another post, the correspondent reported that "terrified relatives of prisoners" gathered outside of Evin.Ads by:
Memento Maxima Digital Marketing
@[email protected]
SPACE RESERVE FOR ADVERTISEMENT
.
"They speak of explosions and fear for their loved ones," he added. Daraghi noted that the crowded prison "is a massive compound more like a city within a city." In other clips shared to social media, people could reportedly be heard chanting "down with the dictator."
This is a breaking news story and will be updated.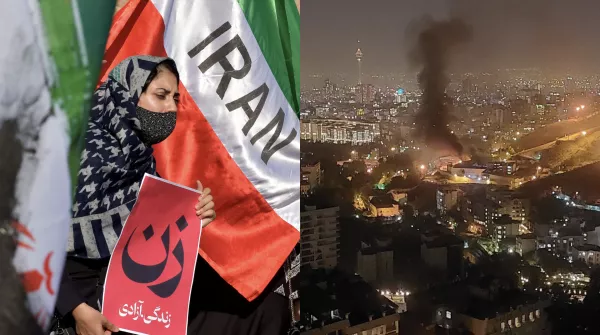 BY 
..
Ads by:
Memento Maxima Digital Marketing
@[email protected]
SPACE RESERVE FOR ADVERTISEMENT