EUROPE-U.K. | LONDON- Liz Truss Resigns as U.K. Prime Minister After Calamitous 44-Day Reign
Britain's Prime Minister Liz Truss looks down during a press conference in the Downing Street Briefing Room in central London on October 14, 2022, following the sacking of the finance minister in response to a budget that sparked markets chaos. (AFP/Daniel Leal)
British Prime Minister Liz Truss has announced she is resigning from her post after admitting she couldn't "deliver the mandate on which I was elected."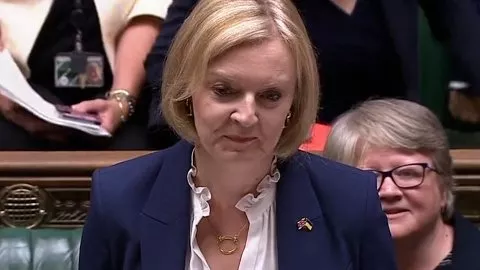 Truss will stand down as Conservative leader immediately, but will remain prime minister for another week whilst her party selects her replacement.
.
Truss had been in the job for just seven weeks, one of the shortest spells in British political history.
She came under intense pressure after a mini-budget was announced on September 23, introducing billions of pounds worth of unfunded tax cuts. This led to a loss of market confidence in the U.K. economy, and the value of the pound plummeting.
In response Truss fired Chancellor Kwasi Kwarteng, and reversed most of his tax cuts.
This is a developing story and will be updated.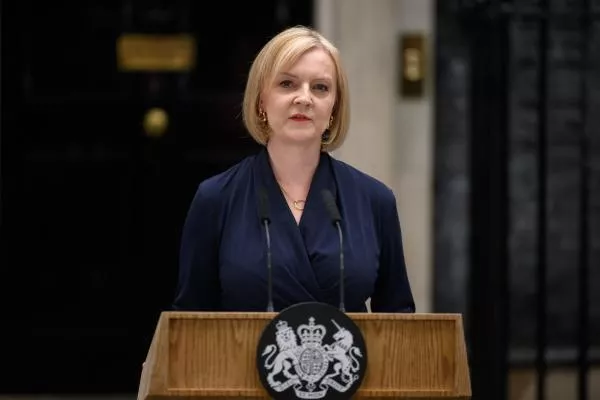 <>
WORLD-EUROPE
Truss says she is resigning as Prime Minister
British Prime Minister Liz Truss announced Thursday her resignation as Conservative Party leader after just six weeks in power and said her successor would be elected by the end of next week.
"I recognise that given the situation I cannot deliver the mandate on which I was elected by the Conservative Party. I have therefore spoken to His Majesty the King to notify him that I am resigning as leader of the Conservative Party," Truss said.
.
Speaking outside the door of her Number 10 Downing Street office, Truss accepted that she could not deliver the promises she made when she was running for Conservative leader, having lost the faith of her party.
"This morning I met the chairman of the 1922 Committee, Sir Graham Brady. We've agreed that there will be a leadership election to be completed within the next week. This will ensure that we remain on a path to deliver our fiscal plans and maintain our country's economic stability and national security."
.
A leadership election for MPs to select her successor will be "completed within the next week," she added. Britain's finance minister Jeremy Hunt will not stand in the Conservative Party leadership contest to succeed outgoing Prime Minister Liz Truss, multiple media outlets including the BBC reported on Thursday.
Agencies
London, United Kingdom
●   Thu, October 20, 2022
Ads by: Memento Maxima Digital Marketing
@[email protected]
SPACE RESERVE FOR  ADVERTISEMENT