SOCCER | FIFA World Cup 2022 | QATAR- World Cup round-up: Underdogs shock favourites; Holders proving their worth
CRY FOR ARGENTINA: A disappointed Lionel Messi after his team's shock loss in the World Cup against Saudi Arabia. — AFP/VNA Photo
Anh Đức
.
HÀ NỘI — A wave of shock results on matchday three of the 2022 FIFA World Cup sent the footballing world into a frenzy.
Argentina, one of the favourites, went down 2-1 to Saudi Arabia. Euro semi-finalists Denmark was held to a draw by minnows Tunisia.
Robert Lewandowski blew Poland's chance to win against Mexico, while title-holders France completed a remarkable comeback against Australia.
Ads by:
Memento Maxima Digital Marketing
@[email protected]
SPACE RESERVE FOR ADVERTISEMENT
.
Messi giveth, Messi taketh
On 10 minutes, a penalty was given for Argentina after a foul inside the box, and Messi converted from the spot.
Argentina kept on attacking directly, pumping long balls for Angel Di Maria, Messi and Lautaro Martinez. They did find the net, but the goal was disallowed for offside.
In the second half, Argentina kept attacking but cannot penetrate the tough Saudi defence. They paid the price not long after, when Messi lost possession in midfield, and led to Saleh Al-Shehri's goal on the counter in the 48th minute.
Seven minutes later, Saleh Al-Dawsari danced past three defenders inside Argentina's box, and completed their fairytale comeback with a rocket into Emiliano Martinez's top corner.
After the match, King Salman of Saudi Arabia granted the entire country a national holiday on Wednesday, to celebrate their historical victor.
Messi's team must win against Mexico on Sunday, or face elimination.
Eriksen's disappointing return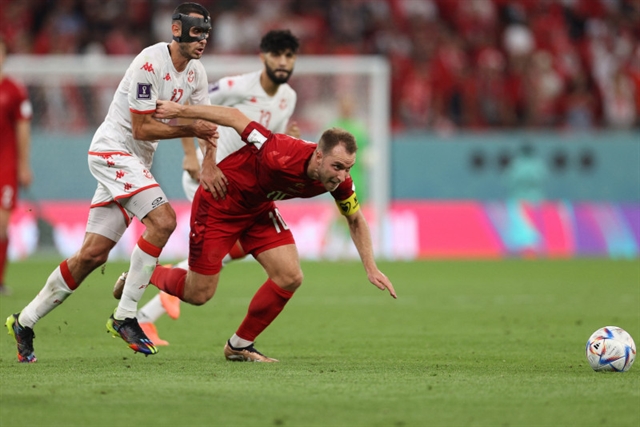 Christian Eriksen in his return to the World Cup. — AFP/VNA Photo
At the Education City Stadium, minnows Tunisia gave Denmark a lesson in defending.
Jalel Kadri's men frustrated Denmark's attackers in the first half. Christian Eriksen was forced to play deeper, similarly to his role at Manchester United, and did not have much of an impact around the six-yard box.
Tunisia stayed strong in the final minutes, even surviving a VAR check for a handball that was eventually not given. A dull 0-0 draw will disappoint Kasper Hjulmand, but excites the Tunisians in Qatar and Tunis.
Ads by:
Memento Maxima Digital Marketing
@[email protected]
SPACE RESERVE FOR ADVERTISEMENT
.
Lethal Lewandowski tamed by Mexico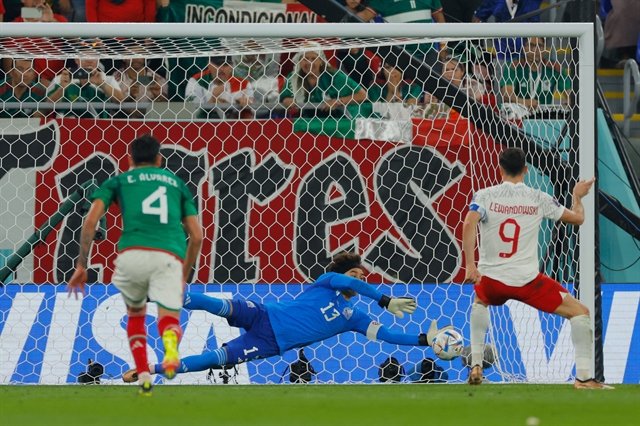 WHAT A SAVE! Guillermo Ochoa proving his worth by saving a penalty one of the world's best striker, Robert Lewandowski. — AFP/VNA Photo
A tough and close affair was predicted in the clash between Poland and Mexico in Group C.
An all-out attack Mexico side was met with Poland's low-block defending. Czeslaw Michniewicz's side also found chances on the counter, but their midfield cannot deliver key passes for the attackers.
When everybody was dozing off in the second half, it was Poland who woke up every spectators in the 58th minute.
Robert Lewandowski went down after a tangle with Hector Moreno. Australian referee Christopher Beath consulted VAR and pointed to the spot.
Between the posts, Guillermo Ochoa reminded everyone why he has been in four consecutive World Cups for Mexico. Lewandowski's placed shot was saved by Ochoa, and Poland blew their best, and only chance of winning the match.
The dull atmosphere returns not long after, when Poland seemed comfortable with a draw and played defensively. The match ended goalless.
Ads by:
Memento Maxima Digital Marketing
@[email protected]
SPACE RESERVE FOR ADVERTISEMENT
Curse? What curse?
With his brace, Olivier Giroud (left) equalled Thierry Henry's goalscoring record for France. — AFP/VNA Photo
Holders France went into their match against Australia with injury woes and a curse: No title holders since 2010 have been able to progress past the group stage.
The French worried after Craig Goodwin slotted home Australia's opening goal in the ninth minute.
Lucas Hernandez was down injured after Australia's goal, and was replaced by his brother, Theo Hernandez. The replacement worked wonders for Didier Deschamps' side, as Theo assisted Adrien Rabiot who equalised with a powerful header.
Five minutes later, Australia's Nathaniel Atkinson lost possession right at the edge of the box. Rabiot took advantage and crossed in for Olivier Giroud to tap in the empty net.
Giroud, 36, was France's oldest World Cup player ever, by virtue of starting this match. He was two goals away from equalling Thierry Henry's goalscoring record for Les Bleus, and did so with his second goal in the 71st minute.
Superstar Kylian Mbappé also made his mark with a header from Ousmane Dembele's cross.
With this victory, France is one win away from progressing into the group stage and break the 12-year-old curse. — VNS
Ads by:
Memento Maxima Digital Marketing
@[email protected]
SPACE RESERVE FOR ADVERTISEMENT