HEADLINE | World Cup fever boosts business
.
.
Some restaurants saw a boost of business as local fans flocked to catch the World Cup matches, as it entered the quarter final stage starting last night with Croatia facing Brazil.
A 24-hour outlet, Semporna Enak restaurant in Kampong Rimba, which is screening the match has  seen football fans patronising the restaurant round the clock.
Restaurant waiter Nani told the Weekend Bulletin that football fans also turned up at wee hours to catch their favourite teams.  She said the majority of the locals visiting the restaurant were supporters of Portugal and Brazil.
More details on Weekend's Borneo Bulletin
.
<>
World Cup fever boosts business for sports stores, some restaurants in Singapore
Merchandise of the Japanese and South Korean teams is high in demand after both Asian nations advanced to the World Cup knockout stage.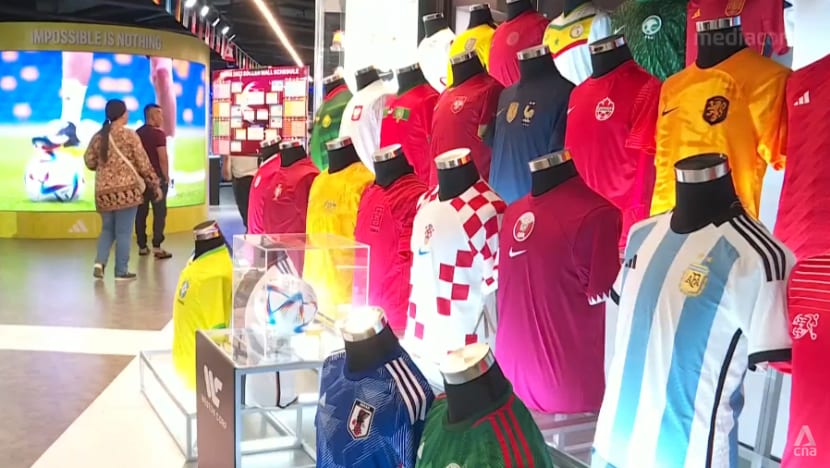 SINGAPORE: Football fans in Singapore are splurging on all-things World Cup, with sports shops reporting an increase in the sale of merchandise, while some restaurants and bars have been pulling all-nighters to screen matches.
Japanese and South Korean merchandise, in particular, are high in demand after both Asian nations powered through the group stages to advance to the Round of 16.
Japan topped Group E after beating Spain and Germany on the way. South Korea also sealed their spot in the knockout stage after beating Portugal.
Together with Australia, which later crashed out of the tournament after losing to Argentina on Sunday, this is the best showing by members of the Asian Football Confederation (AFC), with three teams making it to the round of 16.
F&B OUTLETS OPEN LATE
Restaurants serving Japanese and South Korean food are reporting an uptick in footfall, as fans flocked to catch the Asian teams stun European and South American football powerhouses.
Some eateries said they are giving away drinks and snacks to attract fans.
Kko Kko Na Ra, a restaurant popular for its fried chicken and Korean stews, is one such eatery joining the FIFA World Cup screenings and has been closing later than usual
Despite being unsure if fans will turn up for Tuesday's 3am clash against World Cup favourites Brazil, restaurant director Eon Lee told CNA that the eatery will remain open for the match to cheer on their national team.
.
MERCHANDISE SELLING FAST
Sports stores selling jerseys and shoes said they are seeing businesses increase by more than half, especially merchandise of the Japan and South Korea teams, as well as others that have made it to the knockout stage.
"So basically Japan and Korea ever since they won a lot of the games, the (sales) increment is 50 per cent," said Raihan Juraimi, a senior sales assistant at Weston Corp, which sells football merchandise and equipment.
"For Japan right, (after) they beat Spain and Germany, (some of) our stock is sold out already. For Korea also … (Some) sizes, for now, they're unavailable."
The store said it has ordered more supplies to keep up with the demand.
"Japan is doing an amazing job and the team has such resilience, you know, I was not expecting for them to go that strong. But Japan is such a nice surprise and besides, they have awesome fashion taste," said a Brazilian customer in the store who was trying on a Japanese national team jacket.
"I feel very happy that Japan and South Korea managed to get into the top 16," said another customer at the store in Queensway Shopping Centre.
"I think the last time they got into the top 16 was 20 years ago. So I feel like getting a shirt to support them."
Other sporting apparel shops are also reporting brisk business, as the World Cup ignite football fever and enthusiasts take to the soccer fields.
"A lot of people are getting things … new football gear, people getting on track to play football and stuff like that. So yeah, the shopping centre is more lively than before," said Aidil Jufri, the manager of the LFC Queensway store.
Japan will take on Croatia in the Round of 16 at 11pm on Monday night Singapore time, while South Korea will play Brazil four hours later, at 3am on Tuesday.
Catch free highlights and moments from the FIFA World Cup Qatar 2022 at mewatch.sg/fifaworldcup.
Ads by: Memento Maxima Digital Marketing
@
[email protected]
SPACE RESERVE FOR  ADVERTISTMENT