US POLITICS | Matt Gaetz Vows to Resign if Moderate Republican Elected House Speaker
Lauren Boebert and Matt Gaetz walk to the House Chamber during the third day of elections for speaker of the House at the U.S. Capitol Building on January 5, 2023 in Washington, DC. Gaetz said he will resign if Democrats team up to elect a moderate Republican as the new House speaker.TASOS KATOPODIS/GETTY IMAGES
.
Florida Representative Matt Gaetz, who is among the defectors who have consistently voted against Kevin McCarthy's bid to become House Speaker this week, said he will resign should a moderate Republican be elected as new House leader.
The congressman, a member of the Freedom Caucus, the most conservative and farthest-right bloc within the House Republican Conference, appeared on Fox News on Thursday.
Gaetz was questioned by host Laura Ingraham about the possibility of Republicans striking a deal with Democrats to elect a moderate Republican as House leader.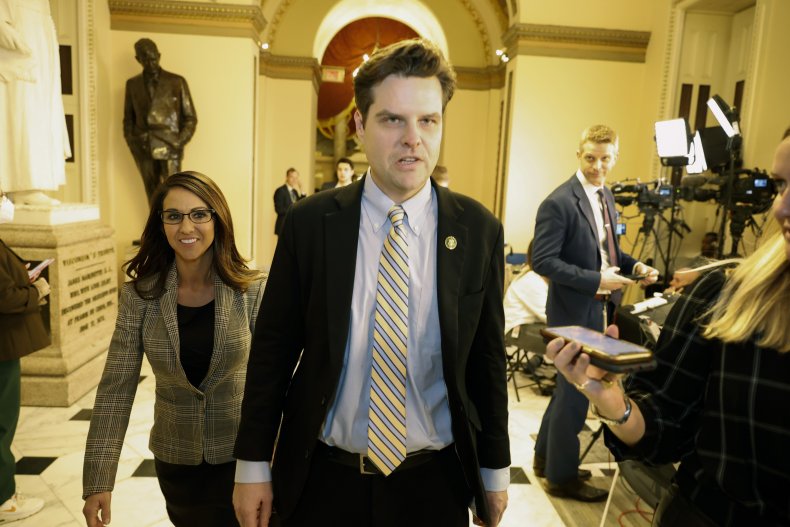 ."Will you be OK, congressman, if there's ultimately a deal struck with moderate Democrats that give Democrats co-control of the committee?" Ingraham asked.
"Absolutely not," Gaetz immediately replied.
The Florida congressman said that something like that "will not happen[…] Listen, I'm on the floor, Laura. These 212 Democrats are going to vote for Hakeem Jeffries every single time. He's a historic candidate for them. They're not going to cleave off under any circumstance, I assure you."
Gaetz added: "If Democrats join up to elect a moderate Republican, I will resign from the House of Representatives. That is how certain I am. I can assure your viewers that won't happen."
Memento Maxima Digital Marketing
@
[email protected]
SPACE RESERVE FOR ADVERTISEMENT
The new 118th Congress has been paralyzed now for three days since it first met on Tuesday to elect a House speaker.
Republican Representative Kevin McCarthy of California failed to gain enough votes to be elected in 10 consecutive votes, a historic defeat that shows the division within the GOP, now thrown into turmoil by hard-right defectors, most of whom are members of the Freedom Caucus.
Gaetz has been among the most vocal in his opposition to McCarthy, joining fellow MAGA Republican Lauren Boebert of Colorado in calls to nominate Donald Trump as House speaker instead—and Gaetz voted for the former president on Thursday.
McCarthy has been trying to break the impasse in Congress by making more concessions to the hard-right rebels opposing him, and the 57-year-old has signaled that he might move to give in to more of their demands.
However, Gaetz has not yet shown signs that he could be convinced to vote for the California representative.
"I will not be voting for Kevin McCarthy," Gaetz wrote early on Friday on his Twitter profile. "I resent the extent to which he utilizes the lobbyists and special interests to dictate how political decisions, policy decisions, and leadership decisions are made. We have zero trust in him."
.
Ads by: Memento Maxima Digital Marketing
@
[email protected]
SPACE RESERVE FOR  ADVERTISTMENT