SOCCER | WORLD CUP | AFF Cup Finals : Việt Nam – Thailand (1st leg)
Kick-off is at 19:30, follow us for all the action!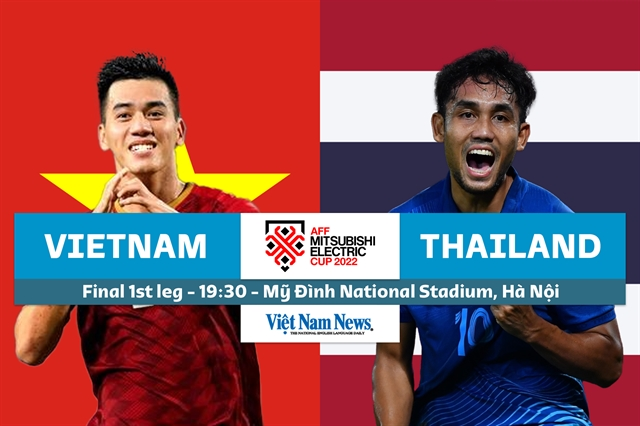 VNS Infographic Anh Đức
.
HÀ NỘI — Welcome to the 2022 AFF Cup Final (first-leg) liveblog between Việt Nam and Thailand! After a resounding win against Indonesia, Việt Nam have made their second AFF Cup Finals in five years to face longtime rival Thailand. Kick off is at 19:30, follow us for all the action! — VNS
<>
.
.
OPINION-ACADEMIA
.
The road to World Cup glory: Investing in Indonesia's youth
Saddil Ramdani (center) of Indonesia kicks the ball during the AFF Mitsubishi Electric Cup 2022 football match against Philippines at Rizal Memorial Stadium in Manila on Jan. 2, 2023. (AFP/Jam Sta Rosa)
.
The FIFA World Cup 2022 has ended, but Indonesian people's dream about their national team competing on such a big stage someday will never fade. But how can Indonesia become a serious contender in the world of soccer?  What I am proposing is a program for Indonesia named LOLOS (Leveraging Optimization Leveling Output Supremacy). In Indonesian, lolos means to go through or qualify.
.
Erwin Damar Prasetyo
The Jakarta Post
Jakarta   ●   Sat, January 14, 2023
.
to Read Full Story. Click to read: https://www.thejakartapost.com/opinion/2023/01/13/the-road-to-world-cup-glory-investing-in-indonesias-youth.html.
.
Ads by: Memento Maxima Digital Marketing
@[email protected]
SPACE RESERVE FOR  ADVERTISEMENT