RUSSIA INVADES UKRAINE | Russia's Offensive is Make or Break for General Behind Putin's Plan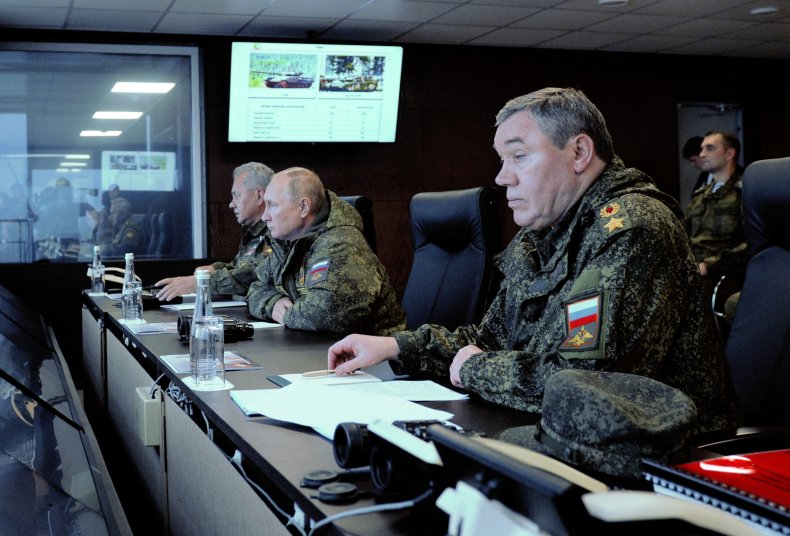 Russian President Vladimir Putin (C), accompanied by Defense Minister Sergei Shoigu (L) and Valery Gerasimov, the chief of the Russian General Staff, oversees military drills outside the city of Ussuriysk, Russia on September 6, 2022.
MIKHAIL KLIMENTYEV/SPUTNIK/AFP VIA GETTY IMAGES / 
BY 
 .
.
Valery Gerasimov is the longest-serving Chief of the General Staff of the Russian military, a post he has held since 2012.
In command of President Vladimir Putin's military gamble in Ukraine since early January, the 67-year-old has been tasked with salvaging from it some level of success.
But even Putin's most senior commander may struggle to find victories amid Russia's myriad battlefield and political problems.
General Valery Gerasimov is the longest-serving chief of Russia's General Staff—the country's most senior military official—of the post-Soviet era. Since 2012, Gerasimov has headed a military that many deemed the second most potent in the world.
The veil of competence was lifted after February 24, 2022, when Russian tanks again rolled into Ukraine. One year later, the Russian military is depleted and humiliated, though still capable of mass destruction of Ukrainian settlements and lives.
Since early January, Gerasimov—who Ukraine claimed was wounded in an artillery strike in April—has been in command of President Vladimir Putin's gambit, the fourth general overseeing the Kremlin's "special military operation" since it began.
Another failure will forever blot the 67-year-old's legacy. Experts told Newsweek that even Putin's most senior commander would struggle to salvage victory from a war characterized by systemic Russian failures that festered under his watch.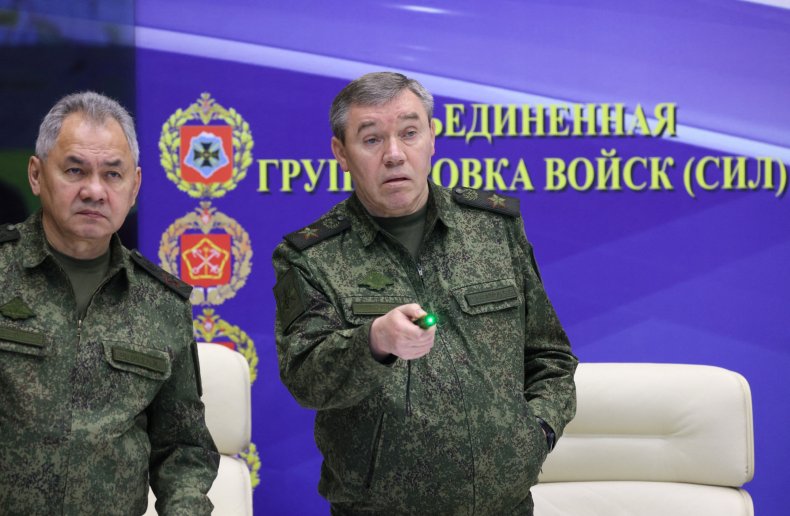 "Before the war started, he was probably going to be not necessarily retiring from the military, but retiring from the position of General Staff," Mark Galeotti, the author of Putin's Wars: From Chechnya to Ukraine, told Newsweek.
"He was already beginning to pick out the kinds of jobs that tend to be how an ex-chief of the General Staff rusticates and coasts the last couple of years towards formal retirement," Galeotti said. "I can't help but suspect that his main priority will be not to mess things up so badly that he ends up in disgrace.
"But at the same time," Galeotti continued, "he's facing pressure from Putin to actually win something. Putin would be delighted if Gerasimov could take the whole of the Donbas, but I don't think he's expecting that. But he does, I think, expect a few trophies: Bakhmut and maybe something else."
Newsweek has contacted Russia's Defense Ministry by email to request comment.
.
Putin's Poisoned Chalice
It's difficult to see what Gerasimov can offer that Russia's previous invasion commanders could not, even with his many years of experience. "They've used their supply of what they thought were silver bullets," Mark Voyger, a former special adviser for Russian and Eurasian affairs to then-commander of U.S. Army Europe General Ben Hodges, told Newsweek.
"I don't know what construct he can propose to fix something that's deeply flawed at the operational and tactical level," Voyger—now a non-resident senior fellow at the Center for European Analysis and professor at the American University of Kyiv—added. "I don't think he can conjure up anything that's dramatically different that can turn the tide of the war."
Russia evidently still has some capacity for offensive operations after a year of high casualties, rapid equipment attrition, and multiple retreats. Moscow's troops are again pushing for new ground in the eastern Donetsk region around Bakhmut, while reportedly also preparing and launching new assaults along the southern front line near Zaporizhzhia and the northeastern front near Kreminna.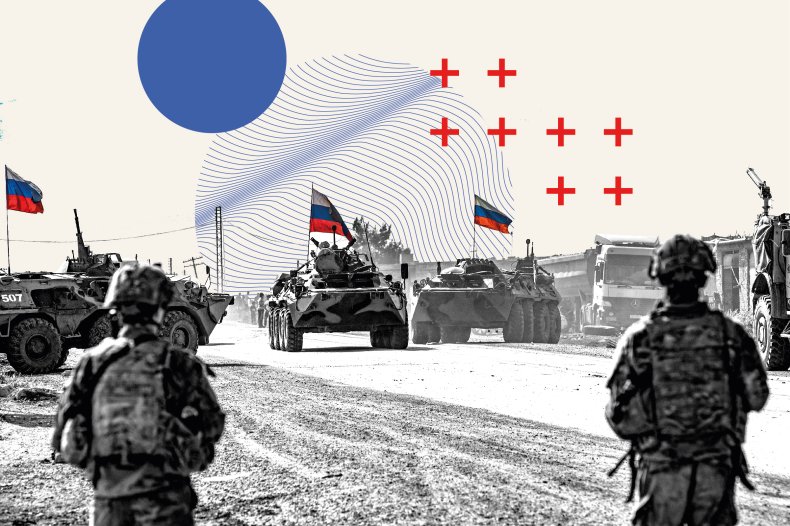 U.S. Chairman of the Joint Chiefs of Staff General Mark Milley said last month that Russia has "strategically, operationally, and tactically" lost the war. Moscow's troops are still fighting, though grand ambitions of Ukrainian regime change are now distant. The spring offensive appears to have begun, but even its regional goals of occupying Donetsk and Luhansk oblasts seem ambitious.
"The kind of feedback that we're getting from Ukrainian generals, but also from Western defense analysts is that it was probably rushed, that it was launched before they were truly ready, before the mobilized reservists who are being brought in to bring units back up to strength probably had a chance to integrate with the new units," Galeotti said of Gerasimov's new assault.
"They're going to have some armies operating under very, very demanding political constraints."
Putin had to make a move to show Russia still could. Gerasimov has to make a move, Galeotti said, "to show that he was an offensive-minded general," unlike General Sergey Surovikin who preceded him.
Surovikin—known as "General Armageddon" and "The Butcher of Syria" for brutality in suppressing rebels fighting against Syrian President Bashar al-Assad—oversaw the retreat from Kherson in September, widely considered a successful Russian defensive operation.
"It's clearly the case that Surovikin was removed because he wasn't seen as sufficiently aggressive," Galeotti said. "My view is, if Surovikin was not aggressive enough for you, then good god, what are you expecting?"
.
Gerasimov's 'Doctrine'
There has been much debate about the so-called "Gerasimov Doctrine," a term coined by Galeotti in 2014 based on a 2013 article published by Gerasimov in which observers suggested the Russian general had laid out a new approach to modern warfare.
The supposed doctrine proposed the heavy incorporation of hybrid methods to augment conventional warfare by destabilizing an opponent and obfuscating Russian military intentions.
Galeotti himself has since disavowed the concept, and scholars have suggested that Gerasimov's famed 2013 article is better understood as an appeal to Russian theorists to help create a new military approach based on a Russian understanding of Western modern warfare as exhibited in Afghanistan, Iraq, Libya, and elsewhere.
Gerasimov's article is also thought to have been influenced by the Arab Spring and the pro-democratic "color revolutions" that Moscow has long claimed as products of Western covert action.
Gerasimov, Voyger believes, was asking "Russian military science to pretty much take that Western 'wonder weapon,' dismantle it, look at how it works, and then put it in action."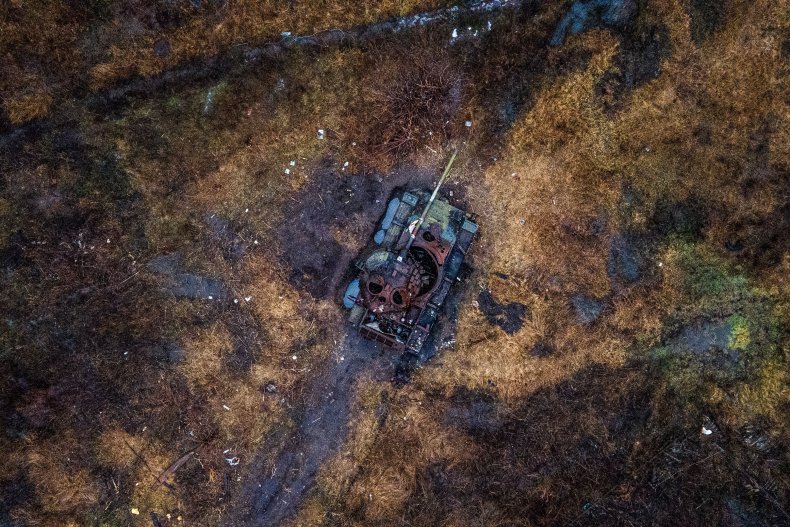 The pseudo-doctrine that emerged and helped shape Russia's invasion of Ukraine in 2014 also underpins Moscow's failure in 2022, Voyger said. "They actually took the wrong lessons from what the West has been doing."
"Yes, we toppled [Libyan leader] Muammar Qaddafi, and look what happened without ground forces. It all collapsed. Yes, we took down [Iraqi leader] Saddam Hussein, we thought that they were going to greet us as liberators. And then an insurgency ensued."
"Think of the 'Gerasimov Doctrine' as their perception and vision of some kind of Western 'wonder weapon' that they must also master," Voyger said. "And they failed."
As for the current war on Ukraine, he added: "They really meant it as a hybrid invasion, with soldiers more or less driving to Kyiv leisurely in these huge columns with supplies for three days."
"The logic here is if you don't succeed in the first couple of weeks or months—the way the West did—then you're bogged down in a grinding, protracted war of attrition."
Gerasimov—a Cold War tank commander by training—has little room for tactical maneuver given Russia's military limitations and political pressure from the Kremlin, Galeotti said.
"His real focus, his training, is on the kind of big sweeping maneuver operations which the Russians envisaged they would be fighting if they were ever in fighting in the plains of northern Europe, or indeed of northern China," he explained.
"Actually, modern warfare itself doesn't tend to lend itself to that, but particularly this kind of conflict and especially when the Russians have burned through half of their tank fleet, including a lot of the best tanks. I just don't think we are going to see Gerasimov likely to be able to demonstrate any kind of particular personal trait."
.
Kremlin Psychodrama
Putin's war has unleashed intense battles for influence within Russia's political elites. While top officials jockey to be cheerleaders for war, oligarchs like Yevgeny Prigozhin and regional leaders like Ramzan Kadyrov are amassing their own private armies and looking to embarrass Russia's top military officials, like Defense Minister Sergei Shoigu.
With Prigozhin and Kadyrov sniping from the sidelines—and in Prigozhin's case using his Wagner Group mercenaries to achieve some level of battlefield success that has eluded the regular forces—Gerasimov faces high stakes.
"Him being appointed is less about him trying to implement his grandiose design, which failed to begin with…it's more about asserting the authority of the Russian chain of command—i.e. Gerasimov and Shoigu—over what they view as Prigozhin's challenge," Voyger said. "But of course, by doing this, they become hostages to their own false promises."
Gerasimov's long-time proximity to Putin means he has "political capital" that the previous invasion commanders did not, Galeotti said. This may enable him to get "the support for measures he might feel he needs," though added there was scant evidence of this to date.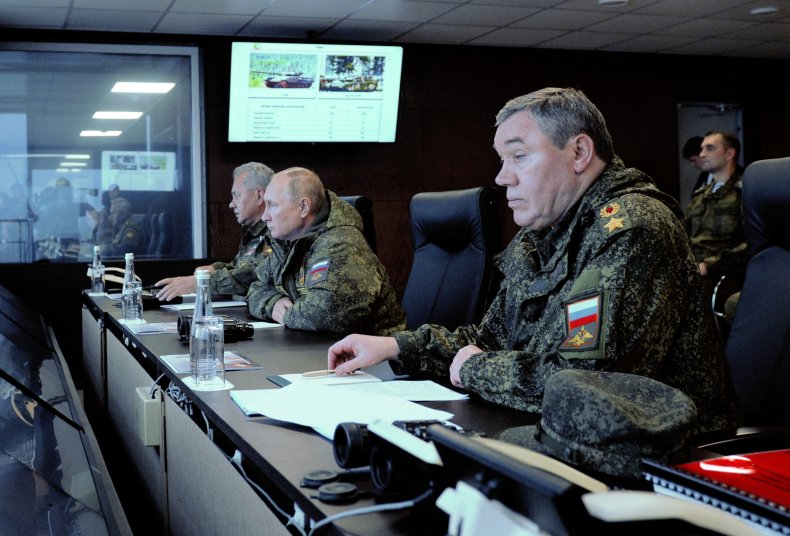 "One thing Gerasimov does know is that he's not a politician, and he, therefore, allows Shoigu to do that," Galeotti said. "Gerasimov I think does trust Shoigu and does accept that Shoigu has his back. And therefore, he basically stays out of politics as much as possible. It's striking how rarely Gerasimov gives interviews, for example. And when he does, it's to defense journalists."
Success brings its own dangers, Galeotti added. "Putin has a long habit of not liking to reshuffle his high upper circle, especially the security elite, unless he absolutely has to," he said.
"The risk for Gerasimov is not that he can have one good spring-summer campaign season and then be allowed to bow out. He might well find Putin saying: 'You're doing such a great job that we don't want to change horses.'"
Win or lose, Gerasimov is tied to the fate of Russia's gamble in Ukraine.
"Gerasimov's greatest sin—and it has been really for the last year and a bit—has been to not stand up to the boss," Galeotti said. "I understand the constraints…It's not as if Gerasimov has demonstrated himself to be a poor general. It's that he is willing to accept or operate under rules of engagement that just don't make sense."
"No one could pull a rabbit out of that particular hat."
.