CRIME & COURT | AMSTERDAM- Putin's Allies' Fears Come True | The International Criminal Court (ICC) Issues Arrest Warrant For Putin Over Alleged War Crimes In Ukraine
.
.
The International Criminal Court (ICC) on Friday announced it had issued an arrest warrant for Russian President Vladimir Putin, accusing him of war crimes.
Though the chances of Putin standing trial are extremely unlikely, some of his most vocal supporters in Russia—namely, propagandists working for state-controlled media—may now have reason to worry.
Hague investigators worked on evidence against Putin for over a year before the ICC issued an arrest warrant that accused the Russian leader of being "allegedly responsible for the war crime of unlawful deportation of population (children) and that of unlawful transfer of population (children) from occupied areas of Ukraine to the Russian Federation."
Kremlin spokesperson Dmitry Peskov told reporters on Friday that the Russian Federation does not recognize the jurisdiction of the ICC and thus considers the warrant "null and void."
The International Criminal Court (ICC) issued an arrest warrant for Russian President Vladimir Putin on charges of war crimes.
Pro-Kremlin media pundits may be concerned about the possibility of facing war crime charges.
Russian state TV hosts and guests have encouraged and rationalized violence against Ukraine. Some have even suggested using nuclear weapons against Western countries.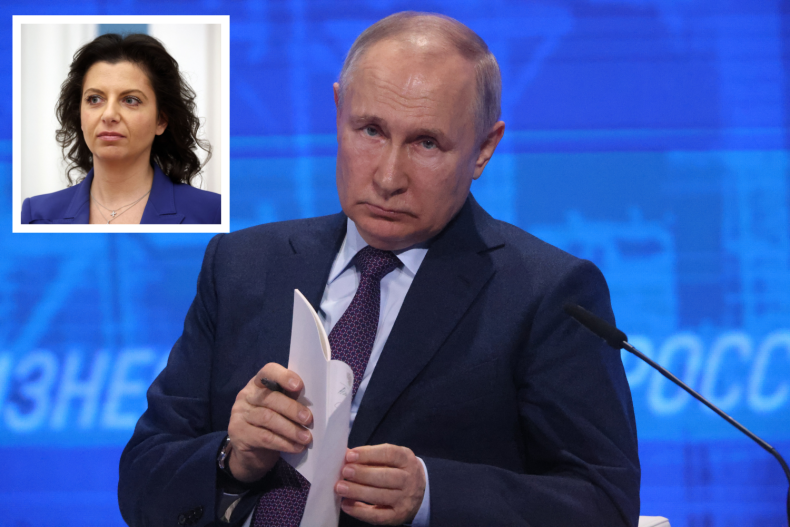 .
However, not everyone in Russia may see the ICC's actions as such a non-issue.
Julia Davis, a top news analyst who runs the Russian Media Monitor project, wrote an essay this week for the Center for European Policy Analysis (CEPA) online journal about a growing unease among Russian propagandists.
.
She wrote that while pro-Kremlin pundits reacted with joy when Putin launched his war more than a year ago, now "the euphoria has been replaced by a lingering sense of dread, with Putin's mouthpieces routinely fretting about the possibility of war crimes tribunals. The issue is playing on their minds."
Davis cited examples of Margarita Simonyan, lead editor of the Kremlin-operated RT media outlet, and Russian state TV host Olga Skabeeva expressing concern about Hague tribunals for other Russians aside from Putin.
"The Kremlin's propagandists have plenty of reasons to be concerned … [T]he state-controlled media has played a central part in prompting, encouraging, rationalizing, and normalizing the Kremlin's massacre of its next-door neighbors," Davis wrote in CEPA.
An example of the extreme talk spouted by Russian-state controlled media was a discussion led in the fall by Anton Krasovsky, who also works for RT. During an October interview, Krasovsky spoke of drowning Ukrainian children while setting homes on fire before he turned to talk of rape, according to Davis.
Russian talking heads have not only justified violence against Ukraine, but they've also suggested using nuclear weaponsagainst the United States and other Western nations over their support for Ukraine.
Jason Jay Smart, who has advised multiple political campaigns in Europe and works as a special correspondent for the Kyiv Post, told Newsweek that Russian public figures who promote Kremlin propaganda are likely very concerned.
"Since the ICC arrest warrant has been issued for Putin, there is undoubtedly a serious panic now in Moscow. Putin and his cronies know that the jig is up: There is no 'going back to the way things used to be,'" Smart said. "It is certain that there will more arrest warrants issued, likely soon, and they could be arrested whenever they get off of an international flight, or when Putin's Regime collapses—which could happen at any time."
.
However, George Mason University Schar School of Policy and Government professor Mark N. Katz told Newsweek that Russian pundits talking on-air about tribunals for Russian citizens may just be conducting another form of propaganda.
"I think that a lot of this Russian media hype about how there might be lots of trials for pro-Putin commentators and others if Moscow loses the war is designed to give Russians a reason to continue supporting the war, and not to presume that they, and not just Putin and his cronies, will pay a steep price if Russia loses the war," Katz said.
"As long as they stay in Russia, pro-Putin propagandists are unlikely to ever face war crimes trials—unless, of course, Putin falls and is replaced by a pro-Western regime," he added.
"This, of course, does not seem likely to us, but the prospect of its occurring may help persuade those in Russia who might be contemplating defecting to the West or otherwise turning against Putin that they cannot expect any forgiveness from the West—much less Ukraine—for their backing Putin's war effort up to now."
Newsweek has reached out to Davis and the Russian Ministry of Foreign Affairs via email for comment.
.
Ads by: Memento Maxima Digital Marketing
@[email protected]
SPACE RESERVE FOR  ADVERTISTMENT