HEADLINE-SOCIETY: ASEAN Countries evacuates citizens in Sudan amid 'deteriorating' conditions
INDONESIA:
RI evacuates citizens in Sudan amid 'deteriorating' conditions
.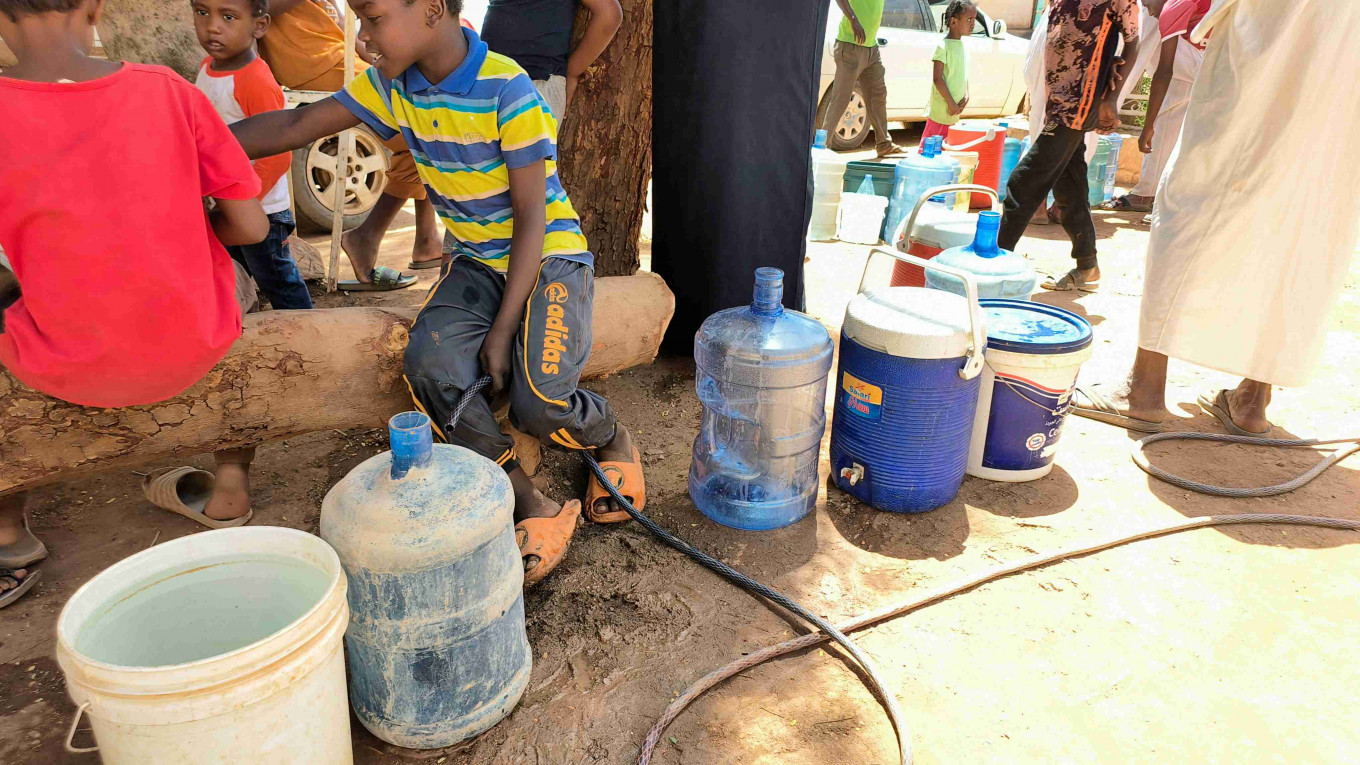 People look for water during clashes between the paramilitary Rapid Support Forces and the army in Khartoum North, Sudan April 20. (Reuters/MOHAMED NURELDIN ABDALLAH)
.
As Sudan continues to grapple with the violent conflict between its military and the Rapid Support Forces (RSF), Indonesia on Thursday expressed its "concern" over the "deteriorating" situation, adding that it was working to evacuate the 1,209 Indonesian nationals currently residing in the Northeast African country.  The statement, made before the RSF fighters on Friday agreed to commence a 72-hour ceasefire, noted that "vital objects" had become targets of contention between the two parties. This includes Sudan's State Palace, the military base, Khartoum International Airport and the International University of Africa where "many Indonesian nationals are living".  "The Foreign Ministry has immediately issued its concern at the outset of the conflict, as well as calls for a peaceful resolution and emphasizing civilians' safety as the [primary] priority," said Foreign Minister Retno LP Marsudi.  In mid-April, fighting broke out between Sudan's military, whose general is effectively the country's leader, and the RSF, a paramilitary group that was a close ally of the military before vastly growing in power over the past few years. Though tensions have been building for months between the two armed forces, violence finally broke when both sides started accusing each other of attacking their bases in Khartoum.  The Foreign Ministry said its embassy in Khartoum had established a safe house as well as logistical support for its citizens, though currently it has only succeeded in evacuating 43 nationals.  "This effort has gone through several challenges due to the ongoing armed conflict. There were a few times when the Indonesian guest house and the embassy were affected by the violence. Alhamdulillah, all Indonesian nationals and the embassy staff are safe," Retno said, explaining that the developments required deep concern and high vigilance. As the Foreign Ministry continues to enhance its evacuation procedures, she explained, Jakarta had so far communicated with the Sudan envoy in Jakarta and the United Nations Security Council (UNSC) to urge for a ceasefire for humanitarian assistance.   Jakarta has also attempted to communicate with Sudan's Foreign Minister Ali Al-Sadiq Ali, Retno said, but that the calls had yet to be answered.  "Indonesia urges the UNSC to act immediately," Retno asserted. "Meanwhile, we advise Indonesian nationals in Sudan as well as their families here to stay calm. The government will pull all the strings it has to protect our citizens in Sudan." Coordination between Indonesian envoys nearby Khartoum is ongoing, specifically between ambassadors in Cairo, Riyadh, Addis Ababa and Jeddah, she said.  Over a week after violence erupted, at least 350 people have died and over 2,600 have been left injured, Reuters reported. Hospitals in Khartoum, where most of the violence has been concentrated, have quickly reached full capacity as basic needs such as food and clean water have run out in the city.  Despite international calls for a ceasefire, the situation in Sudan only seemed to worsen until Friday, when the RSF announced a three-day long truce in light of Eid al-Fitr celebrations when humanitarian corridors would be opened. Yet the Sudan Military's Gen. Abdel Fattah al-Burhan has yet to comment on the matter.
Yvette Tanamal
The Jakarta Post
Fri, April 21, 2023
Memento Maxima Digital Marketing
@
[email protected]
SPACE RESERVE FOR ADVERTISEMENT
…
MALAYSIA