HEADLINE–POLITICS | Acorda is new PNP chief
POLICE Major General Benjamin Acorda Jr. CONTRIBUTED PHOTO
.
.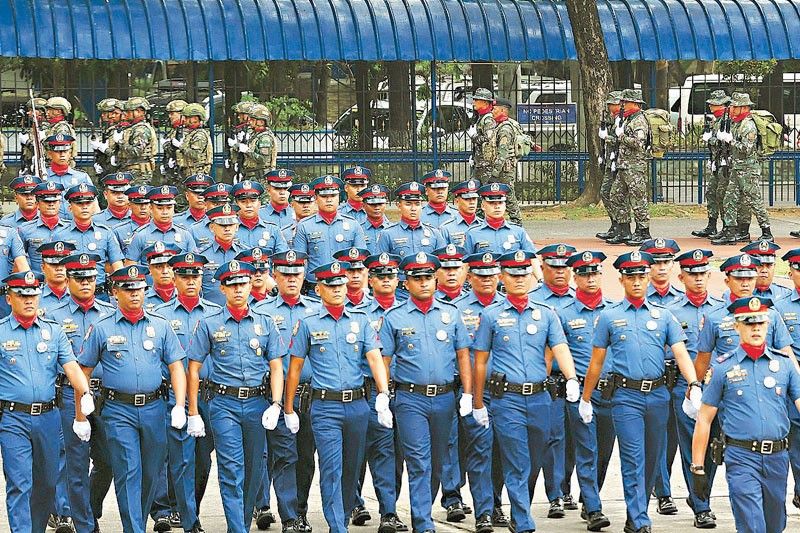 .
President Marcos choice expected to calm the police force
.
MANILA, Philippines — Newly-installed Philippine National Police (PNP) chief Maj. Gen. Benjamin Acorda Jr. is a "well-recognized" officer who can "calm the situation" in the police force, President Marcos said yesterday after announcing his appointment of the 29th chief of PNP.
"Because many things are happening in the police force, we are looking at a lot of things. We encountered problems so we need to place a reliable commander and our new PNP chief, Benjie Acorda, is somebody who is well known to me," Marcos told state-run Radyo Pilipinas.
Acorda replaced Gen. Rodolfo Azurin Jr. who reached the mandatory retirement age of 56 yesterday.
"I know his reputation inside PNP. Although his name does not appear in reports, for us insiders, his name was always part of the shortlist… He is well recognized within the police force and the civilians, our civilian leadership," Marcos added.
Marcos said Acorda had served as provincial and regional director and the reports about him were positive.
"That's why I said he is the best choice now, to calm the situation in the police," the President added in Filipino.
Acorda assumed office at a time when the PNP is facing a controversy over the alleged cover-up of the P6.7-billion drug haul in Manila last year. His predecessor Azurin has insisted there was no cover-up in the arrest of dismissed police M/Sgt. Rodolfo Mayo Jr., who was caught allegedly in possession of two kilos of suspected shabu worth P13.6 million.
Marcos said his administration is investigating to determine who are involved in illegal drugs while undertaking initiatives like pension reform and housing programs.
"We are doing all of these at the same time and we have to fix them so I think our new PNP chief is very steady," the Chief Executive said.
In his speech during the change of command ceremony at Camp Crame, Marcos thanked Azurin for his leadership and his service to the nation. He did not mention the controversy over the former police chief's anti-drug efforts.
Marcos said Azurin has "advocated for the refinement of the ideal peace and security framework for the country" and forged partnerships with religious sectors to emphasize that peace and order is everyone's concern.
"During your tenure, we have seen substantial accomplishments in the area of peace and order.  The most significant ones are in the campaigns against terrorism, carnapping, loose firearms, child abuse, gambling, smuggling and other illegal operations," the President said.
"In the process, numerous criminal activities were halted and shaken and perpetrators were brought to justice," he added.
.
'Perilous'
Marcos also praised Azurin for undertaking a "demanding and perilous journey" with "dedication, bravery and selflessness." He did not elaborate.
"This holds true for all our other police retirees, who may have retired anonymously, but still have served remarkably well their country and the people with utmost competence and ethicality," he said.
Marcos expressed hope that retired police officers would still continue to support the government in its fight against all forms of disorder and criminality.
He said he has seen "disconcerting" news about "audacious commissions of heinous crimes and corrupt practices."
The President also cited what he described as "flagrant assaults against persons and property by individuals and organizations that recognize no law and no authority but their own."
"Amongst others, these are pressing challenges that impact upon the government's capability to effectively maintain order and justice in our country," Marcos said.
"Hence, in the face of all these, we must ensure all the more that our law enforcement agencies – especially our police force – remain to be strong  and formidable. They must be effective in their intelligence and investigations, operations, in the enforcement of accountability and of course, the rule of law, without fear or favor."
Marcos called on Acorda to enhance operational ties with other law enforcement agencies and ensure integrated, coordinated and systematic approaches in addressing peace and order and internal security issues.
"Make your presence felt in the streets, make them safer. Defend our democratic institutions, our cherished ideals. Protect the people, especially the weak, the vulnerable and those who indirectly work with us in the same cause, such as journalists, civic action groups, civil volunteers, the like," he said.
"Finally, serve the people with integrity, with accountability and genuine justice. Always be open to public scrutiny and practice restraint and maximum tolerance in the face of harsh criticism," the President maintained.
Marcos also urged the PNP to always strive to win the trust, respect and admiration of the citizenry, through an "efficient, ethical and compassionate brand of police work."
"Various challenges lie ahead that will test our mettle, but I am confident that with your resolve and with determination, we will overcome all of these," he added.
Marcos reiterated his vow to support the PNP's programs on boosting the morale of personnel and honing their skills and capabilities.
.
Most qualified -Because he's an Ilocano?
Interior Secretary Benhur Abalos said Acorda is the most qualified official to lead the PNP, citing his integrity and vast experience.
"I congratulate Major General Benjamin Acorda Jr. on his appointment as new PNP Chief after he was appointed by President Ferdinand Marcos Jr. as the new head of the police force," Abalos said. The Department of the Interior and Local Government (DILG) has jurisdiction over the PNP.
"I expect the support, cooperation and unity of the entire PNP in the new leadership for him to effectively perform his mandate as the new chief," Abalos added.
"To the new chapter of the PNP under the leadership of Acorda, the support of the DILG will continue to be able to implement the necessary reforms in the entire police force," Abalos added.
Acorda was a member of the Philippine Military Academy "Sambisig" Class of 1991. He was part of the Directorate for Intelligence of PNP in August 2022. He also served as Palawan Police Provincial Office chief from 2014 to 2016 and as regional director of Police Regional Office 10 in Northern Mindanao.
Senators welcomed Marcos' appointment of Acorda. "Our streets and communities have been safer and more peaceful, and our trust in our law enforcement agencies is much higher," Senate President Juan Miguel Zubiri said.
"All of us in Northern Mindanao have immense trust in PNP Chief Acorda, as we have seen his able leadership here as PNP Regional Director of Police Regional Office 10," he said.
"We have seen firsthand how his leadership has led to a sharper, more active police force, and I have no doubt that what he has done for Region 10, he will be able to do for the whole country as well," he added.
Sen. Ronald dela Rosa described Acorda as a "silent operator" who doesn't cave in to pressures from "selfish politicians."
"The President made the right and the best choice and I think he made very extensive research before he made his choice. Gen. Acorda's exposure is in the field of intelligence, particularly counter-intelligence, which is badly needed in the internal cleansing program of the PNP," Dela Rosa said.
House committee on dangerous drugs chair Robert Ace Barbers said Acorda should prioritize cleansing the police force, particularly the Philippine Drug Enforcement Group (PDEG).
"I congratulate Maj. Gen. Acorda in his appointment and for taking up this daunting challenge and task now facing the organization," Barbers said in a text message.
"I wish him success especially in this mission to rid our society of this menace of drugs," Barbers added.
House Deputy Minority leader and ACT Teachers party-list Rep. France Castro said she hopes Acorda's appointment "would not be another regionalistic patronage appointment" common during the first Marcos administration and the Duterte administration.
"Such an appointment creates more division and animosity among officers and oftentimes results in squabbling in the ranks," he said.
.
"This also leads to human rights violations to impress their commander in chief to get a better chance of being promoted," he added.
The Federation of Free Workers (FFW) has also voiced support for Acorda's appointment.
"We believe that General Acorda's roots from the intelligence community are an asset to PNP reform and in the anti-drug campaign," said FFW Women Network president Ma. Victoria Bellosillo said.
"We expect him to get the 'big fishes' and protect the human rights of our people, including trade union rights of workers," she said. — Bella Cariaso, Cecille Suerte-Felipe, Sheila Crisostomo, Mayen Jaymalin
.
Ads by: Memento Maxima Digital Marketing
@[email protected]
SPACE RESERVE FOR  ADVERTISTMENT