32ND SEA GAMES 2023: MEDAL UPDATES
Memento Maxima Digital Marketing
@
[email protected]
SPACE RESERVE FOR ADVERTISEMENT
.
BRUNEI
Wushu star Adi lands Brunei's first gold at 32nd SEA Games
Brunei Darussalam wushu athlete Muhammad Adi Salihin bin Roslan rewrote the history books as the country's most successful sportsperson at the Southeast Asian (SEA) Games after winning gold in the men's nanquan event.
The national athlete accumulated a total of 9.636 points to finish top in the final round at the Chroy Changvar Convention Center Hall in Phnom Penh, Cambodia on Wednesday.
.'
.
Memento Maxima Digital Marketing
@
[email protected]
SPACE RESERVE FOR ADVERTISEMENT
.
LAOS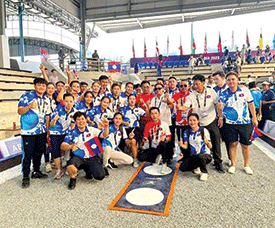 Lao athletes on target to win 5 golds at SEA Games
Lao athletes are competing in 32 of the 46 sports featured at the ongoing South-East Asian (SEA) Games in Cambodia and have already .
.
.
Ads by: Memento Maxima Digital Marketing
@[email protected]
SPACE RESERVE FOR  ADVERTISTMENT