US IMMIGRATION: The Real Impact of Immigration on the U.S.
Pesident Joe Biden continues to face pressure from both sides of the discussion centered around immigration, including those who think his administration is not doing enough to protect the U.S.-Mexico border and others who believe newly introduced rules are overly strict on asylum-seekers.
Renewed talks about immigration resurfaced after Title 42 ended earlier this month, leading to a surge in the number of migrants arriving at the border hoping to claim asylum in the United States. The policy was introduced by former President Donald Trump, allowing the denial of asylum seekers due to the COVID-19 public health emergency, which officially ended on May 11. The policy was used to send back about 2.5 million migrants between March 2020 and November 2022, according to CNN.
U.S. officials processed over 10,000 migrants arriving at the border every day last week, which is up from about 5,000 in March, according to the BBC. U.S. Customs and Border Protection (CBP) has also been holding up to 28,000 migrants at its facilities, which exceeds its capacity limits, two federal officials told Reuters last week.
Migrants can now claim asylum after undergoing a screening process that would determine whether or not they qualify for entry into the U.S. Title 42 is now being replaced by the pre-existing section of U.S. code known as Title 8, which has consequences on those who cross the border illegally or do not qualify for entering the country as they will not only be deported, but will also be banned from re-entering the country for at least five years.
.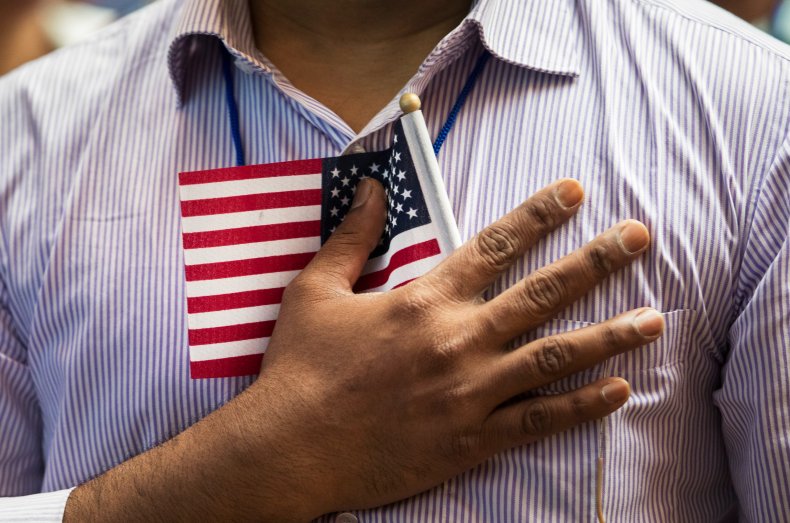 In addition, the Biden administration introduced a new border policy, dubbed by rights groups as the "new asylum ban," that denies migrants asylum if they didn't seek refuge first in a country they transited through, like Mexico, before reaching the U.S. border. However, an exception is made for migrants who have secured an appointment through the CBP One App.
Biden's border rules didn't please pro-immigration advocacy groups such as the American Civil Liberties Union (ACLU), which filed a lawsuit last week alleging that the Biden administration's new border policy or what they called the "new asylum ban" is "largely" mimicking policies under Trump. However, some conservatives and Republicans disagree and think that Biden's immigration policies are already loose and have led to a "crisis" at the border.
The end of Title 42 sent some GOP members scrambling to strengthen current border rules, with House Republicans passing the Secure the Border Act, a proposed fix that they hope would deal with the surge of migrants. The bill provides increased funding for border agents, resumes construction of the border wall, and upgrades border technology, among other goals.
Newsweek spoke with critics of Biden's immigration approach and experts who explained the real impact of immigration on crime, economy, and politics in the U.S., while highlighting past immigration patterns and their historic effects.
.
Are Crime Rates Connected to a Growing Immigrant Population?
Some members of the Republican Party repeatedly blamed Biden's "open borders" policies for a spike in crime, human trafficking, and drug smuggling, despite multiple studies revealing otherwise. In February, House Judiciary Committee Chairman Jim Jordan launched a probe against Biden after a 17-year-old male migrant from El Salvador was accused in the assault and killing of 20-year-old Kayla Hamilton last July. The teen allegedly entered the U.S. in March, just months before the fatal attack, in Rio Grande City, Texas. He was identified as an unaccompanied minor and a member of the MS-13 gang, according to the press release.
A 2020 study by the Proceedings of the National Academy of Sciences (PNAS), cited by the Department of Justice, showed that undocumented immigrants have "substantially" lower crime rates than native-born citizens and legal immigrants, according to arrest data from the Texas Department of Public Safety. PNAS used the data to compare criminality of undocumented immigrants, legal immigrants and native-born US citizens between 2012 and 2018. The peer-reviewed journal revealed that U.S.-born citizens are over two times more likely to be arrested for violent and drug crimes, and over four times more likely to be arrested for property crimes.
There are around 11 million undocumented immigrants in the country, according to Pew Research Center. Texas alone has over 1.7 million undocumented immigrants, 2019 data by the Migration Policy Institute shows. Cato Institute, a U.S.-based think tank, also used Texas data in 2020, since it was the only state to record and keep the immigration statuses of those arrested. It found that in 2018 the criminal conviction rate was 782 per 100,000 immigrants who crossed into the country illegally, 535 per 100,000 legal immigrants, and 1,422 per 100,000 native‐​born Americans. In addition, the illegal immigrant criminal conviction rate was 45 percent below U.S.-born citizens in Texas.
Meanwhile, The Marshall Project in 2018 cited a study led by Robert Adelman, a sociologist at the University at Buffalo, SUNY, compared immigration rates with crime rates for 200 metropolitan areas, ranging from urban hubs in New York to smaller areas such as Muncie, Indiana, over the past several decades. The immigrant population in 136 metropolitan areas grew between 1980 and 2016, while crime rates remained the same or fell, according to The Marshall Project. In each decade from 1980 to 2016, there was a consistent pattern of immigrant population growing at the same rate as crime, which indicates that there is simply no connection between the two.
Marco Tabellini, and assistant professor of Business Administration at Harvard Business School, told Newsweek that even though the claim of increased crime being connected to immigration is not true, it had been often used as a strategic tool by politicians to gain popularity and potentially attract undecided voters.
"Humans respond to emotions, and fear is one of them. Immigration is threatening to some groups of people because it brings uncertainty. Diversity implies departure from the status quo, potential deviations from pre-existing norms…it is easy to create false and incorrect stereotypes about strangers and outsiders," he said.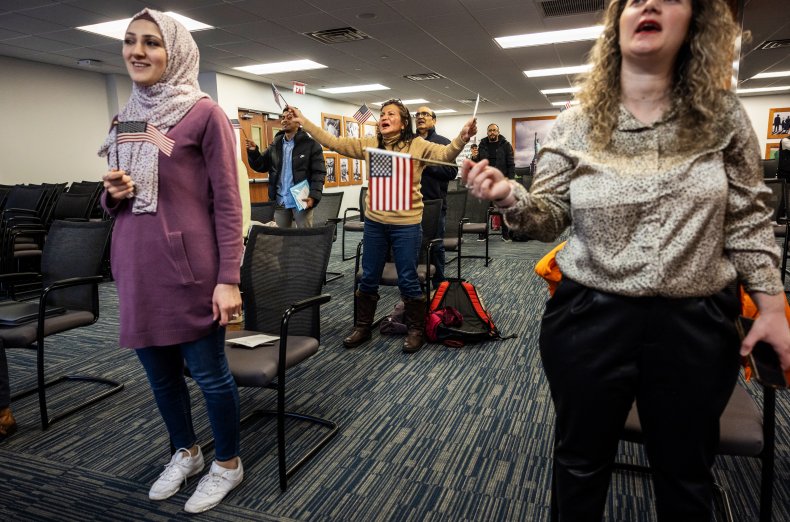 Meanwhile, Douglas Massey, a sociology professor at Princeton University, told Newsweek that adding immigrants to the population actually "lowers average crime rates in the United States by counterbalancing the higher crime rates of natives."
Representative Gerry Connolly, a Virginia Democrat, also debunked Republicans' claim about crime and immigration, by citing February data from the U.S. Immigration and Customs Enforcement's (ICE), showing that 99.4 percent of migrants monitored on ICE's Alternatives to Detention program attended their court hearings. However, not all undocumented immigrants are tracked through this program.
"Republicans who assert the Biden administration is releasing countless dangerous migrants into the country are not only trafficking in xenophobic, anti-immigrant sentiment, but they are also peddling lies that are categorically false," Connolly said in a statement released by his office in February.
However, this argument was countered by Ira Mehlman, the media director of the Federation for American Immigration Reform (FAIR), an anti-immigration nonprofit.
"Obviously any crime that is committed by someone who is in the country illegally is a crime that would have been avoided if the criminal had been prevented from entering the country. Given the volume of illegal immigration it is certainly reasonable to assume that criminals have managed to enter. They may constitute only a small percentage of the people coming across, but that is small comfort to the victims," Mehlman told Newsweek.
Mehlman said that the Department of Homeland Security (DHS) doesn't collect data on so-called "got away" migrants who evaded authorities while crossing the border. The FAIR media director cited a Fox News interview in January that had unnamed CBP sources who alleged that there were 1.2 million "got-away" migrants who entered the U.S. since Biden took office in 2021. Newsweek was unable to independently verify Fox News' report.
.
History Showed How Migrants Helped Shape U.S. Policy
The immediate impact of an influx of migrants coming into the U.S. on American politics might be hard to determine, according to experts, but history has shown that immigrants and their descendants played an important role in expanding democracy in the country.
A report published in 2020 by UCLA Anderson Review, which was co-authored by Tabellini, showed how the influx of European migrants who entered the U.S. over a century ago might be related to today's political ideology and the extent to which public welfare is supported in areas such as education.
"Their proxy for public welfare is exposure to a national education policy. Compulsory education was the norm in much of Europe decades before mass migration to the U.S. began, suggesting immigrants were bringing with them an institutional knowledge of the role of a nation-state in mandating this core form of public welfare," the study read.
There might be a difficulty in knowing migrants' immediate effect on U.S. politics because it takes a minimum of five years to become a citizen eligible to vote, and the pathway to citizenship is often longer, according to Massey. However, Tabellini explained that once immigrants are naturalized they will have a role in shaping the politics that affect their own communities.
"That is, eventually, the "immigrant vote" will matter. Think about the importance of the Hispanic community in the US. To the extent to which immigrants hold different preferences relative to natives, they can sway policy in important directions. Once immigrants (and their descendants) can vote, politicians will take their preferences into account," Tabellini told Newsweek.
Tabellini's 2020 research showed an example of how an influx of migrants helped shape public policy, highlighting that European migrants who came to the U.S. in the early 1900s were "more supportive of social welfare and had relatively liberal and left-wing political preferences," and that over time those preferences "spilled over to natives" in America.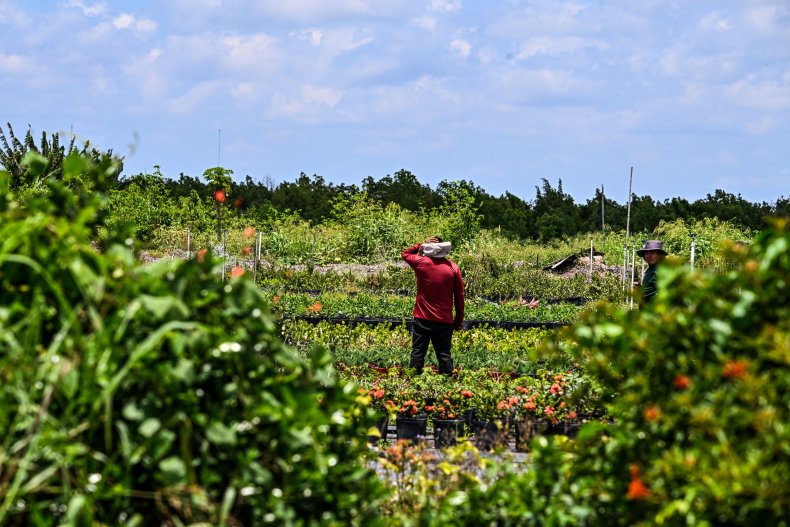 .
The Impact of Immigration on U.S. Economy
Some reports in the past several years showed how immigrants contributed to the country's economy. However, not all immigrants, whether they came into the country legally or illegally, contribute the same way since their skills and education vary.
A 2020 report by the International Monetary Fund (IMF) revealed that immigrants in advanced economies across the world increased productivity and output in the short and medium term. Meanwhile, a 2020 study by FWD.us showed that not only many innovators and job creators come from the immigrant population, they also have an "enormous" spending power that drives the U.S. economy.
Immigrants added $2 trillion to the U.S. GDP in 2016 and $458.7 billion to state, local, and federal taxes in 2018. Meanwhile, after they spent billions of dollars in taxes, immigrants were left with $1.2 trillion in spending power, which they used to buy goods and services, contributing to local business activity.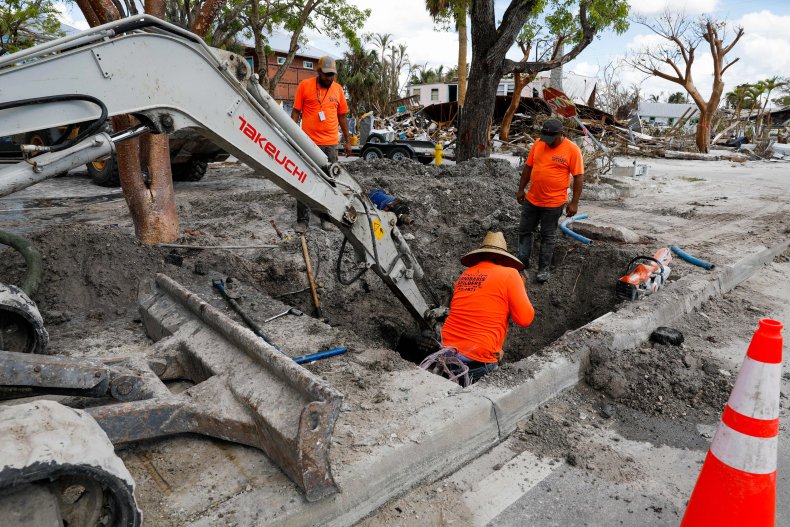 .
Studies show that placing strict immigration policies that would include deporting migrants or preventing them from entering the country would have a strong impact on U.S. economy.
"Proposed cuts to our legal immigration system would have devastating effects on our economy, decreasing GDP by 2% over twenty years, shrinking growth by 12.5%, and cutting 4.6 million jobs," the report by FWD.us stated. Additionally, ProPublica found in 2017 that deporting the nearly 11 million undocumented migrants in the country would be an "almost $8 trillion hit" to the economy over the next 14 years.
Tabellini said that closing the U.S.-Mexico border historically had "negative consequences" for U.S. workers and the economy, citing the Chinese Exclusion Act of 1882, the Immigration Acts of the 1920s, and the termination of the Bracero Program in the 1960s.
Immigrants tend to work at high rates and make up more than a third of the workforce in some industries in the U.S., according to the Center on Budget and Policy Priorities, which added that they are capable of promptly responding to employee shortages thanks to their geographic mobility. This was at least the case during the pandemic lockdown when food delivery was booming because people relied more on the service, which includes a largely immigrant workforce.
The Brookings Institution reported that 43 percent of companies in the 2017 Fortune 500 were founded or co-founded by immigrants or their children. Those companies produced a total of $5.3 trillion in global revenue and hired 12.1 million people in 2016 to work in various sectors, including retail, wholesale, and financial and insurance.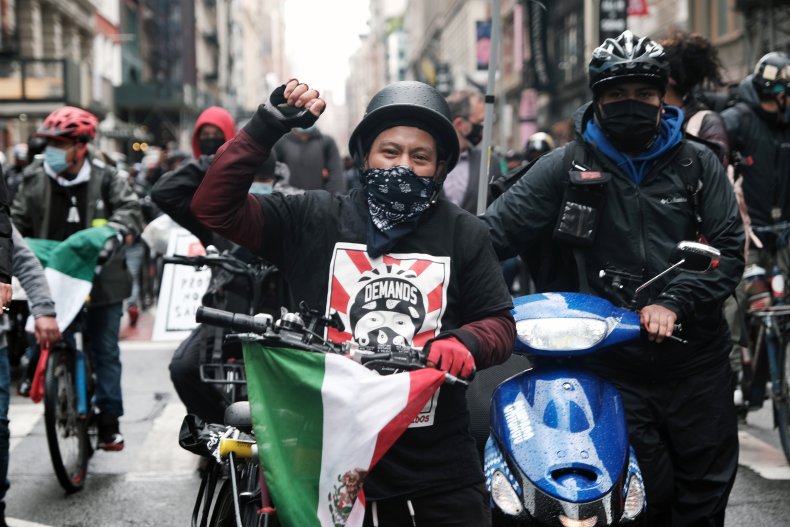 .
However, Mehlman said that illegal immigration tends to have a "significant" effect on the economy, claiming that it places heavy costs on American taxpayers.
"Businesses like illegal immigrants because they work for lower wages. But low-wage labor is not cheap labor; it's subsidized labor. The employers get the benefit of lower wage workers, while everyone else pays for education, health care, and other services that are not offset by the taxes that illegal aliens pay out of their meager wages," he told Newsweek.
He said that FAIR has long advocated for a merit-based legal immigration system "that allows us to select immigrants based on objective assessments of their likelihood to net benefits to our economy."
Still, immigration might possibly help alleviate inflation-related problems today to some extent, according to Tabellini.
"One of the reasons why inflation is growing is that, in some sectors, there is labor scarcity, and firms simply cannot find workers…. immigration might help firms find workers. As a result, wages will stop increasing (or will grow less), and inflation may taper off (if firms don't continue to increase prices)," he explained.
BY FATMA KHALED ON 5/21/23 AT 6:00 AM EDT
.
Ads by: Memento Maxima Digital Marketing
@[email protected]
SPACE RESERVE FOR  ADVERTISTMENT