Asean transport officials eye logistics links through Laos' Thanaleng Dry Port
Asean transport officials gather for a group photo at the dry port.
.
.
As Laos is becoming an increasingly important trade gateway between southeast Asian countries and China, transport officials from Southeast Asia are learning about the opportunities provided by the country's logistics link.
On Wednesday, delegates attending the 55th Asean Senior Transport Officials Meeting and Associated Meetings visited the Thanaleng Dry Port and associated Vientiane Logistics Park where the Laos-China and Laos-Thailand railways converge.
.
The Laos-China Railway, part of the planned Kunming-Singapore regional rail line, now links China's Kunming to the Lao capital Vientiane.
.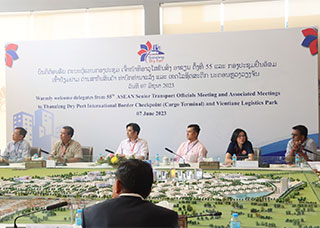 Asean transport officials are briefed about the operation of the dry port.
.
.
After leaving the multimodal transport node dry port in Vientiane, freight is now being sent to Singapore, Malaysia, Myanmar, Cambodia and Vietnam overland by truck, the Vice President of Vientiane Logistics Park Co., Ltd. Tee Chee Seng told the guests.
The operator of the dry port, which came into service in December 2021, also plans to link to the Port of Batam in Indonesia.
Through neighbouring Thailand, which has already benefitted from direct rail freight transport to China via Laos, Mr Tee Chee Seng told the visitors, "We are trying very hard to have a rail [link] from Vientiane to Malaysia as well."
The dry port operator envisions covering the whole of Asean (Association of Southeast Asian Nations), Mr Tee Chee
Seng said.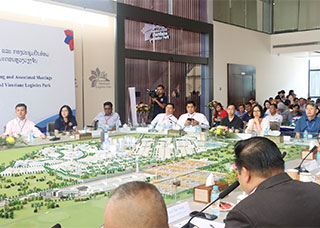 .
.
Thanks to the railway's cost-effective services, Thai transport service providers have already enjoyed huge cost cuts.
The President of Thailand's Kaocharoen Train Transport Co., Ltd., Panya Paputsaro, whose company has made several shipments, mainly consisting of durian, from Thailand to China, said recently that shipment by rail cuts transport costs by 30 percent.
In addition, speedy delivery brings fresher fruit to Chinese customers.
"By rail, it takes just four hours from the Chinese border to Thailand (border)," said the dry port's Managing Director, Mr Sakhone Philangam.
Through the China-Europe rail network, cargo from Southeast Asia can reach the European market in about 15-22 days as opposed to 45 days by sea.
"Now we are quite convenient," Mr Tee Chee Seng said.
To maximise the benefits from improved connectivity, he said, the US$727-million dry port and Vientiane Logistics Park is developing a logistics complex comprising seven zones, including an export processing zone, where investors are welcome to do business in the fields of agriculture, pharmaceuticals, halal food processing, and the manufacture of electronic devices for export.
Goods manufactured or assembled in Laos enjoy privileged access to markets in countries whose governments have waived or reduced import tariffs on made-in-Laos products.
.
More than 30 countries including Australia, Canada, members of the European Union (EU 28), Japan, New Zealand, Norway, Russia, Switzerland and Turkiye have extended such privileges to Laos.
"Laos has a lot of incentives," the vice president said.
In addition, companies doing business in Laos enjoy incentives such as a corporate tax holiday of 8-16 years and value-added tax reduction among others. Cheap electricity costs are another incentive in encouraging lucrative business opportunities.
To facilitate investment and business operations, Mr Tee Chee Seng said his company is developing infrastructure and preparing a legal framework. This means investors need only provide capital and knowhow.
Construction of the infrastructure should be fully complete by 2027.
The developer is also working with China to build a Chinese-certified sanitary and phytosanitary (SPS) centre at the Vientiane Logistics Park to certify farm products and speed up their passage.
Investors are also welcome to set up shopping centres in the zones to tap tourism potential amid the growing influx of foreign tourists, especially Chinese nationals coming to Laos by rail, Mr Tee Chee Seng said.
.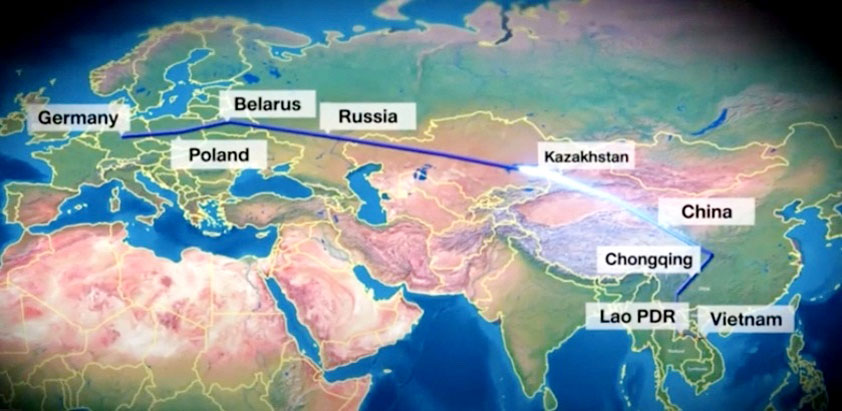 The blue line indicates the rail network linking Laos to Germany.
.
Ads by: Memento Maxima Digital Marketing
@[email protected]
SPACE RESERVE FOR  ADVERTISTMENT
.
By Advertorial Desk
(Latest Update June 9, 2023)