HEADLINE-BBM SONA 2023 | MANILA- Sona report card: Hits, misses from Bongbong Marcos' 2022 promises
President Ferdinand "Bongbong" Marcos Jr.
.
.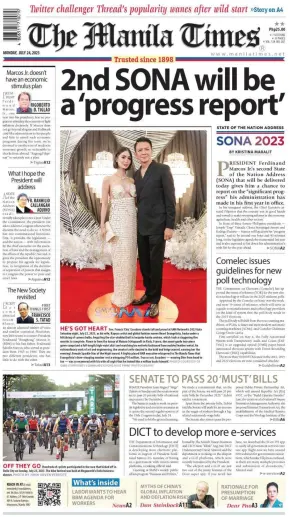 MANILA, Philippines —In President Ferdinand "Bongbong" Marcos Jr.'s first State of the Nation Address (Sona) in 2022, he declared that the country is in good hands, promising reforms in the economy, agriculture, health and other sectors.
With the President set to deliver his second Sona on July 24, INQUIRER.net checked several of the promises that Marcos made in his first Sona and the status of these.
.
.
Economy
In his first Sona, Marcos faced the enormous task of post-pandemic economic recovery. Poverty and unemployment were made worse by COVID-19.
One of his promises was to grow the economy from 2023 until his term ends in 2028 at a rate of 6.5 to 8 percent. In 2022, the Philippine economy grew 7.6 percent, according to the Philippine Statistics Authority. Growth, however, slowed in the first quarter of 2023 to 6.4 percent.
READ: Pandemic pushes 2.3 million Filipinos into poverty
The President also promised to reduce the poverty rate to 9 percent by the end of his term in 2028. While the country has yet to see if Marcos can deliver on this, World Bank had projected Philippine poverty to ease to 17.1 percent in 2022.
Marcos also wanted tax reforms to increase revenue collection. By June 2023, he said the government was still working on improved tax administration.
READ: Bongbong Marcos promises improved tax administration
Agriculture
Marcos, who appointed himself as chief of the Department of Agriculture, also gave lofty promises for agriculture. His goals included giving financial and technical assistance to farmers and fisherfolk to increase food production and ensure food security.
While the Marcos administration did take steps to give aid to the agri-fisheries sector (especially those reeling rom low output because of the Mindoro oil spill and Chinese bullying in the West Philippine Sea) Filipino farmers and fishermen suffered the brunt of agricultural losses. Some farmers had been driven by desperation to suicide.
Marcos' first year as President and concurrent agriculture chief was marked by high prices of agricultural products and allegations of state-sponsored smuggling by the Department of Agriculture's attached agency, the Sugar Regulatory Administration.
READ: Losses driving onion farmers to desperation
READ: BFAR to provide aid to fishers affected by Oriental Mindoro oil spill
READ: Netting progress, hope: BFAR launches project to aid WPS fisherfolk
Marcos had pointed to smugglers and cartels as the drivers of price spikes in agricultural products from 2022 to early 2023. He had since ordered the National Bureau of Investigation and its mother agency, Department of Justice, to run after smuggling syndicates.
READ: Marcos orders NBI, DOJ to go after smugglers of agricultural products
Notably, Marcos also promised to help farmers by endorsing to Congress a law freeing agrarian reform beneficiaries from the debt burden. This was delivered in July 2023 when debt condonation for at least 610,000 farmers, who owed more than P57 billion in land payments, became law.
READ: New Agrarian Emancipation Act signed; P57.5-B debt of 610K farmers condoned
.
Ads by:
.
.
.
.
Tourism, infrastructure, and digitalization
Marcos promised to upgrade airports and build new ones.
The start of 2023, however, was marked by the shutdown of the main gateway Ninoy Aquino International Airport (NAIA) as a result of a power outage. It was repeated in May.
READ: Naia power outage, tech glitch shut PH airspace
Talks on privatizing NAIA followed and the National Economic and Development Authority (Neda) approved a P176-billion proposal for a public-private partnership project to rehabilitate NAIA.
READ: Neda OKs P170.6-B Naia rehab proposal under PPP framework
Marcos also vowed to expand on the "Build, Build, Build" program, revising its name to to "Build Better More" or BBM. Last March, Neda approved 194 high-impact priority projects worth P9 trillion, including rehabilitation of NAIA.
READ: 'Build Better More' sets 194 projects worth P9 trillion
For the Philippine Identification System (PhilSys), Marcos wanted 92 million IDs by mid-2023, both electronic and physical. The Philippine Statistics Authority, however, reported in July 2023 that it had registered only 80 million Filipinos for PhilSys.
Marcos also vowed to implement the National Broadband Plan, also known as "Broad Band ng Masa" or BBM again. This was delivered in December 2022 with 4,757 broadband sites activated in 17 regions.
READ: Gov't activates offline sites under connectivity programs
.
.
.
Health and social welfare
For health, Marcos swore no more lockdowns as a response to pandemics. While Marcos has yet to formally declare the country's emergency status lifted, Health Secretary Teodoro Herbosa said that the President believes that the emergency status has been de facto lifted.
READ: Bongbong Marcos says COVID health emergency 'de facto' lifted – DOH chief
The President also vowed to build the Philippines' version of the US Centers for Disease Control and Prevention and a vaccine institute. Though the House of Representatives passed bills creating both, these stalled at the Senate by the time Congress ended its first regular session.
Marcos also swore to create a stronger health care system and build more public hospitals. Shortly before his second Sona, Marcos inspected the soon-to-rise Clark Multi-Specialty Medical Center in Pampanga. During the inspection, Marcos said he wanted more health care units on the ground, including those in the barangay level.
The health care system, however, is largely mired by the lack of support for health care workers, which has driven many of them abroad for greener pastures.
The Commission on Higher Education (CHEd) was ordered to address the shortage back in March. The CHEd and the Department of Health have looked at different solutions, including support for those who flunked nursing licensure exams and fielding of health care assistants.
READ: Specialty hospital health workers protest for a salary increase, overdue allowance, citing Marcos' promise to prioritize the country's health sector
READ: CHEd eyes creation of healthcare assistants to ease nursing shortage
Marcos' promise on welfare involved the cleansing of the Pantawid Pamilyang Pilipino Program list, which the Department of Social Welfare and Development has started in 2022.
READ: DSWD to 'cleanse' 4Ps of 500,000 'overstaying' beneficiaries
.
.
.
Education
On education, Marcos backed the return to full face-to-face classes through Vice President and Education Secretary Sara Duterte.
Duterte had ordered the resumption of five days of in-person classes for public and private schools by November 2022. Despite the lack of classrooms and teachers, rising COVID cases and opposition from teachers' groups, schools started the transition in August 2022.
By November that year, 97.5 percent of public schools had resumed full five-day face-to-face classes.
READ: DepEd orders all schools to shift to face-to-face classes by November 2
READ: DepEd: 97.5% of public schools now doing five-day face-to-face classes
CHEd also required higher education institutions to return to in-person classes in the second semester of academic year 2022 to 2023 but allowed a hybrid setup as an option.
READ: In-person classes required in HEIs starting second semester
Marcos also vowed to review the K-12 education system amid reports of poor quality materials, deficiency of skills among new graduates, and dissatisfaction from Filipinos. This was delivered in May 2023, with DepEd forming a task force to assess the program's implementation and policies.
The House of Representatives panel on education reviewed a proposal that would make the last two years of the program optional.
READ: DepEd forms task force to review K-12 program
READ: Plan to make last 2 years of K-12 optional studied
.
Foreign policy and migrant workers
Marcos promised to maintain close relationships with nations while protecting the West Philippine Sea (WPS). He said that maritime tension over the Philippines' exclusive economic zone was "not cooling down."
A total of 97 note verbales, or diplomatic protests, have been filed by the Philippines against China since Marcos assumed office.
READ: DFA: 97 diplomatic protests filed vs China, so far under Marcos administration
Marcos, however, insisted that the Philippines was friend to all and enemy to none as the country is in relations and partnerships with China and its regional rivals Japan, Australia and United States.
READ: PH, US looking forward to trilateral pacts with Japan, Australia
Marcos also said that the government would launch a command center for overseas Filipino workers (OFWs) in distress and needing repatriation to the Philippines. This became reality in the same month of his first Sona through the "One Repatriation Command Center," an emergency hotline for OFWs at risk and in need of assistance.
The President also vowed to remove red tape, with plans to automate the verification of contracts and issue secure Overseas Employment Certifications that may be stored in smartphones.
The "DMW Mobile App" is set to address this but is still undergoing testing by the Department of Migrant Workers and the Department of Information and Communications Technology.
READ: Gov't to launch One Repatriation Command Center
READ: Make OFW Pass mobile app user-friendly, solon urges DMW, DICT
.
Priority measures
Marcos listed 19 priority legislative measures in his first Sona, out of which none was passed by Congress. These include:
National government rightsizing program
Budget modernization
Valuation reform (tax package 3)
Passive income and financial intermediary taxation (tax package 4)
E-government
E-commerce law
Government financial institutions' unified initiative for distressed enterprises for economic recovery
Setting up a medical reserve corps
Creating a National Disease Prevention Management Authority
Creating the Virology Institute of the Philippines
Creating a Department of Water Resources
Unified system for separation, retirement and pension of military and uniformed personnel
E-governance
National land use law reforms
National defense reform law
Mandating ROTC and National Service Training Program
Law for the natural gas industry
Amendments to the Electric Power Industry Reform Act or Epira
Amendments to the Build-Operate-Transfer Act
READ: Maharlika bill up for Marcos signature; 19 bills on Sona 'wish list' pending
Marcos' pet legislation, Maharlika Investment Fund (MIF), breezed past these priority bills after Marcos had certified the proposed measure as urgent in both chambers of Congress.
Despite opposition from minority lawmakers from the Makabayan Bloc and some senators led by Risa Hontiveros, Marcos signed the MIF into law on July 18. — With reports from Kirsten Segui and Bea Alicia Delariarte, INQUIRER.net trainees
TSB
INQUIRER.net
.
.
RELATED STORIES:
Maharlika bill up for Marcos signature; 19 bills on Sona 'wish list' pending
Marcos' first Sona: 'The state of the nation is sound'
Tensions in West Philippine Sea not 'cooling down' – Marcos
.
Ads by:
Memento Maxima Digital Marketing
@[email protected]
SPACE RESERVE FOR  ADVERTISTMENT