OBITUARY-PEOPLE-MUSIC | Tony Bennett, last of classic American crooners, dead at 96
Winner of Best Pop Collaboration with Vocals and Best Traditional Pop Vocal Album, Tony Bennett poses with his trophies at the 49th Grammy Awards in Los Angeles, on Feb. 11, 2007. Bennett, the last in a generation of classic American crooners whose ceaselessly cheery spirit bridged generations to make him a hitmaker across seven decades died on July 21, 2023, in New York, US media reported. He was 96. (AFP/Gabriel Bouys)
.
Watch Video:
.
Tony Bennett, the last in a generation of classic American crooners whose ceaselessly cheery spirit bridged generations to make him a hitmaker across seven decades, died Friday in New York. He was 96.
Raised in an era when big bands defined US pop music, Bennett achieved an improbable second act when he started winning over young audiences in the 1990s, not by reinventing himself but by demonstrating his sheer joy in belting out the standards.
At age 88, Bennett in 2014 became the oldest person ever to reach number one on the US album chart through a collection of duets with Lady Gaga, who became his friend and touring companion as younger stars rushed to work with the singing great.
.
Bennett, who revealed in 2016 that he had been diagnosed with Alzheimer's disease, died in his hometown, his publicist Sylvia Weiner announced, without revealing a cause.
He was "still singing the other day at his piano," said a message on his official Twitter account.
Tributes quickly poured in from the music, political and acting worlds.
"Without doubt the classiest singer, man and performer you will ever see. He's irreplaceable. I loved and adored him," Elton John wrote on Instagram.
"For more than 70 years, Tony Bennett didn't just sing the classics; he himself was an American classic," President Joe Biden said in a statement, offering his and his wife Jill Biden's condolences to loved ones and fans of the "timeless artist" who brought "joy."
Likened since the start of his career to Frank Sinatra, Bennett first tried to distance himself but eventually followed much of the same path as earlier crooners: singing in nightclubs, on television and for movies. His attempts to act ended quickly though.
His gift proved to be his stage presence. With a welcoming smile and dapper suit, he sang with gusto and a smooth vibrato in a strong, clearly enunciated voice.
Starting with his recording of the film song "Because of You" in 1951, Bennett sang dozens of hits including "Rags to Riches," "Stranger in Paradise" and, what became his signature tune, "I Left My Heart in San Francisco," which landed him two of his 19 Grammy Awards.
But the British Invasion led by The Beatles initially took a toll on the singer, whose music suddenly sounded quaint and antiquated. He nearly died of a cocaine overdose in 1979 before sobering up and reviving his career.
"When rap came along, or disco, whatever the new fashion was at the moment, I didn't try to find something that would fit whatever the style was of the whole music scene," Bennett told the British culture magazine Clash.
"I just stayed myself and sang sincerely and tried to just stay honest with myself […] and luckily it just paid off."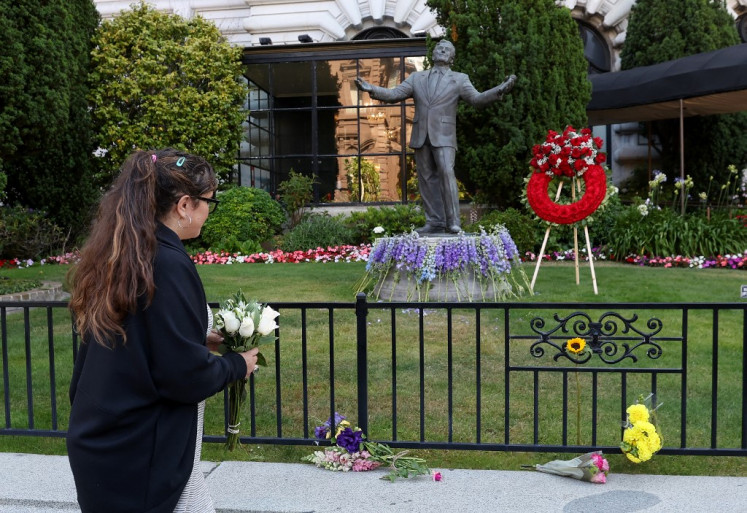 A mourner drops flowers near a statue of Tony Bennett at the Fairmont Hotel on July 21, 2023 in San Francisco, California. (AFP/Justin Sullivan/Getty Images)
.
.
Singing as hardscrabble youth
Tony Bennett, whose stage name came after advice from showbiz A-lister Bob Hope, was born Anthony Dominick Benedetto in the Astoria neighborhood of New York's Queens borough. His father was a struggling grocer who immigrated from southern Italy.
Bennett showed early promise as an entertainer, singing at age nine next to legendary New York mayor Fiorello LaGuardia during a ceremony.
But his father's death at age 10, as the United States was still struggling to exit the Great Depression, led him to leave school and earn money through jobs including singing at Italian restaurants and caricature painting, which remained a lifelong side career.
Bennett served in France and Germany during World War II. But he was demoted after cursing at an officer from the South who objected to Bennett dining with an African American friend in the then racially segregated army.
As punishment, Bennett spent his tour of duty digging out bodies. But after the Allied victory, Bennett found an unexpected break into music as he waited with fellow troops in Wiesbaden, Germany to return home.
With the city's opera house still intact, a US Army band performed a weekly show to be broadcast on military radio across Germany.
Taken on as the band's librarian, Bennett quickly impressed with his voice and was made one of four vocalists.
"I could sing whatever I wanted, and there was no one around to tell me any different," Bennett later wrote in his autobiography, "The Good Life."
When he returned to the United States, he took formal singing lessons through the GI Bill, which covered educational expenses for returning troops.
His experiences made Bennett a lifelong liberal and pacifist. He became enraged in the 1950s when he played in Miami with jazz pioneer Duke Ellington, who was not allowed to attend a press party due to segregation at the hotel.
In a then risky move for a popular entertainer, he accepted an invitation from singer Harry Belafonte to join civil rights icon Martin Luther King Jr in the 1965 march from Selma, Alabama in support of equal voting rights for African Americans. "Thank you for your commitment to love, civil rights, and a better world," King's daughter Bernice wrote Friday on Twitter.
.
Late in life, still cool
Bennett was married three times and had four children including Antonia Bennett, who has followed his path as a singer of pop and jazz standards.
By the early 1990s, Bennett was appearing in music videos and singing warm-up at concerts by alternative rock giants such as Smashing Pumpkins.
A decade later, he released three successful albums of duets. On one of them, he sang with Amy Winehouse in her last recording before she died in 2011 at age 27.
He marked his 90th birthday with a star-studded concert at New York's Radio City Music Hall, which was turned into a television special and album.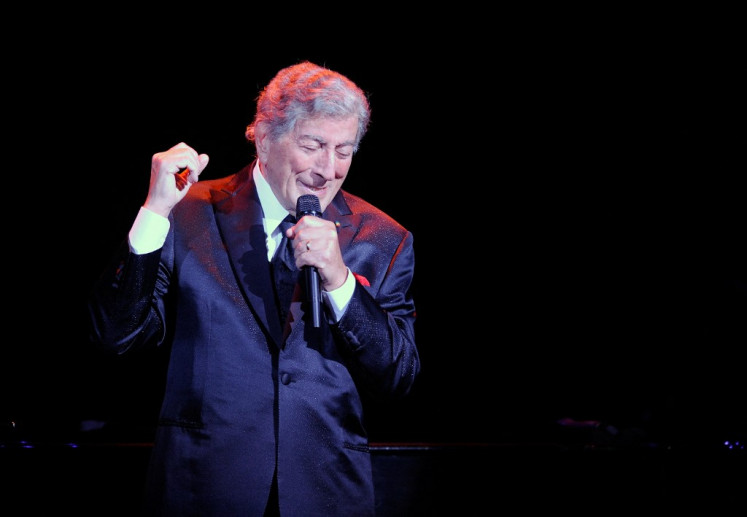 Singer Tony Bennett performs at The Pearl concert theater at the Palms Casino Resort on July 24, 2011 in Las Vegas, Nevada. (AFP/Ethan Miller/Getty Images North America)
.
Bennett toured the United States and Europe into his final decade, playing his last public performance before the coronavirus pandemic halted touring in New Jersey on March 11, 2020.
Soon after, he revealed he had been diagnosed with Alzheimer's disease in 2016. He had kept his condition quiet for years.
Upon turning 95, Bennett played two more birthday concerts, again at Radio City Music Hall, with Lady Gaga, shows billed as his farewell to New York.
"And let the music play as long as there's a song to sing / And I will stay younger than spring," he crooned during the first of his farewell shows, in a rendition of his ballad "This Is All I Ask." "You've been a good audience," Bennett said prior to his encore. "I love this audience."
.
Ads by:
Memento Maxima Digital Marketing
@[email protected]
SPACE RESERVE FOR  ADVERTISTMENT
.
Shaun Tandon & Maggy Donaldson
(AFP) New York, United States
●   Sat, July 22, 2023