Viet Nam : Minh wins Malaysian chess champs
Update: September, 05/2017 – 16:18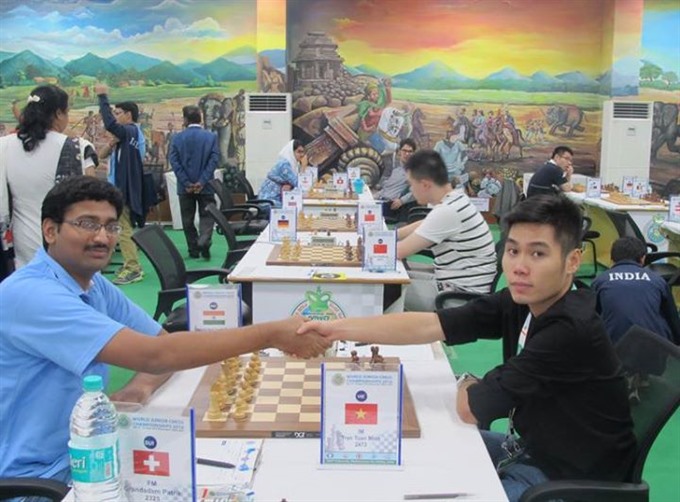 Trần Tuấn Minh of Việt Nam (right) champions the 14th IGB Dato Arthur Tan International Open Chess Championship 2017 in Malaysia. — Photo baomoi.com
HÀ NỘI — Trần Tuấn Minh of Việt Nam won the 14th IGB Dato Arthur Tan International Open Chess Championship 2017, which closed on Monday in Malaysia.
Grandmaster Minh pocketed seven points after nine matches. He won five and drew four.
The victory brought him 11.1 Elo points, contributing to his world ranking.
China's Fang Yuxiang came second with the same points, but he had a lower parameter.
He was followed by his countryman Ma Qun.
Việt Nam had seven masters competing in the tournament, but the rest did not have good results. — VNS
RELATED:
Filipinos shine in Malaysia Chess Challenge
Three Filipino chess masters bagged the top three spots in the 12th Malaysia Chess Challenge in Kuala Lumpur, Malaysia.
Michael Concio Jr. dominated the event with a total score of 8.5 points on eight wins and a draw in the nine-round tournament.
The 12-year old wizard stamped his class over Yau Kong Zi of Singapore in the first round, Malaysians Lai Zhen Hou (second), Brandon Tien Sreenivasan (third), Chuah Yi Ning (fourth), Poh Yu Tian (sixth) and Chuah Hao Min (eighth), Indian Mota Pankit (fifth) and Filipino Michelle Yaon (seventh) then split the point with another Filipino Gerald Ferriol in the final round.
Ferriol and Darry Bernardo ended up in a two-way tie for second with identical 7.5 points.
But Ferriol took the second spot because of superior tiebreak points.
He defeated Malaysians Nozarin Juarih (first), Mohd Nasir Mohd Khairi (fifth) and Abduk Razak Tariq Ziad (seventh), Noel Nicolas of France (second), Filipino Martin Gaticales (third), and Indian Dhruvik Shah (eighth) and drew with Concio.
On the other hand, Bernardo collected points with victories over Julien Goh of Singapore, and Malaysians Mat Yeop, Ahmad Johari Mohd Firdaus, Ho Chen Ee, Yip Thung, Su Weng Yang and Teh Wee Zhun, and a draw with Yaon.
BY EMIL C. NOGUERA, TMT  | SEPTEMBER 7, 2017 | SPORTS
NOTE : All photographs, news, editorials, opinions, information, data, others have been taken from the Internet ..aseanews.net | [email protected] |
For comments, Email to : [email protected] – Contributor