TODAY'S HEADLINES: Noru (Karding) batters 600,000 people living below poverty line
.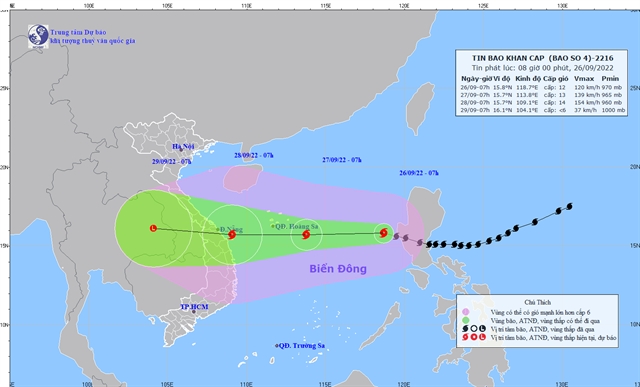 Super typhoon Noru entered East Sea on early Monday morning and is moving westward, heading towards Việt Nam's central localities. Photo courtesy of the National Centre for Hydro-Meteorological Forecasting
.
.
THE strongest typhoon to hit the Philippines this year left at least six people dead, authorities said Monday.
Typhoon "Karding" (international name: "Noru") toppled trees, knocked out power and flooded low-lying communities as it swept across Luzon on Sunday and Monday.
"We were ready for all of this," President Ferdinand Marcos Jr. told a briefing with disaster agencies Monday. "You might think that we overdid it. There is no such thing as overkill when it comes to disasters."
Five rescuers were killed after they were sent to help flooded residents in San Miguel town in Bulacan.
LtCol. Romualdo Andres, San Miguel chief of police, said the rescuers were wading through floodwaters when a wall beside them collapsed, sending them into the fast current.
An elderly man died after he was hit by a landslide in Burdeos municipality on the Polillo Islands, part of Quezon province, where the storm made landfall, said Garner Jimenez from the local civil defense office.
The National Disaster Risk Reduction and Management Council (NDRRMC) on Monday said it was confirming reports that six fishermen in Camarines Norte were missing after they sailed into stormy seas.
The Civil Defense Bicol quoted the Camarines Norte Provincial Disaster Risk Reduction and Management Office as saying that the fishermen were from the town of Mercedes.
Karding smashed into Luzon on Sunday after an unprecedented "explosive intensification" in wind speeds, the Philippine Atmospheric, Geophysical and Astronomical Services Administration (Pagasa) said earlier.
<>Ad by:
Memento Maxima Digital Marketing
@[email protected]
SPACE RESERVE FOR ADVERTISEMENT
.
It made landfall near Polillo before weakening to a typhoon as it crossed a mountain range, coconut plantations and rice fields.
Nearly 75,000 people were evacuated from their homes before the storm hit, as Pagasa warned heavy rain could cause "serious flooding" in vulnerable areas, trigger landslides and destroy crops.
But on Monday there was no sign of the widespread devastation many had feared, as the storm moved over the South China Sea toward Vietnam.
Aerial footage taken during Marcos' inspection flight over Central Luzon showed rivers that were swollen or had burst their banks and patches of farmland under water.

Memento Maxima Digital Marketing
@[email protected]
SPACE RESERVE FOR ADVERTISEMENT
Today's Headlines: September 27, 2022
BRUNEI DARRUSALAM
Sultanate to receive new Moderna 'Spikevax'
The Brunei Darussalam Medicines Control Authority (BDMCA) has approved the emergency use authorisation (EUA) for the use of the Moderna Spikevax Bivalent Original/Omicron for adults in the Sultanate.
This was announced by Minister of Health Dato Seri Setia Dr Haji Mohd Isham bin Haji Jaafar at a press conference at the Al-'Afiah Hall on Monday.
More details in Tuesday's Borneo Bulletin
 <>
 9.27.22
 CAMBODIA |
PM happy with successful celebration of Pchum Ben Festival
Prime Minister Hun Sen has expressed his delight with the successful celebration of the annual Pchum Ben Festival unlike last year when the celebration was cancelled due to Covid-19 threat.
In a special voice message on September 26, Mr Hun Sen said that although he did not attend the Pchum Ben Festival this year, he was happy that the Cambodian people celebrated the festival successfully with preservation of all aspects of safety, especially the prevention of Covid-19 spread.
The Premier continued that in the past few days, he had received successively from the Ministry of Health's leadership daily information related to Covid-19 infection cases – around 10 new cases – and vaccination rates, as well as reports from Sar Kheng, Deputy Prime Minister, Minister of Interior.
According to the Prime Minister, he will stay in Tokyo, Japan for two nights and return home on September 28, after attending the State Funeral of former Japanese Prime Minister Abe Shinzo and having a short meeting with his Japanese counterpart Fumio Kishida. AKP-C.Nika
9.27.22
<>
Ad by:
Memento Maxima Digital Marketing
@[email protected]
SPACE RESERVE FOR ADVERTISEMENT
 9.27.22
Laos calls for peaceful resolution to global conflicts
A senior Lao leader has urged the international community to find peaceful and lasting solutions to conflicts and disputes by upholding the principles enshrined in the UN Charter to promote multilateralism and the shared interests of all countries. Deputy Prime Minister and Minister of Foreign Affairs, Mr Saleumxay Kommasith, made the call when delivering a national statement on behalf of Laos at the 77th session of the United Nations General Assembly in New York recently. . . Read more :  https://www.vientianetimes.org.la/freeContent/FreeConten187_Laos_clls_y22.php
<>
Ads by:
Memento Maxima Digital Marketing
@[email protected]
SPACE RESERVE FOR ADVERTISEMENT
9.27.22
Jewellery, watches, handbags seized bought using 1MDB funds: DPP
<>
Ads by:
Memento Maxima Digital Marketing
@[email protected]
SPACE RESERVE FOR ADVERTISEMENT
 9.27.22
MYANMAR |
The Asian Voice
Is the military junta losing its ground in Myanmar?: Daily Star contributor
The writer says the international community should exert more pressure on the military junta regime in Myanmar.
SEP 27, 2022, 12:00 PM SGT
DHAKA (THE DAILY STAR/ASIA NEWS NETWORK) – The military junta in Myanmar, which came to power by toppling the elected government in February 2021, seems to be in deep trouble.
They rejected the results of the national election in 2020, which was arranged under their supervision. In fact, they reversed Myanmar's history. Long after their direct military rule in the country, they started a limited process of democratisation when Aung Sun Suu Kyi-led National League for Democracy (NLD) came in power in 2011. Since then, the military junta and the NLD jointly ran the country.
Suu Kyi even defended the Myanmar military's brutality and atrocities at the International Court of Justice (ICJ). But the election held in November 2020 changed the relations between the junta and NLD. The leadership of the junta spoiled the achievements of the last 10 years.
 At the same time, the ethnic groups maintained their own military capacity to fight against the junta rulers. Thus, the junta has been having trouble establishing political control in Myanmar. They became further isolated from the world from a diplomatic point of view.
 <>
.
Myanmar Times' Burmese Daily Edition Fires Editor-in-Chief, 12 Other Journalists Without Notice
The Myanmar Times office on Bo Aung Kyaw Road (Upper Block), Kyaukdata Township, Yangon. July 19, 2019. (Myanmar Now)
Managers at The Myanmar Times have fired 13 journalists, including the editor-in-chief, from the newspaper's Burmese language daily edition without any prior warning.
Staff were told about the layoffs at an "emergency meeting" midday Thursday and asked not to come into the office the following day, said Than Naing, one of the editors who was fired.
"They should have notified us at least one month in advance," he told Myanmar Now.
There were 41 people on the editorial team before the sackings. The edition's chief correspondent, Zeyar Lin, was also among those laid off.
Two of the fired employees confirmed they were compensated with two and a half months' salary in lieu of prior notice, which is in line with labour laws.
Soe Myint, who was an executive editor at the paper until yesterday, said he felt the decision was made by the owner, Thein Tun, in the newspaper's best interest.
<>
Myanmar Times lays off 70 employees
Company says layoffs will only last until July, though some staff see attempt to skirt labor laws
The Myanmar Times has laid off 70 of its employees, including 30 journalists, staff told Myanmar Now on Wednesday.
The layoffs are meant to last just until July, staff said.
Staffers will be paid 50% of their wages throughout May and will have to take June off as unpaid leave, said Wai Lin, the paper's chief operating officer.
"We have not fired them," he said. "At the end of June, we'll make a decision on whether or not to call them back in."
The paper would not offer a reason for the layoffs, but the Covid-19 pandemic has hit newspaper revenues across the world, forcing layoffs and closures elsewhere.
Some employees have criticised the move as a way of firing employees without paying severance payments required by the labor ministry.
Under law, severance entitlements are determined by how long an employee has been at a company.
"If they want to remove all of us at once, compensate us according to the rules and regulations," an employee who requested anonymity told Myanmar Now. "Now it's awkward. It feels like they're making decisions in secrecy."
Wai Lin denied the move was an attempt to skirt the law.
"If they don't want to stay, we'll terminate them and follow the regulations of the labor ministry," he said.
Ads by:
Memento Maxima Digital Marketing
@[email protected]
SPACE RESERVE FOR ADVERTISEMENT
.
Today's Paper: September 27, 2022
September 27, 2022
Marcos -Romualdez Family Newspaper- The Manila Times Political Troll … propagates FAKES NEWS
<>
Ads by:
Memento Maxima Digital Marketing
@[email protected]
SPACE RESERVE FOR ADVERTISEMENT
.
SINGAPORE |
TV network started by Marcos-allied tycoon raises concerns about politicisation of media
Concerns have been raised about politics influencing media coverage under the government of President Ferdinand Marcos Jr following the soft launch of a new television network owned by Filipino billionaire and former senator Manny Villar.
The free-to-air broadcast AllTV went live for the first time on Sept 13 on the frequency that media giant ABS-CBN lost in 2020 under former president Rodrigo Duterte.
Ads by:
Memento Maxima Digital Marketing
@[email protected]
SPACE RESERVE FOR ADVERTISEMENT
 <>
9.27.22
Super typhoon Noru set to make landfall in Việt Nam's central region on Wednesday
September, 26/2022 – 12:00
Noru is the fourth storm to hit the East Sea this year.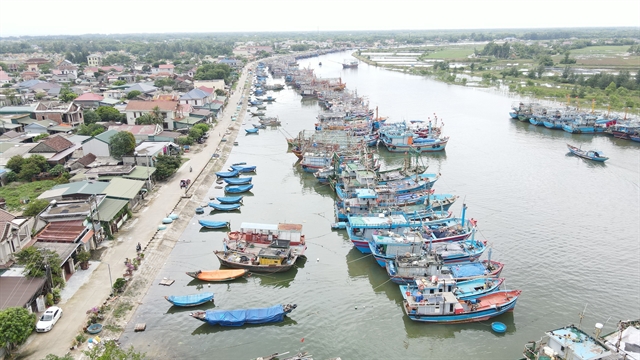 Boats docking at Nam Cửa Việt wharf, Quảng Trị Province. — VNA/VNS Photo
HÀ NỘI — Super typhoon Noru, one of the strongest in the last 20 years, entered the East Sea early Monday morning and is expected to hit Việt Nam's central provinces on Wednesday morning.
Noru is the fourth storm to hit the East Sea this year.
At 4 am on Monday, the super typhoon was 810 km east of Việt Nam's Hoàng Sa (Paracel) Archipelago with winds at level 12-13 (118-149 km per hour) and gusts of level 14.
According to the National Centre for Hydro-Meteorological Forecasting, Noru will keep moving west-northwest at a speed of 20-25 km per hour.
By 4 am on Tuesday, the eye of the storm will be about 250 km from the Hoàng Sa Archipelago with level 13 (134-149 km per hour) winds and level 16 gusts.