Bangkok : ASEAN's largest all-in-one agribusiness exhibition opens
Update: September, 08/2017 – 09:0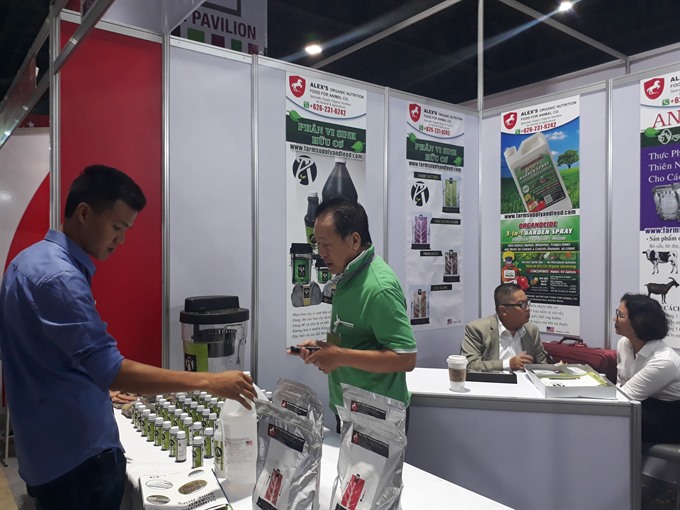 Visitors at a booth for Alex's Organic Nutrition Food for Animals Company at SIMA ASEAN 2017 in Thailand. — VNS Photo Vũ Hoa
.
BANGKOK — The third edition of SIMA ASEAN Thailand, the most comprehensive international trade exhibition for agribusiness in ASEAN, opened its doors on Thursday in Bangkok.
This year, the exhibition focuses on the latest innovations in agricultural machinery, with the aim of improving Thai agro-industry to reach the Agriculture 4.0 era. Agriculture 4.0 refers to farming practices that make use of digital technology to increase sustainability and productivity.
In addition to machinery displays, the exhibition offers seminars to support the education of farmers. The event is expected to attract 15 per cent more visitors than the previous year and to generate more than one billion baht.
The event has drawn more than 300 exhibitors from many countries, including China, Japan, Singapore, South Korea, Turkey and Việt Nam.
SIMA's exhibitors are showcasing a comprehensive range of products and services, such as tractors; spare parts and accessories; embedded electronics; tilling, sowing, planting, harvesting and post-harvest equipment; equipment for tropical and special crops; livestock handling, transportation, storage and breeding equipment; renewable energy; consultancy; management and software.
Speaking at the opening ceremony, Dr Suwit Chaikiattiyos, director general of the Department of Agriculture under the Ministry of Agriculture and Co-operatives, said, "We hope that this event will be a platform to exchange ideas and the latest technology, leading to rapid industrial development, an increase of leverage in negotiations for farmers, and a higher capability of Thai agribusiness in the highly competitive international market."
Jean-Hugues, Key Account Manager at SIMA – SITEVI, told Việt Nam News that they are working to attract international companies to bring new materials and technologies that could be applied in the Southeast Asian region and Thailand.
"SIMA can help farmers to develop their production and to increase efficiency of production by proposing new technology that will help them to have more sustainable agriculture," he said. "It's important that we introduce materials, machinery and equipment adapted to size of the crop, because the size of the crop in the Southeast Asian region is of course smaller than ones in Western Europe."
The Vietnamese delegation this year includes 30 business members of the French Chamber of Commerce and Industry in Việt Nam.
Alexander Nguyễn, CEO of Alex's Organic Nutrition Food for Animals, believes this event will be a good opportunity to introduce Vietnamese organic food for animals to international customers. He also plans to learn about the latest market trends and current demands of specific markets while seeking new customers.
"We want to advertise Vietnamese agriculture to the world, declaring that the country has specific strengths and diversified products," he said.
Bùi Phong Lưu, director of Bùi Văn Ngõ Industrial and Agricultural Machinery Company Ltd, which has exported their agricultural machinery products to 22 countries, such as Thailand, Cambodia, Philippines, Australia, Malaysia, and countries in Africa and South America, also told Việt Nam News that they have previously exported their products to Thailand until 1997. However, the exports were halted in 2007.
"We want to seek new customers and connect to the Thai market again as well as buying new technology for our expansion," he said.
The expo, which continues until September 9th, is expected to attract 20,000 trade visitors and create business opportunities for all participants.
Experts will be present to share their knowledge on the capabilities of the machinery. There will also be a drone pavilion and workshops that are geared toward Agriculture 4.0. The Thai Society of Agricultural Engineering Conference will also be held during the show.
The event will also host several seminars, where experts in agriculture will be presenting over 20 topics that can develop the Thai agriculture industry and drive Thailand's economic growth. — VNS
NOTE : All photographs, news, editorials, opinions, information, data, others have been taken from the Internet ..aseanews.net |  [email protected] |
For comments, Email to : [email protected] – Contributor