FOOD-Restaurant Review: Sa Pa, Lao Chải Village – Chilling out with hot salmon in the hills | Viet Nam News
Baked: The salmon was marinated with mustard and coriander, then rolled in banana leaves and baked over a small fire. VNS Photo Phương Linh
.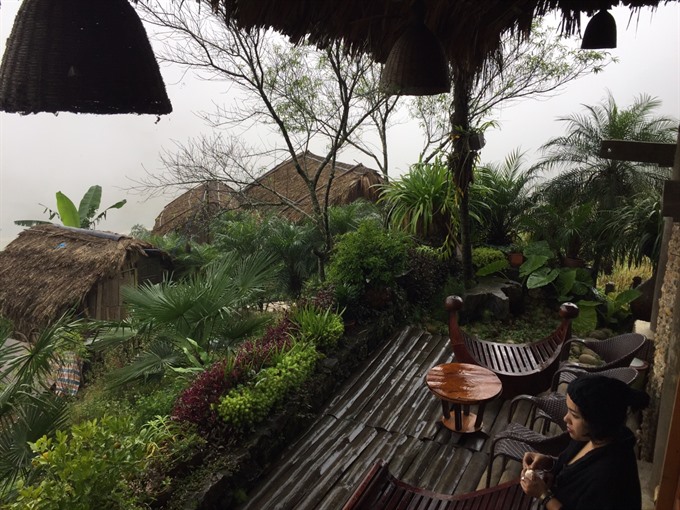 Romantic: For the more romantic, a table was set under the porch while drizzle wafted in the wind. VNS Photo Phương Linh
.
The winter in Sa Pa has begun, filled with cloud and frost. Despite the harsh weather, riding a motorbike from Sa Pa town to the valley village of Lao Chải is always a pleasure. If you have time, remember to visit Eco Palms House lunch on the way.
Eco Palms is actually a homestay with five lovely bungalows overlooking Mường Hoa Valley. Nguyễn Thanh Hiền, the owner, is an agile and clever person. She warmly welcomed us to the living room and restaurant and the bar, which she and her husband have worked hard to decorate. Hiền gave us a menu and did not forget to add more wood to the fireplace, making the whole space bright and warm in the cold weather.
Amazed by the pleasant space full of art, we could not read even the first word in the menu.
"Let me help you choose the special dish of Eco Palms!" said the owner.
The lady's face seemed to have absolute confidence so we agreed without much thought.
For the romantic lunch, Hiền laid a table on the porch while mist wafted around in the wild mountain air. The meal comprised three hot and extremely colourful dishes: local salmon soup, grilled shrimp salad – and grilled salmon wrapped in banana leaves served with fresh rice noodle and peanut sauce.
Nowadays, those who go to Sa Pa generally try salmon or sturgeon, which have been successfully cultivated in the hills. In Sa Pa, salmon is cooked in a hot pot, grilled, or uncooked in the style of the locals.
Personal: Eco Palms House is decorated in a personal and cozy style. VNS Photo Phương Linh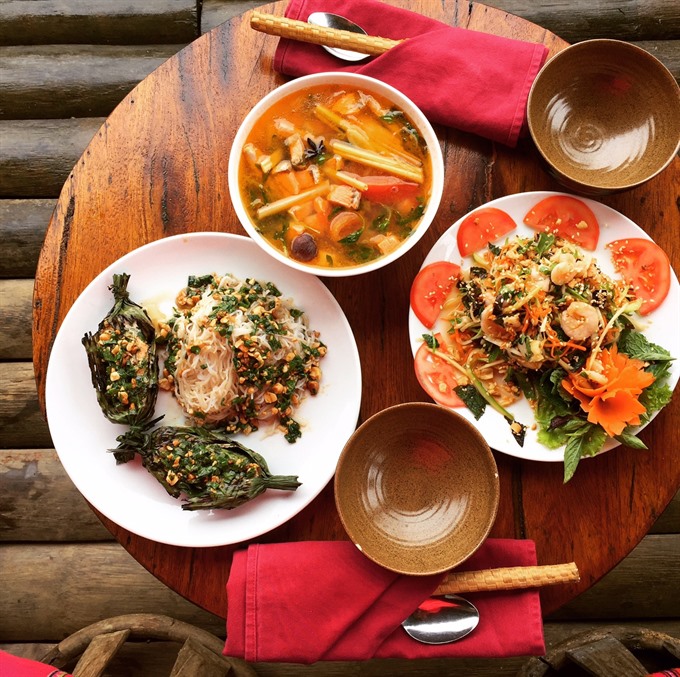 Fresh flavours: The meal was a delicate blend of local ingredients with an international flourish. VNS Photo Phương Linh
.
At Eco Palms, the chef has delicately combines local ingredients in international and local styles. Looking at the dishes, we were extremely moved. The salmon soup was more like a Vietnamese bowl of hot soup.
It was full of spicy hot ingredients the mountain people use to fight the cold of winter, such as lemongrass, anise, cardamom, and coriander. I absolutely love this dish because of its sour and spicy taste reminded me of Thailand's tom-yum soup, the only difference was the salmon. The fish was cut into bite-sized pieces. The pieces were firm with a certain hardness that carried a feeling of freshness. This dish was a great appetiser.
Next came grilled shrimp salad made with green mango, carrot, herbs and lots of sesame and peanuts. The shrimps had been quickly grilled so that they became firm and still retained the freshness and "more-ish" taste, then split to soak up the sweet and sour juice.
The shrimps were not frozen as in many lowland restaurants. And much different from lowland salads, Hiền added sliced perilla which made the taste outstanding.
Although the first two dishes were great, the third was the main one for our outdoor party: salmon baked in banana leaves. I could never have imagined such a wonderful combination of fish, banana leaves, yellow mustard, green mustard and coriander.
The salmon was carefully marinated with mustard and coriander, then rolled in banana leaves and baked over a small fire. When the package was opened, perfumed steam rose up. Each piece of salmon was delicious, keeping us warm in the cold air of the mountains. Another dish that was memorable was hot fluffy noodles soaked in peanut sauce and fried onion.
We both enjoyed our meal and praised the chef for her creativity. "You should eat a lot to be strong enough to play in the winter," she said.
When we left Eco Palms House to descend to Mường Hoa Valley towards beautiful Tả Van Village, we silently promised to return to Lao Chải, visit Eco Palms House and eat again under the porch. VNS
Adress:  Lao Chải Village, Sapa, Lào Cai
Phone: 0169 339 9659
Open hour: all day
Price: around 300,000VNĐ/pax
.

COURTESY:
Viet Nam News
December 17, 2017
.
NOTE : All photographs, news, editorials, opinions, information, data, others have been taken from the Internet ..aseanews.net | [email protected] |
For comments, Email to :  Al Bulario | [email protected] | Contributor |