OP-ED EDITORIAL: OPINION & CARTOON – 'Trade barriers' – The Philippine Star – Monday, April 02, 2018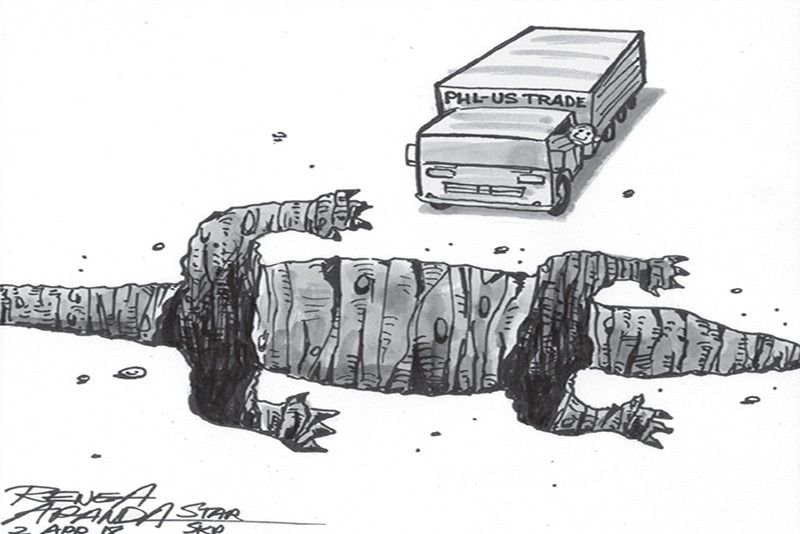 EDITORIAL – Trade barriers
Aside from battling drug trafficking, fighting corruption is his other priority, according to President Duterte. He will have to push his officials harder in waging this other war.
His campaign against the drug menace is being carried out aggressively by the Philippine Drug Enforcement Agency, the office with the constitutional mandate to lead the war on drugs, together with the Philippine National Police. But the crackdown on corruption is facing stiff resistance.
In the latest report of the Office of the United States Trade Representative, "pervasive" corruption was cited as one of the major barriers in trading with the Philippines. Specifically cited in the 2018 National Trade Estimate Report of Foreign Trade Barriers was the Bureau of Customs, along with local government agencies, other national offices as well as regulators and judicial courts.
.
– YOUR ADVERTISEMENT HERE –
.
The USTR reiterated a concern raised in its report the previous year over "the propensity of Philippine courts and regulators to stray beyond matters of legal interpretation into policymaking, as well as the lack of transparency in judicial and regulatory processes."
Magistrates can be bribed and temporary restraining orders issued by the courts "impede legitimate commerce," the USTR reported. Apart from undue delays in customs processing and valuation irregularities, officials demand "unrecorded facilitation fees," the USTR added.
American businessmen aren't the only ones complaining about corruption and delays in the Bureau of Customs, other national government agencies and local government units. The problems cited by the USTR have also been raised for many years now by both local business groups and the foreign chambers representing other countries and regions.
Corruption is one of the issues that have made the country rank low in ease of doing business and lag behind several of its neighbors in attracting foreign direct investments. President Duterte has often publicly acknowledged the gravity of the problem and vowed to deal with it. As his second year draws to a close, he will have to take more decisive action to make some headway in this war./ The Philippine Star – April 2, 2018 – 12:00am
.
.
ASEANEWS EDITORIAL CARTOONS:
.
7.1.   Public expects a leveling upl – The Daily Tribune
7.2   'Sub judice' rule will help assure a fair trial –  The Manila Bulletin
.
7.3.  First things first –  The Manila Standard
7.4.  Trash-littered pilgrimage sites –  The Manila Times
.
7.5.   Big role of LTFRB –  The Philippine Daily Inquirer

.
7.6    Trade barriersr – The Philippine Star
 .
.
7.  May kalbaryo pa kaya sa MRT-3?   – Pilipino Star Ngayon
.
.
8.1.  Japan's dangerous isolation– – For The Straits Times
Jonathan Eyal     –  lEurope  Correspondent
onathan Eyal was born in Romania, but has lived most of his life in Britain. Educated at Oxford and London universities, his initial training was in international law and relations, in which he obtained both his first degree and his Master's with a Distinction. His doctorate, completed at Oxford in 1987, analysed relations between ethnic minorities in Eastern Europe. After teaching at Oxford for three years, Dr Eyal was appointed a researcher at the Royal United Services Institute for Defence Studies in London. Since 1990, Dr Eyal has been Director of Studies at the Institute. Dr Eyal has authored books on military relations in the Balkans and Eastern Europe, and became a regular commentator for The Guardian newspaper in London. He started writing for The Straits Times in 2001, and is currently the paper's Europe Correspondent. He is fluent in French, Romanian, Italian, Hungarian and German.
9.1.  Regime's best-laid plans still subject to folly –
VEERA PRATEEPCHAIKUL FORMER EDITOR
– The Bangkok Post
.
.
10.1   Keeping a balanced view on access to high places – Viet Nam News by Thu Trang
llustration by Trịnh Lập
NOTE : All photographs, news, editorials, opinions, information, data, others have been taken from the Internet ..aseanews.net |
[email protected]
|
.For comments, Email to :
D'Equalizer |
[email protected]
| Contributor.