ASEAN PAINTINGS: Việt Nam – From bark to art: Painter uses cajuput as canvas
Many hues: Depending on the age, cajuput bark comes in different colours. — Photo lamchieudong
.
.The cajuput tree—
tràm in Vietnamese—is known for its spongy bark, white flowers and its oil that is prized for its usefulness in aromatherapy. Though the tree, which fills the Vietnamese countryside, may occasionally find itself the subject of a painting, it is not generally regarded as a medium for producing art.
When the chairman of Ðông Hưng B Hamlet's chapter of the Việt Nam Motherland Front, Lê Hoàng Nhân, looks at the tree, he sees a canvas. Born in U Minh Thượng (Upper U Minh), he had a view of a cajuput forest from his house when he was small. As an adult, he taught himself to paint on its bark. He's now recognised throughout the region for his dedication to creating unexpected art from a humble local specialty.
"The first painting on cajuput bark, I had to stay up for a few consecutive nights to do," he said. "I thought the thing was as easy as a piece of cake, but when I dove in, challenges and obstacles appeared. I had to meticulously tear off every layer of the plant until I had my desired colour. Sometimes, I wandered the whole afternoon in the forest to find a suitable cajuput fruit fit to suit my plans for the size of my artwork."
For Nhân, his artistic specialty is the marriage of a long-standing love for painting and a deep connection to his homeland. An agronomist living at the rural district of An Minh in the southern province of Kiên Giang, Nhân used to think of art as merely a dream that could never make a living, but it was always on his mind.
Nhân, 36, has neither received any formal art lessons, much less instruction on how to paint on cajuput bark. As a student, however, he took his classmates with surprise by his soulful brushstrokes.
"During my years studying agronomy at the local community college, every time I worked on wall-newspaper project or took part in a poster campaign, no one in my class knew how to paint, so a reluctant non-professional artist like me was called in," Nhân said.
"I was trembling with anxiety, but then I was encouraged by my friends, so I finished all paintings and I got a small prize. After that, I was always called by the school administrating board each time competitions were held at school."
Knowing that with great power comes great responsibility, Nhân started to train harder on his own when he had time after work.
"I have to admit I have never painted with oil paints before, but the hunger for studying art rose up and pushed me to work harder. I started to self study how to paint with oil and came home to practise. After that, I got compliments and encouragement from the local culture department and got VND700,000 (US$31). Because of the busy routine at work, I did not have much time to paint, but my passion for arts did not disappear," he added.
Ðông Hưng B, where Nhân lived, had the biggest number of cajuput, with 5,600ha. For a festival, he made some cajuput paintings to be displayed to encourage professionals and non-professionals to make use of this plant for economic development.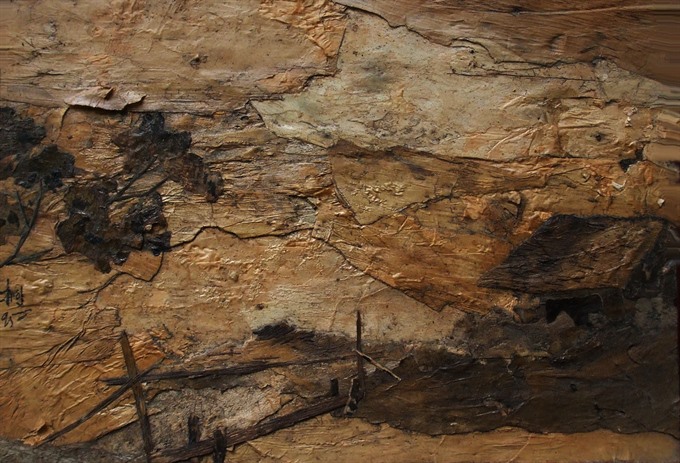 Consistent: Cajuput paintings always have three colours of white, yellow, brown and moss green. — Photo lamchieudong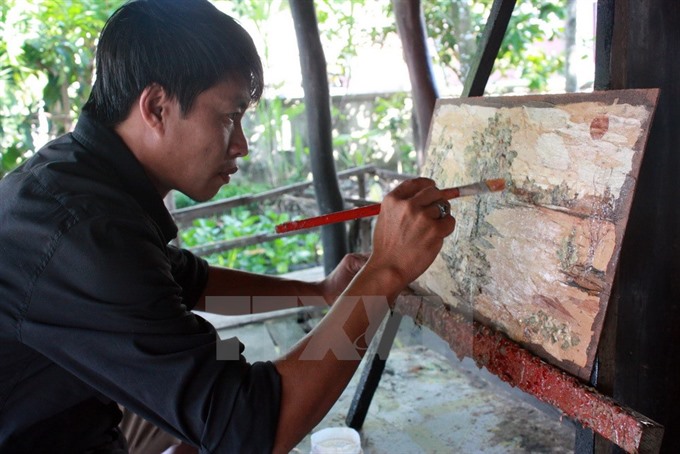 At work: Nhân works on a painting on cajuput bark. — VNA/VNS Photo Lê Sen
.
"I was so excited as I thought that I could take on this challenge. I had practised painting for a long time in many small and big local contests, and also taught children. And so I began studying how to make a painting on cajuput bark."
Trần Ngọc Minh, a local visitor, said Nhân's paintings are really lively, soulful and bring out the spirit of the Upper U Minh forest.
"During my first three or four years, my paintings were not good. I had to fix them over and over again. The hardest thing was preserving the bark and the paintings on it. In only a few days, the painting would peel off a lot. But then I studied and created a kind of glue that kept the colour and was really durable," Nhân said.
In 2010, Nhân felt confident enough to introduce his paintings to the market. Now, he sells 100 pieces of art each year. To Nhân, his work is not only about selling his paintings on cajuput bark. More importantly, he showcases his homeland's specialties to the public and the wider community.
Nhân's oil paintings on cajuput bark have been recognised by the Ministry of Agriculture and Rural Development, the Ministry of Industry and Trade, and the Kiên Giang People's Committee as the province's highlighted rural and industry product.
"The love for homeland is the main subject in my painting. I usually sketch the landscape with the river, the cajuput forest, paddy fields, boats going up and down, nipa palm trees and bamboo bridges and other beautiful spots," Nhân said.
Made by hand, they are lively with white, yellow, brown and moss green colours. The white peel is used as clouds, light yellow for rivers, dark yellow for far-away bush, and moss green for trees.
"Depending on the age, cajuput will give different colours," Nhân explained.
At the moment, he is working on an experiment to use cajuput bark to remake bigger products to introduce to the domestic market and the world.
"Talking about Kiên Giang is talking about cajuput. Its bark is thrown away as people think it is valueless. But now as it can be made into paintings, we can keep and enhance its value," Nhân said. VNS / Viet Nam News / by An Vũ and Thùy Trang / Update: April, 15/2018 – 09:00 / /  All photographs, news, editorials, opinions, information, data, others have been taken from the Internet ..aseanews.net | [email protected] | For comments, Email to : Goldenhands Arts Club | [email protected]| Contributor