OP-ED EDITORIAL: OPINION-CARTOON – 'HERO'
 The Philippine Star   10 hr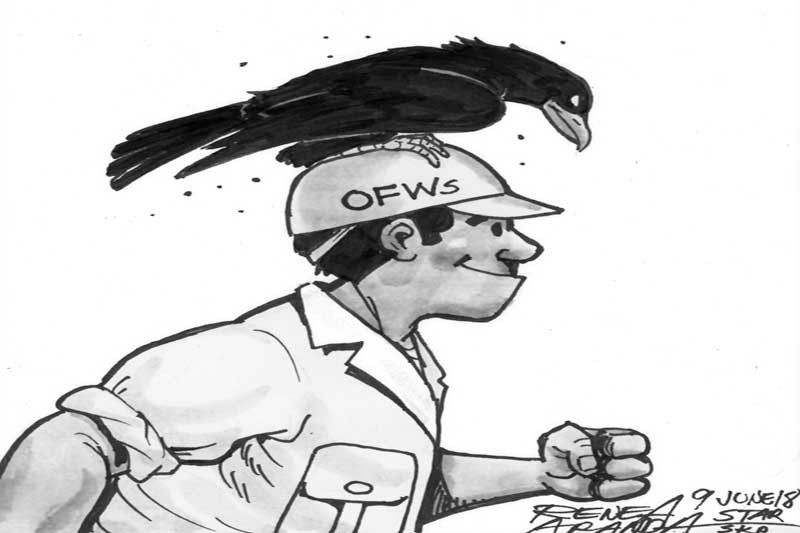 (The Philippine Star) – June 9, 2018 – 12:00am
Less than two weeks before the Philippines marked Migrant Workers' Day, an overseas Filipino worker in Slovakia died from a severe beating he suffered at the hands of two men whom he tried to stop from harassing two women in the capital Bratislava.
Henry John Acorda, a 36-year-old employee of a multinational company, was reportedly kicked in the head as he lay on the ground when he tried to protect the women on May 26. Acorda succumbed to his head injuries five days later in a hospital. A local man age 28 has reportedly been held and charged with manslaughter.
Being hailed as a hero must be cold comfort to Acorda's bereaved relatives. The story of his demise is unique. As the nation unfortunately knows only too well, however, dying of unnatural causes abroad is hardly unique for overseas Filipino workers. Just this year, a diplomatic row erupted between the Philippines and Kuwait after the body of OFW Joanna Demafelis was found stuffed in a freezer in the apartment that her employers abandoned a year earlier.
As far back as two decades ago, the country already had such a high number of OFWs that the government found it necessary to pass a Migrant Workers Act in 1995, Republic Act 8042, to promote their welfare. Since then the country has commemorated the date of the enactment of RA 8042, June 7, as Migrant Workers' Day. The country also joins the global community in the annual observance of International Migrant Day on Dec. 18.
.
Acorda's tragic fate should firm up official resolve to lay the groundwork for the long-term goal of bringing home most if not all of the country's migrant workers. Because of their personal sacrifices and substantial contributions to the economy, OFWs have always been hailed as the country's modern-day heroes. Acorda, however, took the heroism to a literal level, with tragic results. The country will always remember him with a mixture of pride and deep sorrow.

  All photographs, news, editorials, opinions, information, data, others have been taken from the Internet ..aseanews.net | [email protected] |.For comments, Email to :D'Equalizer | [email protected] | Contributor.