ASEAN ARTS-PAINTINGS: Lưu Tuyền – Artist blends local traditions, global inspiration
Hard to place: One object in the Treasure series
.
.
The painting by Lưu Tuyền leaves a strong impression. It shows a young girl embracing a doll that looks exactly like her. Their eyes are opening and gazing hauntingly at us. The painting is cracked but not broken thanks to a transparent layer of glue.
We feel that the girl inside the painting is trying in vain to break out of her frame. The audience is similarly trapped: We want to reach the girl and her doll but can't. When we raise our hands and think we can almost touch the girl, there is an invisible wall stopping us.
To create the special effect, Tuyền used epoxy paint to create an amazing piece of resin art.
The painter, who was born in 1982, has spent many years working to master this material.
His solo exhibition at the Việt Nam Fine Arts Museum on June 5-11 is a result of his long process experimenting with this paint.
His art
With the theme "Perfect Realities", the exhibition featured 30 artworks using mixed media on canvas and two sculptures, spanning five years of working and mastering the use of epoxy resin in art.
"Epoxy is an organic compound with a plastic composite base and a special composition that makes the material far more water- and heat-resistant than many other media," he said.
"Due to the low shrinkage and excellent adhesion, epoxy resin, when mixed with various active ingredients, can form adhesives with many superior properties and at the same time create durable yet beautiful surfaces. Epoxy is widely used in construction and shipbuilding, where it is used to coat underwater surfaces."
The time required to create an epoxy artwork is three times longer than an oil on canvas painted in the normal way, he said. To master this material is a major challenge for any artist. After a chance encounter with the use of epoxy resin as a glaze on the surface of oil paintings, both as a clear protective layer and a top coat that creates a different visual effect for the finished artwork, Tuyền learned not only to apply epoxy to the surfaces of paintings but also to create forms in sculptures.
As the top layer in paintings, epoxy is not just a protective coat, but also a deliberate artistic medium in which its shape-forming characteristics can be deployed. The artist uses epoxy in applications similar to lacquer so that it can adhere to the canvas and oil paints. It can be inlaid with gold and silver leaves, carved, engraved, sanded, polished or cracked. Once finished, the surface of the artwork is glossy, but the clear surface contains several layers of colours, paints and particles, creating an alluring depth through which the original oil painting on the canvas underneath becomes more mysterious and beautiful.
The layers in Tuyền's epoxy paintings also represent the complex levels of emotion exuded by his works. His work consists of three major series: still-lifes, landscapes and people – his inimitable dolls. For this series, the dolls have been created using a new process, and therefore carry different social and symbolic meanings.
Similarly, the sculptures displayed in this exhibition are the result of a long, challenging and lonely journey as the artist strove to master a new artistic medium through a fresh creative process.
For Tuyền, the process of exploring resin is not only a process of mastering his art, but also a journey of self-discovery.
His artworks portray isolation, self-doubt, apprehension and the juxtaposition of the self, objects and spaces around him. Yet Tuyền's works do not impose the artist's beliefs on his audience; viewers are drawn into multi-dimensional dialogues, each fitting their subconscious perceptions and aesthetics.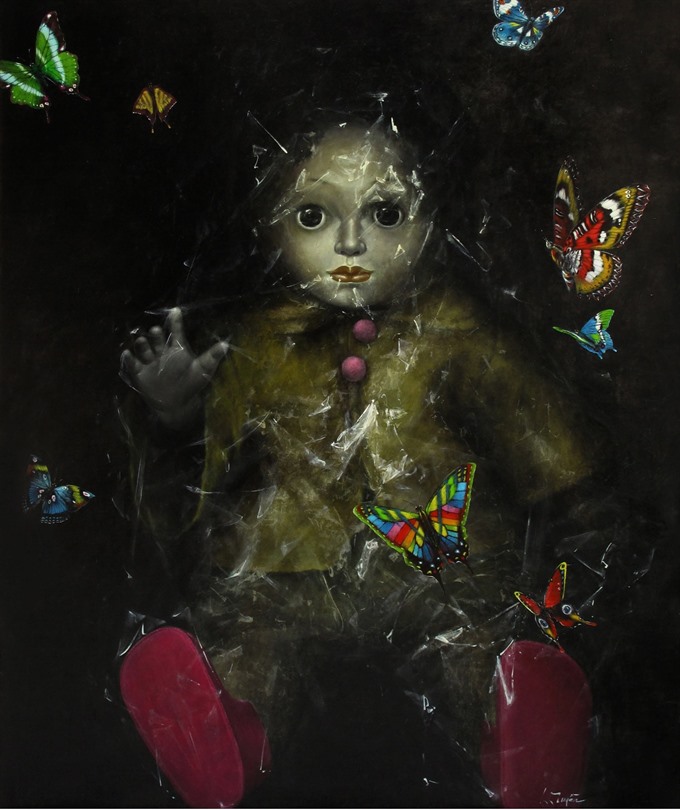 Trapped: One painting in the Perfect Reality series.
.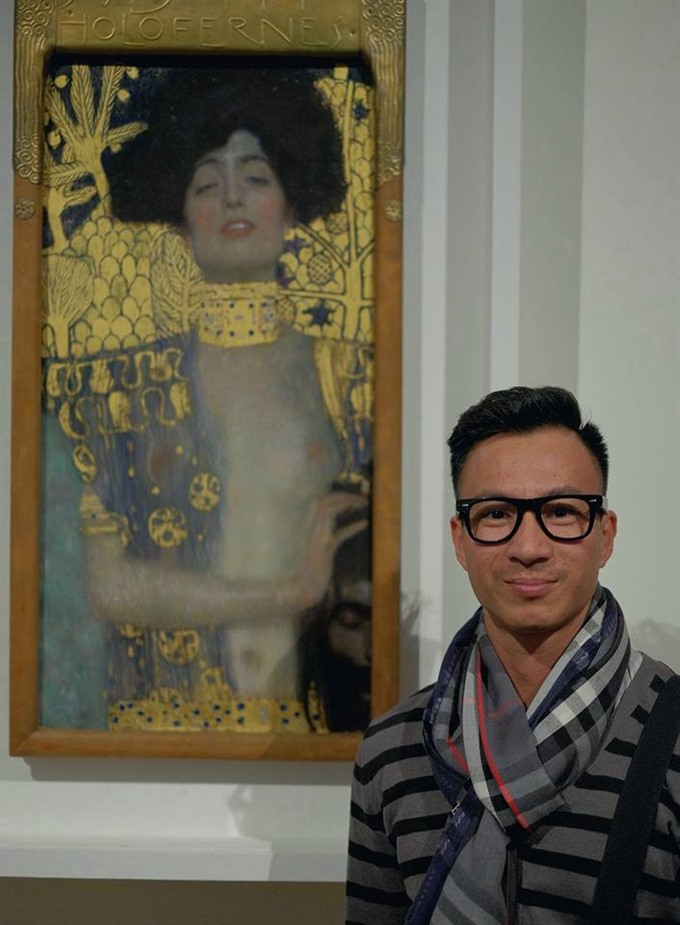 Global influences: Artist Lưu Tuyền pose with Klimt's artwork in Vienna.
.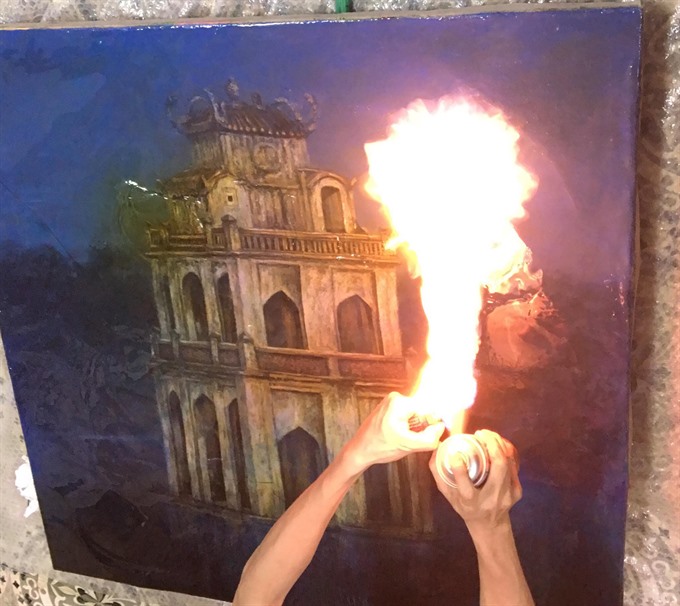 Trials and tribulations: Creating an artwork with epoxy is a long and painstaking process.
.
His statement
Tuyền said art is a mirror through which one reflects and grows.
"My art reflects my anxieties, torments and questions about a present-day reality where time-honoured values ​​have been replaced with superficial ones and even falsehoods. In that context, core values ​​must be preserved."
One of Tuyền's two major motifs is young girls with widely opening eyes.
The women in his paintings are also unmistakably and affectionately clothed in old-fashioned costumes, painted with kind round faces and innocent eyes. It is as if, in his art, he wants to preserve the classical beauty of the past. Tuyền's characters live in nostalgic surroundings or are frozen under plastic wraps. They come to life with luminous gazes, startled by the hustle and corruption of the 21st century.
His appreciation for age-old virtues also shines through in the series of still-life works titled Treasures, and the landscape works titled Heritage.
The background in his paintings has been darkened and the air stilled, forming the perfect backdrop for the artist to celebrate the imperfections, brokenness and decay caused by the passage of time. These artefacts are covered by a layer of transparent epoxy creating a feeling that they are right there, but can't be touched. Tuyền said the effect serves as a warning that cultural heritage may be lost.
Tuyền's anxiety about the endurance of antique objects, historical architecture and human values weighs on the minds of his audience. However, the heavy sentiment is often quickly replaced by a renewed love and appreciation for the cultural artifacts and heritage passed on to us from our forefathers.
Artist Lê Huy Tiếp, who is a master of the Reality and Surreality genre, said Tuyền's art goes far beyond entertainment or decoration.
His paintings and sculptures haunt viewers, forcing them to study carefully in order to absorb and reflect. With his unique ways of thinking, techniques and media, Tuyền skillfully conveys his love for the people, objects and scenes that are drawn from his daily life.
Tuyền's emotions are not loud or brash, but gentle.
"Art resonates when the artist's expression, story and emotion are so masterfully blended. Tuyền has purposefully used his images and techniques to express his point of view," said Tiếp.
"In this exhibition, his art combines classic oil painting techniques with contemporary media to work at many visual and psychological levels in perfect harmony. The shiny but uneven and cracked surfaces help to convey the reverence for aesthetic beauty in the paintings."
Painter Vũ Đình Tuấn said that through the art of Tuyền, we get a glimpse of East and West, of modernity and antiquity, and our humanity and vulnerability.
His latest paintings and sculptures, the Perfect Realities series, is a mirror that has many marks and flaws but is not broken.
"By breaking up his art and putting the pieces back together, Tuyền's reality encompasses his isolation, insecurity and self-doubt," said Tuấn.
Tuyền's objects are lovingly portrayed and vibrantly decorated, buried under layers of mystery. These objects lie frozen and lifeless, and their existence seems more like memory than reality.
Like Tuấn, people may ask: If Tuyền has suffered setbacks or heartbreaks, has he fearlessly picked up the pieces, and resolutely embraced his experience and destiny?
The brokenness in Tuyền's art is humble, yet uniquely beautiful and hauntingly alluring.
"Even if artists have the opportunity to travel around the world, or to study Modernity and Antiquity, few would be able to find themselves, or to celebrate their reality as Tuyền has in his latest works," Tuấn said.
Tuyền has 15 years of experience working as an artist, participating in countless domestic and international exhibitions and art fairs. The world's oldest and most established art publisher Skira (founded by Albert Skira in 1928 in Switzerland) last year named Tuyền one of the most prominent painters in contemporary Vietnamese art.  VNS /Viet Nam News / By Minh Thu / Update: June, 10/2018 – 09:00
All photographs, news, editorials, opinions, information, data, others have been taken from the Internet ..aseanews.net | [email protected] | For comments, Email to : Goldenhands Arts Club | [email protected]| Contributor