<>POLITICS-Trump-Kim Summit: Singapore – Trump's Air Force One lands at Paya Lebar Airbase
US President Donald Trump arrived in Singapore on June 10, 2018, ahead of his summit meeting with North Korean leader Kim Jong Un on June 12. His Air Force One landed at Paya Lebar Airbase after 8.20pm.ST PHOTO: LIM YAOHUI
.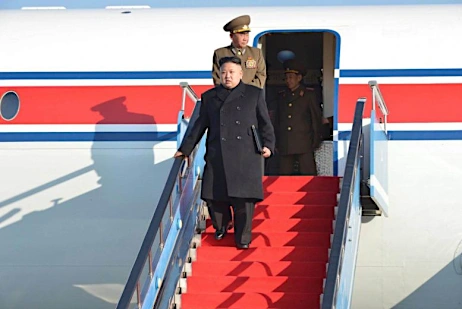 North Korean leader Kim Jong Un landed at Changi Airport at about 230pm, while US president Donald Trump arrived at 820pm at Paya Lebar Air Base.
.
.
SINGAPORE – US President Donald Trump arrived in Singapore on Sunday (June 10) for a Tuesday meeting with North Korean leader Kim Jong Un he has described as a "one-time shot"at peace.
Air Force One – the American's president's official plane – touched down at Paya Lebar Air Force Base at around 8.20pm. He was greeted by Singapore Foreign Minister Vivian Balakrishnan.
The US president arrived in Singapore ahead of schedule after he left the G7 meeting in Canada early
Asked by a reporter how he is feeling about the summit, Mr Trump said: "Very good." He then got into his waiting limousine.
US President Donald Trump was welcomed by Foreign Minister Vivian Balakrishnan after arriving at Paya Lebar Airbase on June 10, 2018.PHOTO: AFP
.
.
En route to Singapore, he had tweeted that the meeting here was a chance to achieve a"truly wonderful result for North Korea and the world".
He wrote : "It will certainly be an exciting day and I know that Kim Jong Un will work very hard to do something that rarely been done before. Create peace and great prosperity for his land.
"I look forward to meeting him and have a feeling that this one-time opportunity will not be wasted!"
It is not immediately clear the size of Mr Trump's travelling party although Secretary of State Mike Pompeo, Chief of Staff John Kelly, National Security Adviser John Bolton, and Deputy Chief of Staff Joe Hagin, are expected to be involved in the summit. First Lady Melania Trump did not travel with Mr Trump.
Though only a single plane landed at Paya Lebar Airbase, the president's convoy is expected to be a large one. Ahead of his arrival, a US Air Force C-17 Globemaster III transport plane had been spotted at the base./
PUBLISHED  5 HOURS AGO   UPDATED   1 HOUR AGO / 01:56 HR. /Jeremy Au Yong / SG – Deputy News Editor