WORLD PRESS PHOTOGRAPHY: Exhibition 2018 – World Press Photo on show in Hà Nội
Man on fire: The winning photo taken by Venezuelan photographer Ronaldo Schemidt at the World Press Photo Exhibition 2018.
.
.
HÀ NỘI — Global urgent issues such as terrorism, pollution and the refugee crisis are reflected through photos displayed at the World Press Photo Exhibition in Hà Nội.
The exhibition opened yesterday, marking its second appearance in Việt Nam, the first being 15 years ago.
The exhibition this year consists of 130 photographs, in a number of categories such as contemporary issues, environment, general news, nature, people and sports.
The winners were chosen by an independent jury that reviewed more than 73,000 photographs entered by 4,548 photographers from 125 countries.
The 2018 winners were announced at the World Press Photo Awards Show on April 12 in Amsterdam, where Venezuelan photographer Ronaldo Schemidt was honoured for his jaw-dropping contribution.
Schemidt was born in Caracas, Venezuela, in 1971. In 2006 he joined AFP in their Mexico City office as a staff photographer. Since then he has covered sports, social conflicts and drug trafficking.
Alongside other international stories, he has covered some of the most important events in Venezuela in recent years including the death of President Hugo Chavez in 2013, President Nicolas Maduro's election, the development of the political and economic crisis and the violent social conflicts between the government and opposition protestors.
The winning photo captured Jose Victor Salazar Balza, 28, who caught fire amid violent clashes with riot police during a protest against President Maduro.
In the category of nature, National Geographic photographer Thomas P Peschak from Germany impressed with a series of photos documenting both the beauty and fragility of the world's oceans.
Founded in 1955 in Amsterdam, the World Press Photo Foundation is a global platform connecting professionals and audiences through trustworthy visual journalism and storytelling. It is a world renowned exhibition which collects the best and most memorable press photographs from around the globe. The exhibitions showcase stories that make people stop, feel, think and act, Ambassador Nienke Trooster stressed.
The annual contest has grown into the world's most prestigious photo competition.
This year, the exhibition will come to other Asian destinations such as Singapore, Tokyo, Kyoto, and Macau.
The World Press Photo Exhibition visits over 100 major cities around the world, and attracts some 4 million visitors every year. The Netherlands – in co-operation with the Việt Nam Journalists' Association (VJA) – is organising this exhibition on the occasion of 45 years of diplomatic relations with Việt Nam. A number of other events to celebrate this occasion will be organised in Hà Nội, HCM City, Đà Nẵng, Đà Lạt, Hải Phòng and Cần Thơ.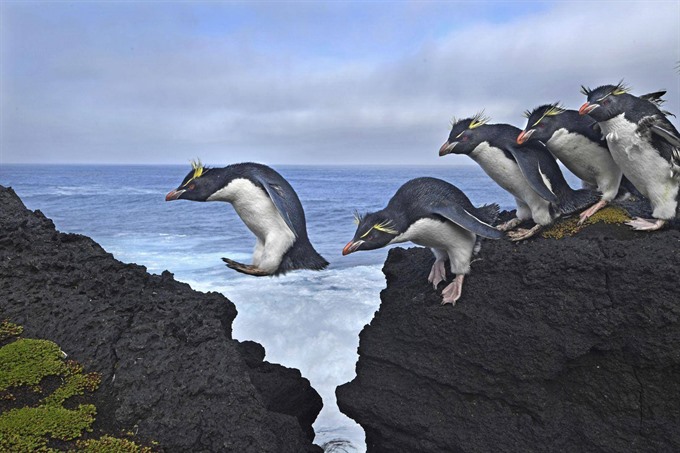 To penguinity and beyond: Rockhopper penguins live up to their name as they navigate the rugged coastline of Marion Island in the Indian Ocean. Photo taken by Thomas P Peschak won second prize for single photo in the category Nature.
.
"The celebration of 45 years of diplomatic relations are not just about looking back, but will also generate new opportunities for stronger relations and expanding networks in the future," said Trooster.
"Our bilateral trade and investment ties have been growing rapidly, but perhaps equally important is the increase in people-to-people exchange. I am confident that the last 45 years is just the beginning of a future of long-lasting and positive ties, not just between our countries, but also between our peoples."
The exhibition will run until July 6 at the Việt Nam Fine Art University, located at 42 Yết Kiêu Street, Hà Nội.
In co-operation with photography platform Matca.vn, the Netherlands Embassy will organise a portfolio review (9-12am) and panel discussion on photojournalism (2-5.30pm) on June 17. In addition, there will be guided tours provided in the exhibition on the three weekends from June 16 to July 6.
Previous winners whose works were included in the World Press Photo Exhibition, and who might be known to the Vietnamese audiences, include: Vietnamese-American photographer Nick Út, who took the famous photo of Phan Thị Kim Phúc, otherwise know as 'napalm girl' (1972); German photographer Carsten Peter who documented one of the first expeditions into Sơn Đoòng cave (2010); and Vietnamese photographer Maika Elan who focused on the personal life of gay couples in Việt Nam in her story The Pink Choice (2013). — VNS   /  Viet Nam News /  Update: June, 16/2018 – 09:00
All photographs, news, editorials, opinions, information, data, others have been taken from the Internet ..aseanews.net | [email protected] | For comments, Email to : Goldenhands Arts Club | [email protected]| Contributor