HÀ NỘI – Two Vietnamese honoured in Top 100 Asian Scientists
HÀ NỘI — Two Vietnamese academics, genetic professor Nguyễn Thanh Liêm and biology doctor Nguyễn Thị Hiệp, have made it into the list of top 100 Asian scientists in 2019.
They have been chosen by the Singapore-based Asian Scientist Magazine.
Prof. Liêm, former director of the National Pediatrics Hospital, is currently heading Vinmec Research Institute of Stem Cell and Gene Technology, a new institute under the Vietnamese conglomerate VinGroup's healthcare branch.
He performed the first endoscopic surgery for Vietnamese children in 1997, and has invented nine new techniques that could be applied in these procedures.
.
–THIS SPACE BELOW IS RESERVE FOR YOUR ADVERTISEMENT –
Liêm was also considered to be a steam cell trailblazers in Việt Nam as he was the first to study the discipline and applied stem cell therapy in the treatment of autism and cerebral palsy.
He became the first Vietnamese to win the 23rd Nikkei Asia Prize 2018 in the Science and Technology category, for his efforts in promoting organ transplant technologies and driving down childhood mortality rate.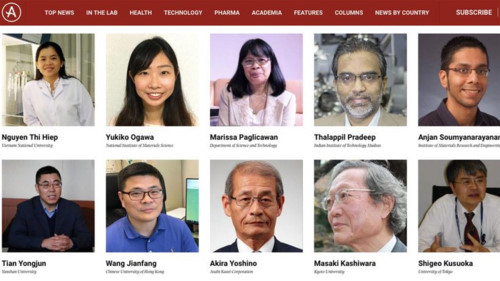 .
.
–THIS SPACE BELOW IS RESERVE FOR YOUR ADVERTISEMENT –
Dr Nguyễn Thị Hiệp, born in 1981, is the currently the dean the School of Biomedical Engineering, International University under the Việt Nam National University-HCM City.
She is known for the development of a nanoparticle gel that, once applied on wounds, helps kill bacteria and promote tissue regeneration.
In 2018, Hiệp was among 15 young women scientists recognised for their achievements under the 2017 L'Oréal-UNESCO For Women in Science programme.
The online version Asian Scientist was first launched in 2011 in Singapore, with the publication of its physical magazine starting in 2014.
Seven Vietnamese researchers have been featured in the magazine's list since 2016. — VNS
.
Asian Scientist Magazine | Science, technology and medical news updates from Asia Read more from Asian Scientist Magazine at: https://www.asianscientist.com/as100/
–THIS SPACE BELOW IS RESERVE FOR YOUR ADVERTISEMENT –
All photographs, news, editorials, opinions, information, data, others have been taken from the Internet..aseanews.net |
[email protected]
/ For comments, Email to : Aseanews.Net |