MANILA & ASEAN HEADLINES: Minors to be included in 'anti-tambay' drive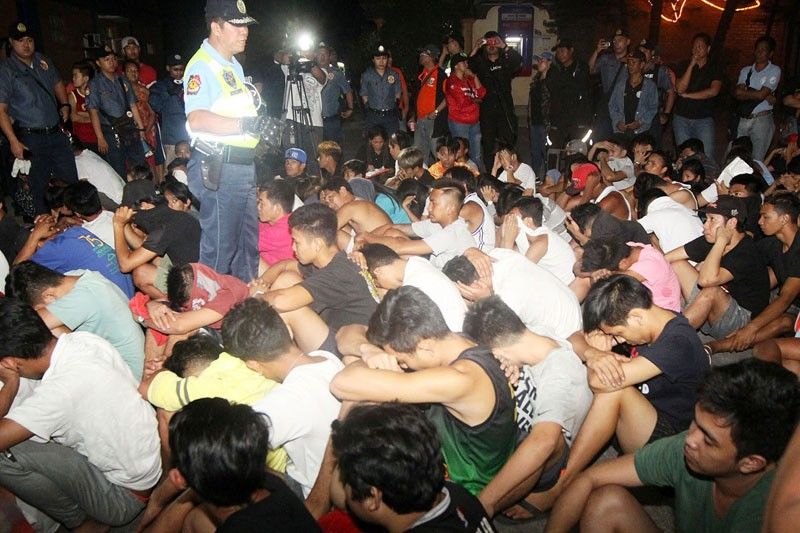 Duterte said he has to implement a campaign against tambays because a recent survey by the Social Weather Stations indicated that around 1.5 million families fell victim to common crime during the first quarter. /Joven Cagande
MANILA, Philippines — President Duterte wants minors and teenagers to be included in the crackdown on tambays or loiterers, ordering the Philippine National Police (PNP) to take into custody minors who are loitering in the streets to "protect" them against illegal drugs and other threats.
Duterte said he has to implement a campaign against tambays because a recent survey by the Social Weather Stations indicated that around 1.5 million families fell victim to common crime during the first quarter.
He said the campaign would cover children below 18 years old "for their own safety."
Duterte also reversed a PNP order and said loiterers would continue to be called tambays.
.
"One million? Ipagpalit mo diyan sa p***** i**** mga tambay diyan na naghihintay lang? Alam mo naman kung bakit 'yan sila diyan (Will you favor the idle loiterers over the one million victims)?" the President yesterday said during the oath taking of barangay chiefs in Cagayan de Oro City.
"So 18. We do not have specifics. Eighteen, below 18, you arrest the teenagers there around loitering because we have to protect our children. Nagkalat na ang droga, nagkalat na ang lahat (Illegal drugs are rampant)," he added.
Duterte clarified that minors would not be arrested for crimes but would be brought to the Department of Social Welfare and Development (DSWD).
"We are removing the minors, take them into custody, call the DSWD and the barangay, you take care of them," Duterte said.
"They are not being arrested for any crime. It's for their own good that they are arrested. Because under the (principle of) parens patriae, which is the principal bedrock of protecting people, everyone is weak. We can take custody of the minors to protect them under the principle of parens patriae – the father of the nation," he added.
Earlier this month, Duterte ordered the PNP to impose stricter measures against loiterers, whom he described as "potential trouble for the public."
The anti-loitering campaign drew flak after 25-year-old Genesis  Argoncillo was killed days after he was arrested for allegedly causing alarm and scandal.
Sen. Paolo Benigno Aquino IV and members of the Makabayan bloc in the House of Representatives have called for an investigation on the anti-tambay campaign and the death of Argoncillo.
Duterte also ordered police to disregard criticisms against the anti-loitering campaign and to continue working to ensure the streets are safe, especially at night.
"Mamili kayo: perdition ng ating bayan o mag-inistrikto ako. Hindi na bale 'yang atake, atake. Talo man kayo (You choose: a country on the road to perdition or I impose strict measures. Never mind criticisms rather than lose to criminality)," the President said.
Duterte also assailed his critics, who he said are just pretending to be intelligent.
"B**** you think you know better. If that's the case, go to Malacañang and I will let you assume as President. I'll give you one year to sit down and solve the problem… You know these sons of b******, if they are really bright, they should have become the President," he said.
Duterte said the crackdown on loiterers would continue unless declared illegal by the Supreme Court. He insisted that the campaign, which has been criticized for allegedly encouraging abusive behavior among law enforcers, is part of the police power of the state.
"I am now invoking the police power of the state to establish order (and) safety that is not subject to legislation," the President said.
"The President can order, the mayor can order, the barangay can order, issue regulations to protect public health, public safety, public order and to protect the general welfare of the country," he added.
Duterte ordered police officers to continue frisking people as he assured them that he would not allow any law enforcer to be jailed because of his work.
"Do not believe in the criticisms, do not read it. It is none of your business to be reading what they are talking about; it is our business to follow what we are ordered to do," he said.
Call a spade a spade
Duterte also ordered law enforcers to call loiterers tambay, rejecting a directive by PNP chief Director General Oscar Albayalde for them to refrain from using the term in their operations.
The President said loiterers have been known as tambay since he was young, so the term should be reflected on the police blotter.
Albayalde has ordered the police to use the phrase "persons apprehended for violating city ordinances" instead of tambay. He made the directive as the campaign against loiterers drew flak for allegedly encouraging arbitrary arrests and other abuses.
Duterte also lambasted the political correctness of some people who want to change the terms prostitute and disabled.
"Even 'prostitution.' They want to refer to them as commercial sex workers. So what's in a name? Commerce in sex. It's even more degrading," he said.
"The disabled, they want to call differently abled. Do not change the story of this world. It has been called disabled, they have been called prostitutes," added Duterte.
Barangay watch
An administration lawmaker, Rep. Winston Castelo of Quezon City, proposed yesterday for barangay tanods (watchmen) to take the place of police officers in enforcing ordinances against loitering.
"A barangay tanod is well trained to deal with vagrancy and he fully knows the terrain of the community as well as its people. He can probably do the job right," he said.
Castelo explained that barangay watchmen perform almost the same function in enforcing peace and order as that of policemen, except that they are armed with sticks instead of guns.
As this developed, the group Human Rights Watch (HRW) yesterday said the PNP should immediately end its crime prevention campaign that has disproportionately targeted tambays in low-income areas of Metro Manila and other cities.
Phelim Kine, deputy Asia director at HRW said the "campaign threatens to re-traumatize residents of communities already terrorized by 'drug war' executions and is risking the detainees' health and safety."
"Typically, they are not brought before a judge, but detained for a period and then released, though sometimes criminal charges are brought. Police have focused the anti-loitering campaign in the same communities that have been the epicenter of 'drug war' summary killings, which have resulted in the deaths of more than 12,000 people since mid-2016," said Kine.
For its part, militant labor group Kilusang Mayo Uno (KMU) yesterday expressed outrage over the government's continuing crackdown on tambays.
KMU chairman Elmer Labog said the government should provide decent jobs instead of arresting tambays, most of whom are displaced workers or people unable to find jobs.
"These workers may be unemployed at the moment, but they are not jobless out of laziness," Labog pointed out in a statement.
Meanwhile, a commissioner of the Commission on Human Rights (CHR) and the spokesman for the Philippine National Police (PNP) yesterday faced off on the anti-tambay campaign.
CHR Commissioner Roberto Cadiz and PNP spokesman Senior Supt. Benigno Durana Jr. had a heated discussion on the issue of loiterers who have been accosted by the police for violations of city and municipal ordinances.
The two officials were interviewed yesterday on their views on the implementation of President Duterte's directive that his critics have claimed to be prone to human rights abuses.
Cadiz admitted that there was initially no confusion as the police followed Duterte's order to the letter.
Reading from an excerpt of the President's statement last June 14, he said it was very clear that Duterte's directive is to rid the streets of idlers as they are potential for trouble.
"The President was very clear and the PNP understood that message clearly. The PNP knew exactly what he was directing," said Cadiz.
The confusion, however, came, according to Cadiz, when Duterte clarified his directive days later that he only asked the police to accost loiterers
and not arrest them, following criticisms and calls for clarification from the public.
"The people got confused, as loitering is not a crime and yet there were arrests," said Cadiz.
Durana hit back at Cadiz for implying that they obeyed Duterte's order in disregard of existing laws and regulations.
"It's very clear (Cadiz) is trying to insinuate that we are interpreting the President's statement word for word," he said.
Durana insisted that there was never confusion as far as the PNP is concerned as they implemented Duterte's order within the bounds of the law.  – With Emmanuel Tupas, Delon Porcalla, Rhodina Villanueva, Mayen Jaymalin, Edith Regalado, Marvin Sy / Alexis Romero (The Philippine Star) – June 27, 2018 – 12:00am

All photographs, news, editorials, opinions, information, data, others have been taken from the Internet..aseanews.net | [email protected] / For comments, Email to : Aseanews.Net | [email protected] | Contributor
ASEAN HEADLINES:
All photographs, news, editorials, opinions, information, data, others have been taken from the Internet..aseanews.net | [email protected] / For comments, Email to : Aseanews.Net | [email protected] | Contributor