ASEANEWS HEADLINE: MANILA – Samuel Martires named new ombudsman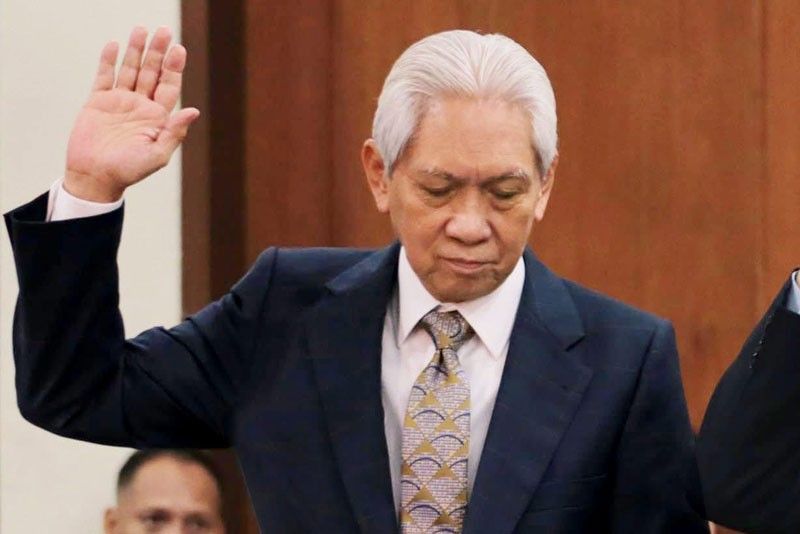 Photo taken on Jan. 15, 2018 shows Supreme Court Associate Justice Samuel Martires taking his oath at the House of Representatives during a hearing to determine whether there was probable cause to impeach then chief justice Maria Lourdes Sereno.
Michael Varcas
MANILA, Philippines — President Duterte has appointed Supreme Court Associate Justice Samuel Martires as the new ombudsman, replacing Conchita Carpio-Morales who retired last Wednesday.
Duterte described Martires, his first appointee to the high court, as a strict and fair man.
"We have a new ombudsman. I signed the appointment of Justice Martires. He is bright and he is a fair man," the President said during the 69th anniversary of Ipil town in Zamboanga Sibugay yesterday.
Duterte said he does not have the power to issue orders to Martires who now heads an independent constitutional agency.
But the President has a reminder to the new ombudsman: "I will only tell you, and this is my statement, do what is right."
The President said it is the same instruction he gives to his other appointees.
"Do what is right, I've told all of them," Duterte said.
Martires was Sandiganbayan associate justice during the administration of former president Gloria Macapagal-Arroyo.
Duterte appointed him to the Supreme Court ast year.
Martires is a fraternity brother of Duterte in San Beda Law School's Lex Talionis.
On May 11 this year, Martires was one of eight justices who voted in favor of the quo warranto petition filed by Solicitor General Jose Calida against then chief justice Maria Lourdes Sereno, who was ousted from her post.
Martires' predecessor Morales has yet to issue a statement on his appointment.
Morales had earlier refused to comment on Martires' qualifications for the ombudsman post.
"I don't know him that well. So, I don't have anything to comment on," Morales said in her interview with "The Chiefs" aired on Cignal TV's One News channel on Tuesday evening.
Morales, however, laid out the qualities that an ombudsman must have.
"You have to be independent, you have to be industrious, you have to have integrity, you have to have transparency. Without which I don't think you will deserve respect of the people," she told The Chiefs.
In her last press conference on Tuesday, Morales said she trusts the wisdom of her successor concerning the pending cases that should be prioritized by the Office of the Ombudsman.
De Castro accepts nomination
Supreme Court (SC) Associate Justice Teresita Leonardo-de Castro has formally accepted the nomination for chief justice position.
A known nemesis of ousted chief justice Sereno, De Castro submitted to the Judicial and Bar Council (JBC) yesterday her acceptance of the automatic nomination for the top judicial post as one of five most senior justices and also the nomination by retired Sandiganbayan Justice Raoul Victorino.
De Castro was appointed to the high court by former president Arroyo in December 2007.
Prior to her promotion, she was the presiding justice of the Sandiganbayan and chair of the special division of the anti-graft court that convicted ousted president Joseph Estrada of plunder in 2007.
A recipient of numerous judicial excellence awards, the justice has served as president of the Philippine Women Judges Association and the International Association of Women Judges.
The magistrate, who rose through the ranks of the judiciary from court clerk, has been serving in government for 45 years and is set to retire this October.
If appointed chief justice, she would only have a couple of months to lead the high tribunal.
De Castro was one of eight justices who voted to oust Sereno from the top judicial post by granting the quo warranto petition filed by Calida.
She testified against Sereno in the impeachment proceedings before the House committee on justice and had a shouting match with her during the oral arguments on the quo warranto case last April.
Apart from her, the JBC also received yesterday an application for the chief justice post from Davao City regional trial court judge Virginia Tehano-Ang.
On the last day for nomination and application yesterday, there were five candidates for the chief justice post to be screened by the JBC, the seven-member council tasked to vet nominees to judicial posts.
Associate Justices Diosdado Peralta, Lucas Bersamin and Andres Reyes Jr. also accepted their nomination for chief justice earlier this week. All three also voted to oust Sereno.
Peralta and Bersamin were among the senior justices automatically nominated for the post, while Reyes was nominated by Victorino along with all 14 incumbent justices of the SC.
The most senior magistrate, Associate Justice Antonio Carpio, has declined the nomination. He said he did not want to benefit from Sereno's ouster, which he opposed by voting against the SC ruling.
The STAR reported earlier that De Castro, Peralta and Bersamin are expected to accept their automatic nomination to comply with the requirement of having at least three nominees for the post.
The chief justice vacancy was opened last June 25 and the deadline for nominations was yesterday.
The 1987 Constitution requires that the chief justice position be filled within 90 days from vacancy or from the finality of the SC ruling ousting Sereno last Tuesday, June 19.
This means President Duterte should appoint Sereno's replacement by Sept. 16.
The Constitution also requires the chief justice, just like associate justices of SC, to be a natural-born citizen, at least 40 years old, have experience as judge or in private law practice for at least 15 years, and be a person with proven competence, integrity, probity and independence.
Senate Minority Leader Franklin Drilon pushed yesterday acting Chief Justice Carpio to allow himself to be nominated to the top post in the Supreme Court.
Drilon said Carpio is "very qualified" to be chief justice and should accept the request for him to be nominated.
"To me, he should give the President the opportunity to appoint him. If you ask me, he should include himself among those candidates for chief justice," he said. – With Edu Punay, Paolo Romero, Edith Regalado, Elizabeth Marcelo
.
ASEANEWS FRONT PAGES:
All photographs, news, editorials, opinions, information, data, others have been taken from the Internet..aseanews.net |
[email protected]
/ For comments, Email to : Aseanews.Net |                                                                                
[email protected]
| Contributor